Community
Team Players
Bauer Alumnus and Wife Aim to Create Cycle of Giving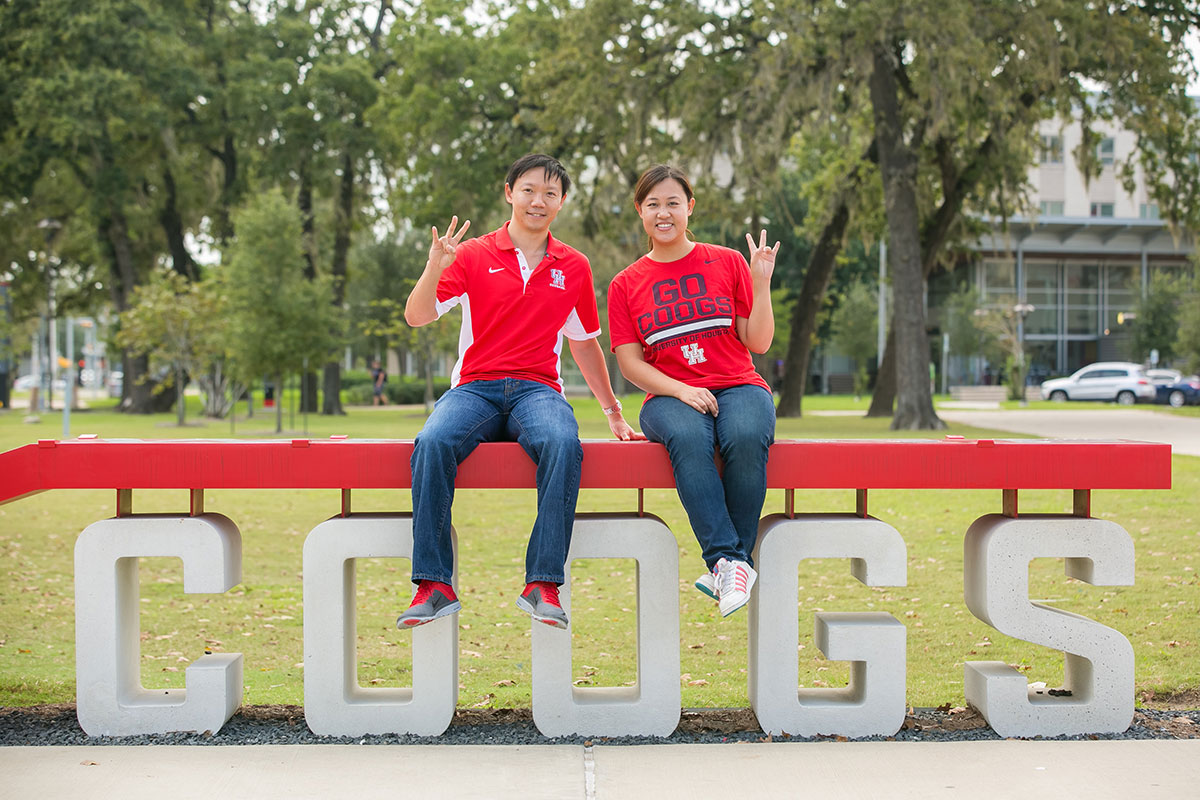 BAUER ALUMNUS ROGER SHAO AND HIS WIFE DAISY ARE AVID SUPPORTERS OF UH ATHLETICS AND BAUER COLLEGE. THIS YEAR, THEY STARTED THE SHAO FAMILY SCHOLARSHIP ENDOWMENT FUND TO HELP PROVIDE SCHOLARSHIPS TO BAUER STUDENTS WHO DEMONSTRATE ACADEMIC EXCELLENCE AND FINANCIAL NEED.
Roger Shao left Taiwan at age 10 to come to the United States with his parents and sister — the language was different, the trends were different and the customs were different.
But one thing was the same. The drive and determination to find personal success so that you could one day help others translated across all barriers.
"It was tough at first, leaving our friends and relatives to embark on our journey overseas, not to mention the initial language barrier as we started a new chapter in life," said Shao, a two-time Bauer College graduate who earned his BBA in 2007 and MSACCY in 2008.
If every alumnus gives back to this great university, the combined impact would be huge.
ROGER SHAO
(BBA '07, MS ACCY, '08)
Despite the challenges, Shao and his family persisted. During his time at Bauer, he was an engaged student leader in the Accounting Society and the Chinese Student Society who found inspiration inside and outside the classroom.
"When I first started my undergraduate program, it had just been a few years since Mr. Ted Bauer contributed his huge ($40 million) gift," he said. "His generosity really resonated with me."
Shao also developed what eventually became a lifelong love of UH Cougar football as a Bauer student.
"One of my good buddies was definitely a Cougar fanatic, and that had a huge influence on me," he said. "He would shave his head during football season and paint it to mirror a UH football helmet. I was more conservative with just a UH logo painted on my face."
But it was after graduation that the college had perhaps the biggest impact on Shao's life — a fellow graduate introduced him to his now-wife, Daisy. Together, the Shaos have established The Shao Family Scholarship Endowment Fund, which supports current or prospective Bauer College students with need who have demonstrated academic excellence.
Shao, who is now a senior audit manager at Hein & Associates, wants to continue the cycle of giving with scholarship recipients that started with both his and Daisy's parents giving their children opportunities. Then, as college students, they saw firsthand the impact that financial assistance could have on a person.
"I myself was the beneficiary of scholarships, and I was very grateful to the people who have helped me and would like to appreciate their effort by paying forward," Daisy Shao said. "We value our education and believe education is the key to continuous growth of the country."
Her husband explains their passion for philanthropy by using analogies that stem from their love of sports (especially Cougar athletics).
"Our scholarship may not be a grand slam to provide financial aid for the entire Bauer student body, however, if every alumnus gives back to this great university, no matter how big or small, the combined impact would be huge," Shao said. "We're not here to hit home runs, but if we hit singles followed by one after another, soon we will light up the scoreboard!"