Students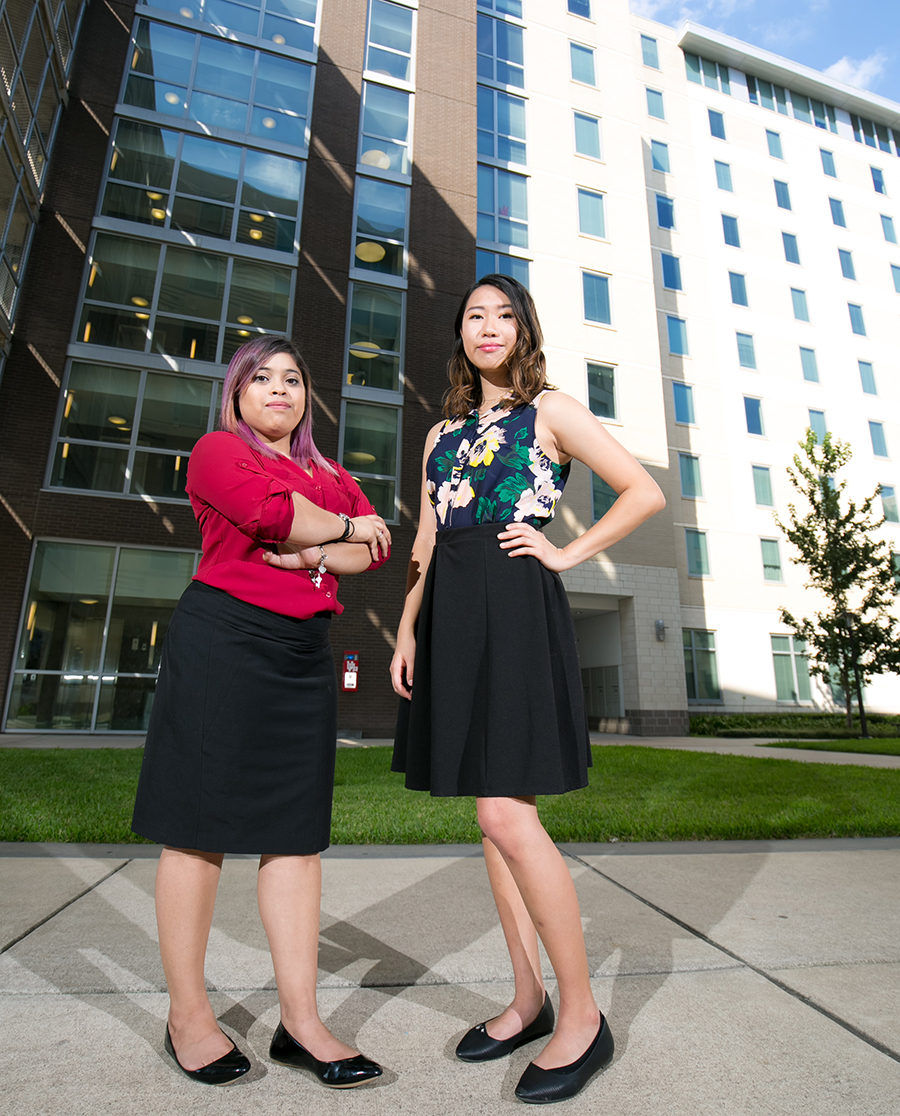 BAUER MARKETING SENIORS ANNE YU AND MELISSA TORRES SPENT THEIR SUMMER INTERNING AT GOOGLE AS PART OF THEIR BUILDING OPPORTUNITIES FOR LEADERSHIP AND DEVELOPMENT (BOLD) PROGRAM.
I felt like I had the entrepreneurial drive and passion for innovation. Since Google creates that environment, I felt that I would thrive in a culture of growth and change.
ANNE YU, ENTREPRENEURSHIP & MARKETING SENIOR
Making Bold Moves
Google Selects Two Bauer Students for Competitive Internship Program
3.5 billion searches a day.
72,053 employees.
15,000 internship applicants.
Less than 1 percent acceptance rate.
Two Bauer College students.
Those are the stats behind Google and the technology giant's Building Opportunities for Leadership and Development (BOLD) Internship Program, which accepted Bauer marketing seniors Anne Yu and Melissa Torres as interns this summer from a competitive pool of nationwide applicants.
The program recruits historically underrepresented students in the fields of technology and gives interns the opportunity to join Google teams across sales, marketing, people operations and other areas to identify challenges, collaborate on building solutions and drive meaningful change for clients and users, all while developing skills and building careers.
"I always thought it would be cool to apply for one of those famous internships because you just never know what could come of it," Torres said. "Who wouldn't be interested in a career at Google after reading about their cool perks?"
The students made Google's Ann Arbor, MI, campus their home for a couple months, where they saw firsthand the collaborative working space with amenities that include micro-kitchens on each of the 135-square-foot building's three floors, along with an on-staff barista and a fully equipped fitness center.
They enjoyed the perks of working for Google — playing "lots of Jenga," Torres said — while developing themselves professionally as they had the opportunity to experience what it would be like to have a career in marketing for a tech company.
"I worked as an associate account strategist, consulting with small businesses," Yu said, noting that she spent much of her time working with the Google AdWords team. "My favorite experience was when I visited Washington, D.C., for the intern policy summit. I got to meet the Google policy team, visit Congress and sit in front of Vint Cerf (American Internet pioneer, recognized as one of the 'fathers of the Internet'), who now works for Google."
For Torres, who also worked as an associate account strategist primarily for Google AdWords, the most memorable part of the internship was finding freedom.
"It might sound funny, but I really remember when I asked my manager if I could dye my hair a crazy color," she said. "He looked at me like, 'of course,' and when I came to the office with purple hair, everyone loved it. It was amazing to know I could be myself in any way I wanted."
During the internship, both Yu and Torres found themselves remembering lessons learned in Bauer College classrooms that could be applied to life as a Google employee.
"Everything I learned from Jamie Belinne's GENB 3302 was a lifesaver," Torres said. "I was able to apply that class to my internship, from interview skills and résumé tips to networking and engaging on the job."
Now in their final year as undergraduate students, Yu and Torres are eyeing future career opportunities, including the possibility of returning to Google for full-time positions. I felt like I had the entrepreneurial drive and passion for innovation," Yu said. "Since Google creates that environment, I felt that I would thrive in a culture of growth and change."