Giving
Just the Beginning
Amegy Bank Founder and Bauer College Donor Reflects on Lifetime of Hard Work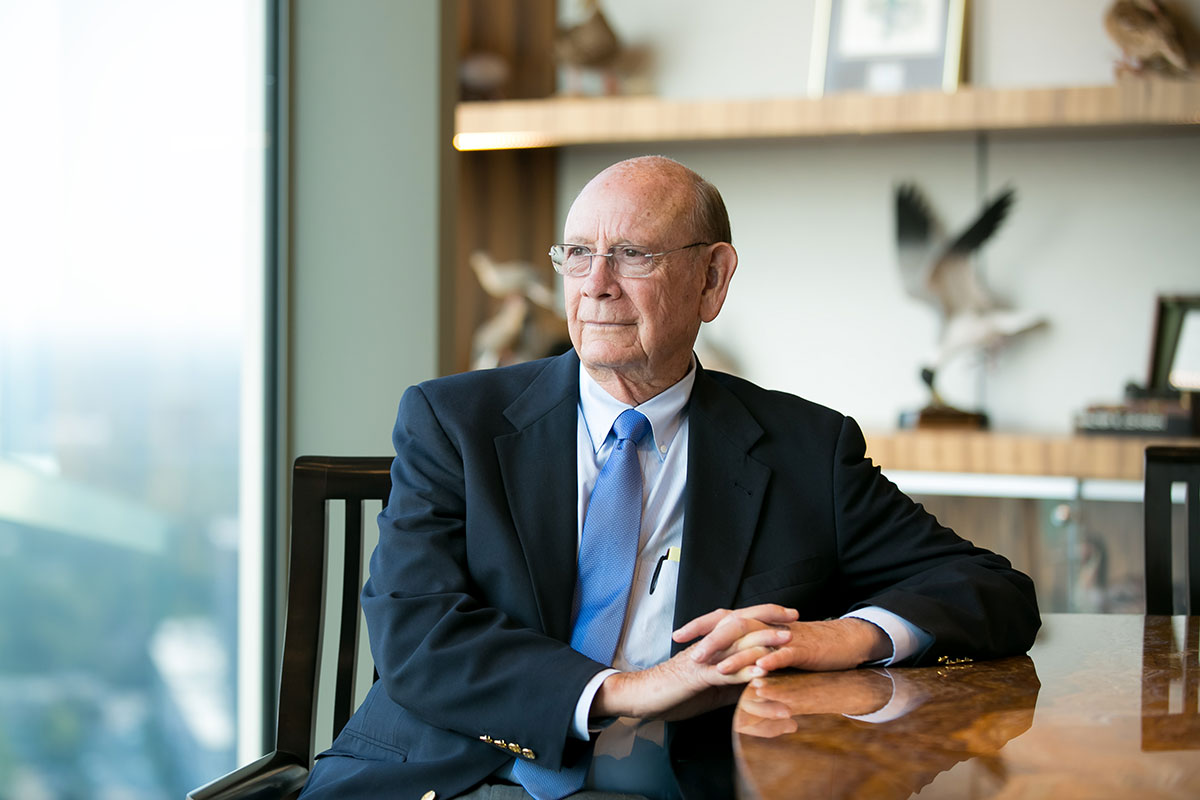 Sharing Hope
Eli "Hilario" Yanez (BBA '17), who was an active student leader in organizations and programs during his time at Bauer College, shares his personal connection and appreciation for Walter Johnson.
During my last semester at Bauer, I had the honor to listen to our guest speaker, Amegy Bank founder Walter Johnson, at our Bauer Leadership Award Ceremony.
During his speech, there was a sentence that immediately touched my heart. He mentioned that throughout the years, he has helped raised millions of dollars for the Star of Hope homeless shelter. Little did he know that his generosity had a direct impact to one of the students in the room.
That student was me.
When I was 3 years old, my father abandoned us and left my pregnant mother and her two kids in the streets. Thankfully, by the grace of God, a neighbor gave us the number to the Star of Hope.
The Star of Hope took us in and provided us with food, clothes and a shelter but most importantly, they gave us HOPE. After the birth of my brother, my mother was able to recover and get back on her feet thanks to the resources the shelter provided to us.
Even though I was young, some of the best memories of my life came while living at the shelter. I was able to quickly find friends to go outside with me and play on the playground. I even remember one day the shelter brought a huge carnival for all of us to enjoy. That was the very first time I rode a pony in my life. As a kid, not knowing what was going on, I felt like I was on top of the world. Here I was with my mother and siblings with nothing, yet I felt like we had everything.
If it wasn't for the Star of Hope, I wouldn't be here today. Because of the HOPE we received, my mother knew we could get through anything in life. She always pushed me to get an education and to never give up on my dreams.
I'm proud to say that I am now a first-generation college graduate from one of the best universities in the country, the University of Houston. I was also fortunate enough to land my dream job with one of the most innovative consulting firms in the world, Accenture.
I thank people like Mr. Johnson for having the heart and compassion to help great organizations like the Star of Hope open the doors to my family and I. Mr. Johnson, I want to thank you from the bottom of my heart for making a direct impact in my life! I look forward to spreading the very same HOPE I received growing up to those around me and to my kids one day.
Sit down with Walter Johnson for five minutes, and you'll know one thing for certain — the man values hard work.
Chat with him a while longer, and you'll know why. Born a "Depression Era Baby" in Fort Worth, Johnson has worked since age 6, helping his father with odd jobs. At 12, he began to mow yards for people in town who lived miles away (because the closest neighbors had sand instead of lush, green grass, he said).
"I grew up poor," Johnson said. "My dad had a fourth grade education, and we lived on the wrong side of the tracks. But I never felt like I was poor because if I wanted something, I'd work to get it."
That tenacity led him through many jobs and careers, ultimately founding what is now Amegy Bank, one of Houston's largest banks that employs more than 2,000 people and has 75 locations across the state. The organization has deep roots in Houston, and has recently opened a state-of-the-art 24-story glass tower on the West Loop as its corporate headquarters.
THIS CITY WANTS TO HELP THE UNDERDOG, PEOPLE WHO ARE DOWN AND OUT, AS WELL AS PEOPLE WHO ARE SUCCESSFUL.
Walter Johnson,
Founder of Amegy Bank
"This city supports young people and people that are entrepreneurial," Johnson said. "We want to help the underdog, people who are down and out, as well as people who are successful. I have been enormously successful and feel like I should give back. It's part of my culture to share what I own as a result of what I've achieved."
This year, Johnson established the Walter E. Johnson Scholarship for Community Commitment at Bauer College, which will award three scholarships of $5,000 to students pursuing a career in personal banking who also demonstrate a commitment to Houston through their volunteer activities.
Service has been a theme throughout Johnson's life, starting in his childhood as he watched his father. "My dad was always working, and he was a perfectionist," Johnson said. "Anything he did was done extremely well, and he helped others. If someone called him with their car stuck in the sand 10 miles away on a Sunday afternoon, and they didn't know what to do, he'd get them out. There wasn't anything he couldn't do, and he would never quit trying!"
Johnson used his father's example to guide him through his career and life. He worked on milk trucks and paper routes before starting his first full-time job at 16 in a store, where he helped out in the stock room, putting away parts and sweeping up.
"When I was 18, I decided to see if I could get a sales job across the street," he said. "They hired me immediately, and I started selling adding machines and calculators. This was back when calculators had just been invented — I sold the Victor calculator, which weighed 70 pounds, the numbers went to 999,999, and it cost $750. I sold 'em like hotcakes!"
Through his successful sales career, Johnson put himself and his wife through college at Texas Christian University. After graduation, he went to work for the Texas Electric Service Company, selling heat pumps in Midland and Odessa.
Although he brought similar skyrocketing sales to the company, he wasn't happy in the job.
"In my first year, I sold more pumps in my area than they sold from Dallas to El Paso," Johnson said. "But when bonuses came out, I got a measly two percent, which is what everyone got. Everyone else was sloughing, and the company never fired anyone."
This was an early lesson learned — that loyalty, and rewarding employees who go above and beyond, is the most important part of business.
Johnson left for a job in factoring, where he stumbled upon what became his ultimate career, banking.
After spending time in Midland, he made his way to Houston, ultimately selling the company he worked for, and starting as a trainee at Bank of the Southwest. From there, he worked in several different areas inbanking, and in early 1990, he officially founded Amegy Bank.
"I decided I needed my own company, so I started this bank in Feb. 19, 1990," Johnson said. "I raised $21 million from business owners mostly, and people that I knew and believed I could build a successful bank. We work hard to be the most supportive bank to the Houston community."
Since founding, Amegy Bank has grown to have 75 banking locations in Texas and about 2,000 employees. His father's words on loyalty and celebrating hard work continue to guide Johnson.
"Anybody who thinks they're going to be great all by themselves has a false illusion of what success can mean," he said. "You can only do so much as one person, and if you get a team of people working with you, believing with you, seeing how hard you are working — they'll want to be part of the team. Hard work becomes contagious."
The words on loyalty and celebrating hard work shared by Johnson's father continue to guide him.
And now, Johnson sees that he can continue to give back by sharing his story and perspective.
"I think the next phase of my life is going to focus on education," he said. "When I graduated, that was the beginning of my education, not the end."
Johnson added: "I want to help kids be as successful as possible, and I believe Bauer is the best avenue to accomplish this. I want to encourage kids to never quit believing in themselves and the power of education. They need encouragement to be the best they can be to achieve a successful life."