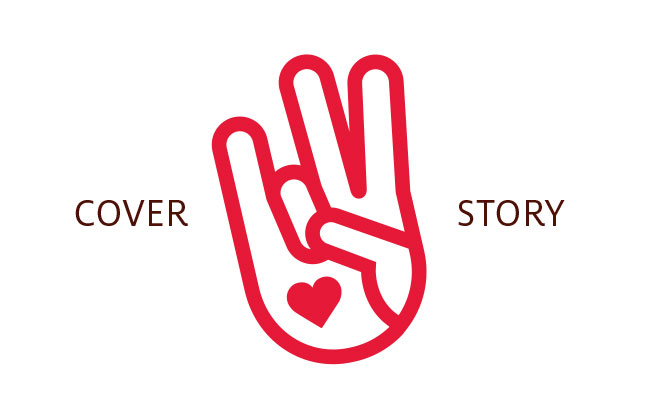 Doing good things in your community is good business — that's the idea behind service learning.
Over the last decade, this style of teaching and learning has become an important part of business degree programs, with the Association to Advance Collegiate Schools of Business (AACSB) emphasizing the role that business schools play in training responsible and community-minded business leaders.
At Bauer College, the marriage of classroom learning and community engagement can best be seen through student organizations. With nearly two dozen groups at the under-graduate and graduate levels, the college offers students the opportunity to combine meaningful service to the community with curriculum-based learning.
"Service is really part of the Bauer College brand," said Sarayu Sundar, program manager for student engagement. "Our students innately seem to be driven to take what they're learning in the classroom and use it to improve the lives of others. Our student organizations provide the perfect platform to do just that."
Here, we highlight just a few of the Bauer student organizations that are making a difference in local (and global) communities through service.
---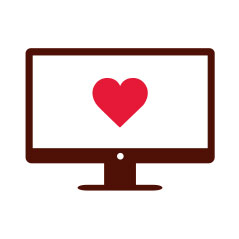 Giving Back to Get Back

MISSO MEMBERS FEATURED HERE (FROM LEFT) KEVIN LEAL, XAVIER CARDONA, JULIO LEON AND ASHLEY DANG.
Members of Bauer's Management Information Systems Student Organization (MISSO) seem to live by a certain code — you get back by giving back.
"I believe that giving back is a cycle," said MIS senior Ashely Dang, who is Java education officer for the organization. "If others see you giving back to the community, it encourages them to do the same, and the cycle repeats. We're building a better community over time."
Founded in 1982, MISSO counts both MIS students and those from other majors among its roster and focuses on connecting members to each other and to future careers, with opportuni-ties to network and volunteer.
At 330 members strong, MISSO currently volunteers with the Houston Food Bank, Hamilton Middle School, the Village Community Learning Center and most recently, East Side University.
"East Side University is a small school just outside of campus that focuses on providing adults the job skills necessary to escape generational poverty," said MIS senior Xavier Cardona, ethics officer for the organization. "Last semester, we teamed up with them by sending in volunteers to help teach and tutor the students taking their computer courses. The classes met two nights a week, and we had an average of two to three volunteers for each class."
---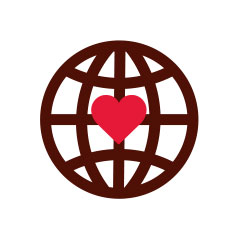 A Global Perspective
BAUER GLOBAL BRIGADE MEMBERS FEATURED HERE (FROM LEFT) ROXANA BAGHERI AND CHRISTINE WALKER.
One Bauer student group is taking its passion for service worldwide.
Bauer Global Brigades, part of a national nonprofit called Global Brigades, is working to close the poverty loop and create sustain-ability in rural areas through financial education.
"I've always loved helping people," said marketing junior Roxana Bagheri, president of the organization. "Finding an organization that lets you apply the business skills and knowledge you gain in the classroom to make a difference in someone else's life sounded like the perfect fit for me."
The students are currently working on a partnership with SEARCH, a non-profit that helps eradicate homelessness in Houston. Recently, Bauer Global Brigades took a service trip to Panama with several other Global Brigades organizations.
"We believe we can make a change. We do so by taking members on a week-long trip to a developing country, like Panama, to provide financial literacy education along with business consulting to micro-entrepreneurs," Bagheri said. "Bringing their programs together, we create a holistic model that will make a community sustainable."
The chance to see the people who benefit from the organization's service has been life-changing, she added.
"I realize that not everyone has been given the same opportunities as me. I want to be able to give back those opportunities to people who weren't able to get them," Bagheri said. "It's important to me that everyone is given the chance to succeed."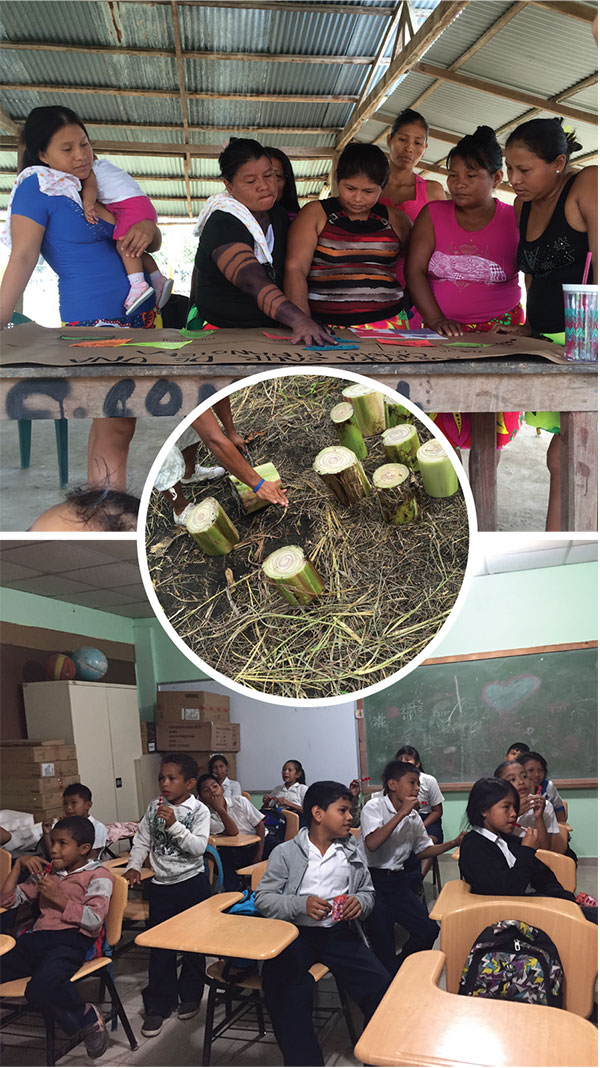 ---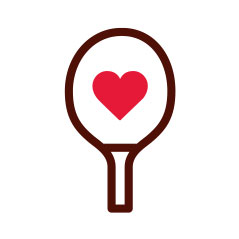 Students on a Mission

GAMMA IOTA SIGMA MEMBERS FEATURED HERE (FROM LEFT) TOVE HALRORSEN, KRYSTAL VILLARREAL, BENJAMIN BYSKINIS AND FARNAZ ZIAEE.
Students in Bauer's Gamma Iota Sigma business fraternity are on a mission — help as many people as possible.
They're doing that by being involved in a range of service projects, including a partnership with Mission Squash, an organization that mentors and tutors underprivileged children through the sport of squash.
"We've been working with Mission Squash for about two years now, when it first started," said finance junior Krystal Villareal, who is Gamma Iota Sigma vice president. "The program consists of squash coaching with these kids — something that is not very popular in the United States and regarded as a high-class sport and not usually available to most people because of how expensive it is."
The Bauer student organization also volunteers with Marsh (a commercial insurance and risk management firm), Hermann Park Conservancy and the Houston Food Bank.
"In college, we are learning how we want to start the rest of our lives," said supply chain management junior and GIS internal affairs officer Tove Halvorsen. "What better way than to help others, stay grounded and possibly find another area that interests you?"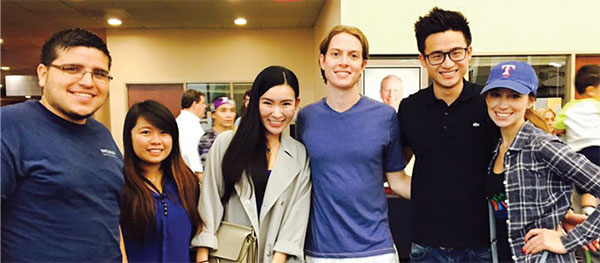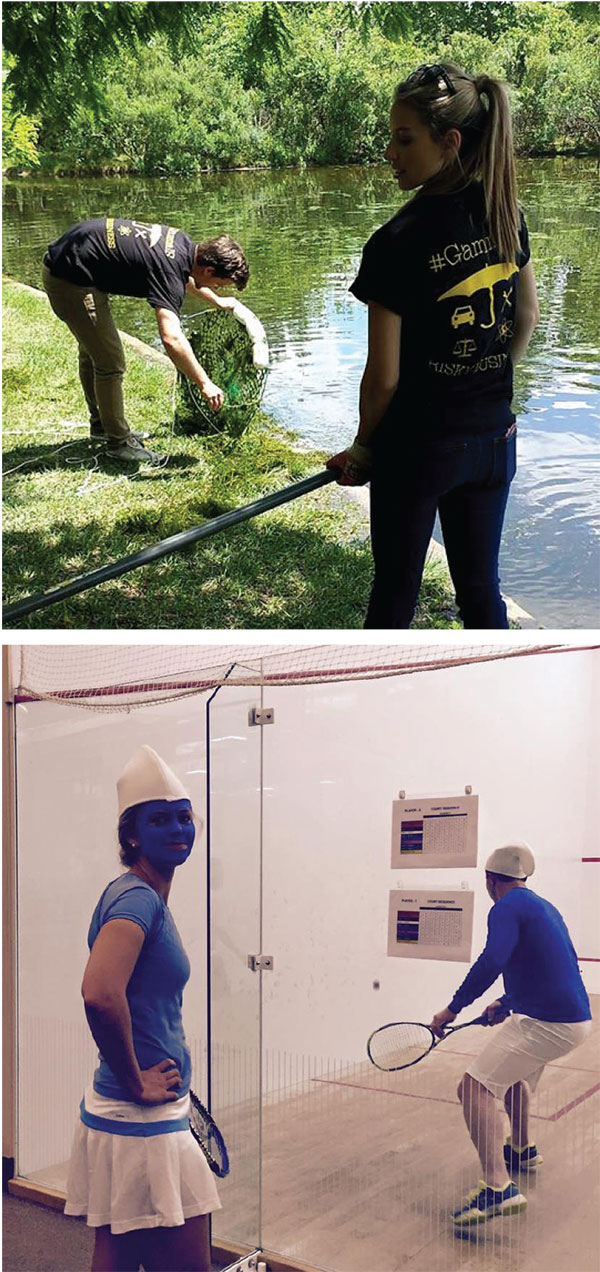 ---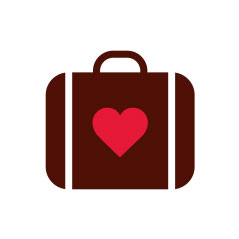 The Business of Service

BAUER WOMEN SOCIETY MEMBERS FEATURED HERE (FROM LEFT) NICOLE GARCIA, NOUR YOURIS, MARIA GUERRERO AND XENA AYALA.
For members of the Bauer Women Society, it's important to learn now that business success is about more than profit margins and revenue.
"Being a business leader is not just about the corporate world," said marketing and human resource management senior Nourhan Younis, who is vice president of the organization. "We have to give back."
The group, which is open to students in all majors, aims to equip future businesswomen with the professional skills needed to succeed in the workplace through networking opportunities, workshops, career panels and other events. Part of that training also includes volunteering, according to supply chain management junior and BWS president Maria Guerrero.
"It creates a habit," she said. "If you start giving back when you're young, you'll know you can make a difference and a change in your community."
She added: "A lot of members come to us at the beginning of the semester asking for the community service events that we're going to have. They already have that drive to volunteer."
Currently, the organization hosts several community service programs, including events at the Houston Food Bank, Hermann Park Conservancy and The Women's Home. This semester, they are also launching a canned food and toy drive as part of a friendly donation competition with fellow Bauer organizations Accounting Society, Finance Association and the Asian Business Student Association.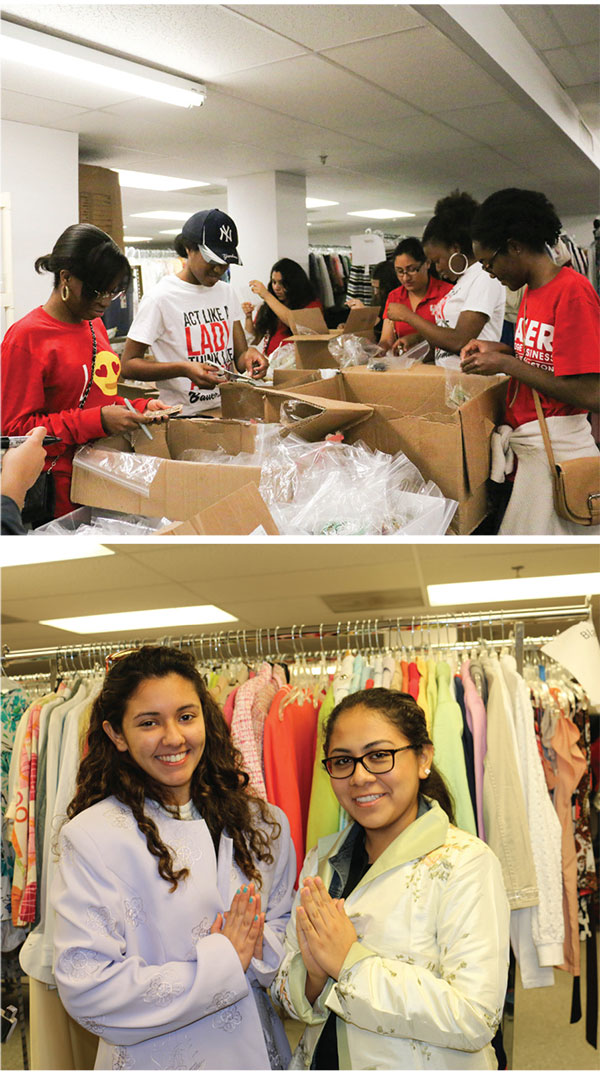 ---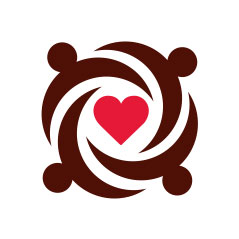 Cultural Connections

HBSA MEMBERS FEATURED HERE (FROM LEFT) HUGO SANCHEZ AND CARLOS CAÑAS.
Giving back has become a way to connect to community and culture for members of Bauer's Hispanic Business Student Association.
The student group regularly volunteers with the Houston Food Bank, the Muscular Dystrophy Association, neighborhood cleanups, Memorial Assistance Ministries, blood drives and Thanksgiving Super Feast. In addition, the organization hosts Future Cougars Day and Youth Outreach Day, bringing hundreds of low-income high school and middle school students to campus, offering tours, workshops and motivational speakers.
HBSA President and MIS junior Hugo Sanchez said that it's a priority for the organization to organize these types of service initiatives.
"We set aside a portion of our budget to give back to these kids so they're introduced to college life and can see what it's like to be a student," he said. "We want to encourage and inspire them to pursue higher education."
Sanchez added: "There's a social aspect as well. We're giving back to the community and also getting to know one another. We have a big family culture, and that's how we get connected."
Founded in 1983 and open to all majors, HBSA serves to empower and connect Hispanic students pursuing careers in business. With 250 members, HBSA provides internships, scholarships, socials and other ways for students to get involved. The organization also places an emphasis on volunteer events that double as networking opportunities.
"We want to make a difference in the community, not just here in college but also down the road as we start our careers," said business senior and HBSA community relations director Carlos Cañas.
---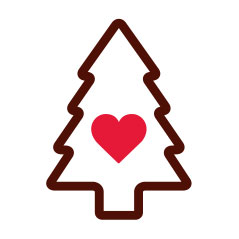 Professional Growth Through Service

BETA ALPHA PSI MEMBERS FEATURED HERE (FROM LEFT) NISHA RAHEEL, SHELBY DAVIS, ISABELLE LIM AND MICHAEL ANDRADA.
Volunteering as a group allows you to connect to others, but it's important to look inward, too, according to Beta Alpha Psi community service officer Shelby Davis.
"I know to be persistent in the things I want," said Davis, an accounting junior. "I know to be compassionate. I know to commit to the things I want. Community service gives you all that and more."
Bauer's chapter of the national Beta Alpha Psi organization launched several new outreach initiatives this year, including partnerships with the Children's Museum of Houston, Plant It Forward and a local horse ranch. The student group is also continuing its existing service projects — volunteering with at-risk kids at the Nehemiah Neighborhood Center, hosting a blood drive on campus and planting trees at Hermann Park Conservancy.
"We're working on professionalism and social skills to make sure our members are prepared for the working world," said accounting senior Michael Andrada, Beta Alpha Psi president. "But community service is also very valuable, both personally and professionally."
---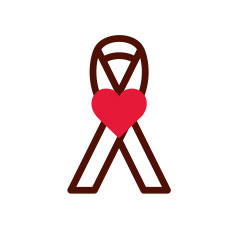 Granting Wishes

FEATURED HERE IS BAUER'S NATIONAL ASSOCIATION OF WOMEN MBAS CURRENT PRESIDENT VEDA CHOWDHURY.
Students from Bauer's National Association of Women MBAs are in the business of granting wishes.
"Philanthropic acts are usually performed without the expectation of direct benefits, but they certainly come with their own rewards," said MBA candidate Veda Chowdhury, NAWMBA president. "Our organization empowers MBA students and giving back prepares them for the journey to corporate America or their own entre-preneurial ventures, where they will be more aware of the value philanthropy brings to their organization."
By partnering with the Make-A-Wish Foundation, the student organization raised more than $10,000 for a local boy diagnosed with a malignant neoplasm of the bone and cartilage, helping him reach his dream of swimming with sharks in Bora Bora.
"We raised the funds in five weeks and exceeded our target goal by 42 percent," said MBA candidate Lola Soyebo Harris, who served as NAWMBA president during the fundraiser. "We accomplished our goal with sheer dedication and hard work, knowing we could not fail, as we truly wanted this boy's wish to come true."
She added: "As we developed ourselves professionally, it was important that we developed the skill of giving back in our busy lives. This experience was life-changing for everyone involved."