Students
CONNECTING TO CULTURE
Bauer undergraduate keeps tradition alive through dance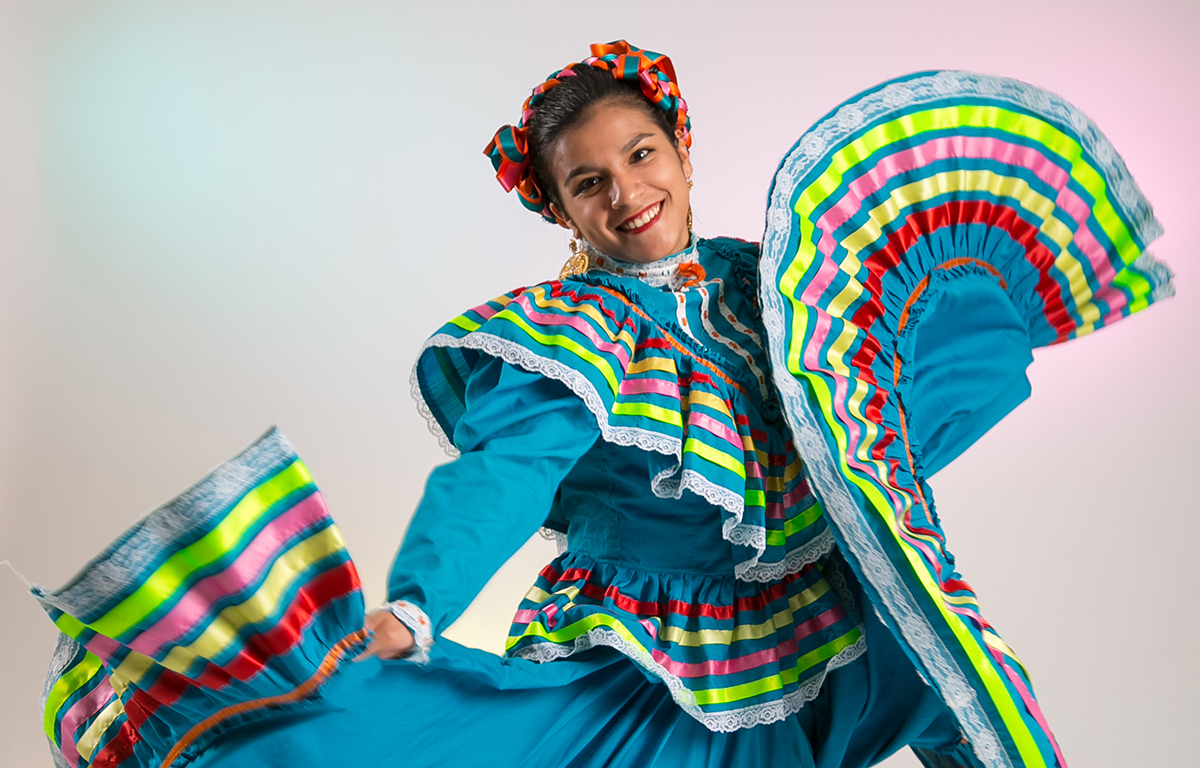 I want to help dancers grow not only in their artistry but as people.
Claudia Rodriguez, Bauer Junior
The vibrant colors of Claudia Rodriguez's folkloric dresses do more than mesmerize audiences — they represent the cultures and traditions of her Mexican heritage.
A Bauer College junior, Rodriguez balances schoolwork and on-campus job as a resident advisor with ballet folklórico, a style of dance she's been studying since she was 10 years old.
"I went to a wedding, and there were dancers there," she said. "I just remember really loving it. My mom saw that I really enjoyed it, so she put me in classes, and I kept dancing."
The dance form, known popularly for its brightly colored costumes and soundtrack of traditional Mexican music, is a way for Rodriguez to stay connected to her culture. A blend of different regional steps and storytelling, the style of dance pays homage to the different states of Mexico, which Rodriguez says allows both dancers and audiences to learn about the heritage without having to step foot outside the country.
She added: "Each state of Mexico and each region has its own style of dancing. It celebrates each state's individuality. You can see the different influences. Each dance has its own reason. Each costume has its own significance."
After organizing a retreat for her church, Rodriguez also discovered an interest in management and now plans to combine her two passions by opening her own dance studio, where she will continue to spread her knowledge about the history of Mexican folkloric dances.
"I really like to manage things," she said. "I feel that natural calling to do something like that. You have kids from age 4 all the way to adults involved, and I want to help dancers grow not only in their artistry but as people."
Rodriguez credits the education she's receiving at Bauer with giving her with some of the necessary tools to reach her goal, including valuable connections, resources and instrumental coursework.
I've taken entrepreneurship classes, management classes, accounting — each one gives me the basic knowledge of how to get through everything," she added.
She also credits her fellow Bauer Excellence Scholars and student program manager Sarayu Sundar for encouraging her to pursue her dream.
"I had a lot of not being sure if that's what I wanted to do, wanting to take the safe route and do something else," she said. "But Sarayu encouraged me by saying, 'You can do it – why not?'"
In the meantime, Rodriguez plans to continue performing with her dance group, Mixteco, and reaching out to the community through cultural events, school visits and other local performances. The group also takes time to volunteer within the community, something Rodriguez plans to someday implement into her own studio.
"I really want to put that emphasis on volunteering because whenever you have kids who are younger, you're really involved in shaping their lives," she added. "And I think by having them volunteer while they're younger, that would help them keep that desire to help people."