Community
Child's Play
Marketing alumna curated box for early childhood education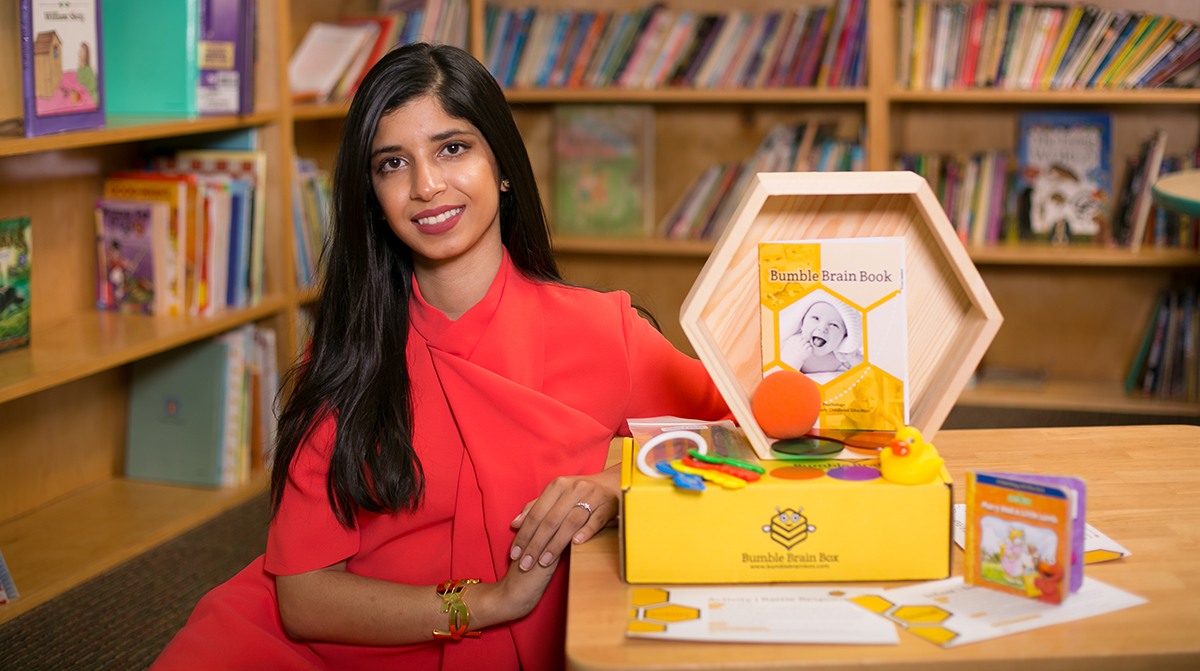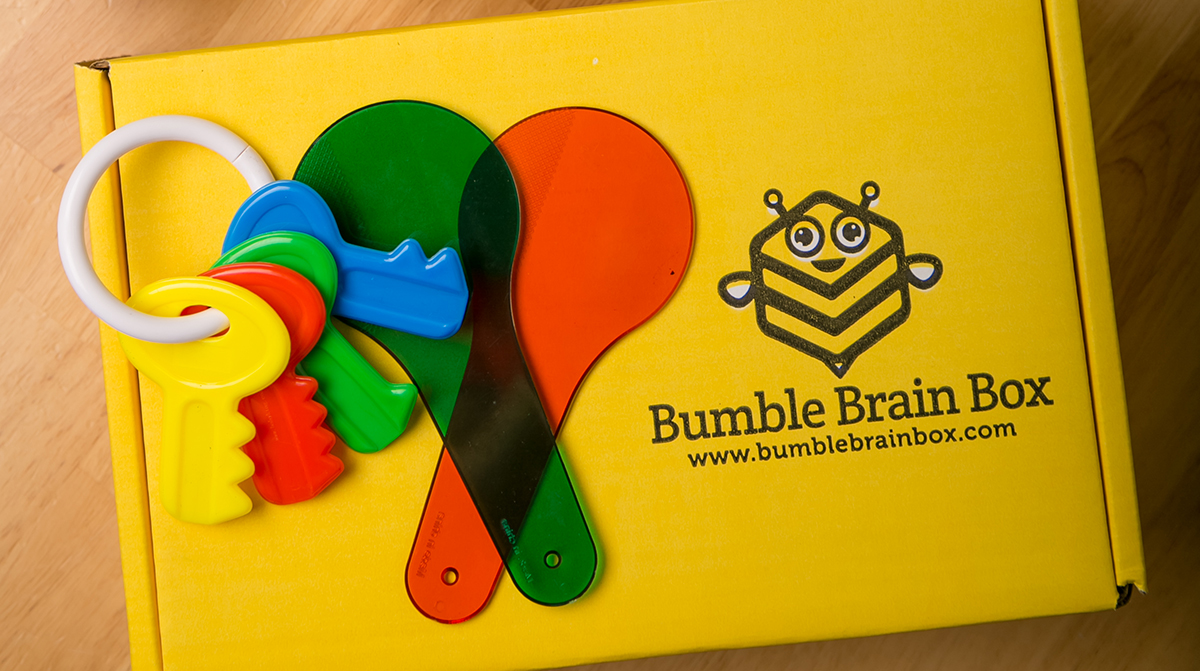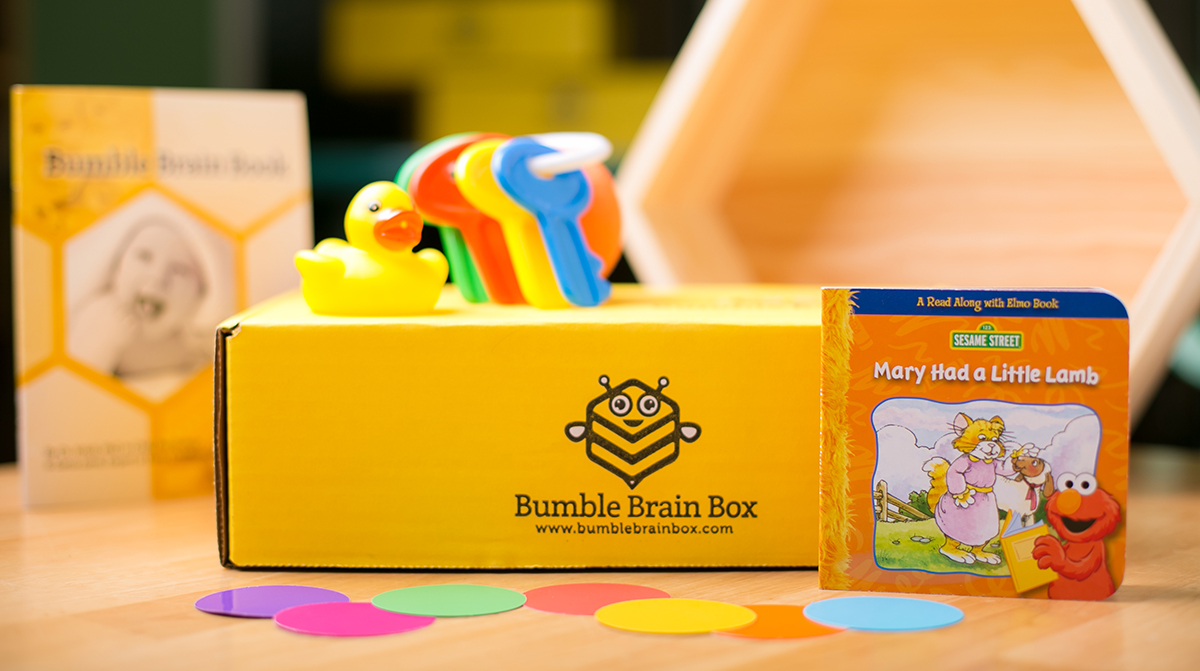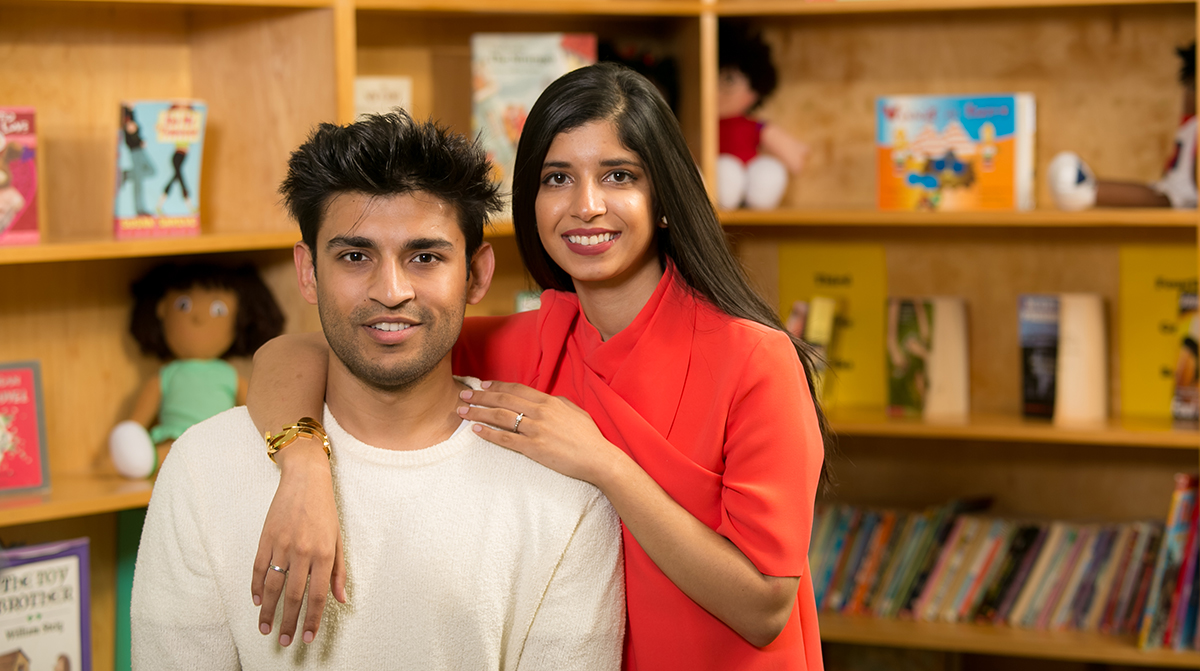 What's In a Box?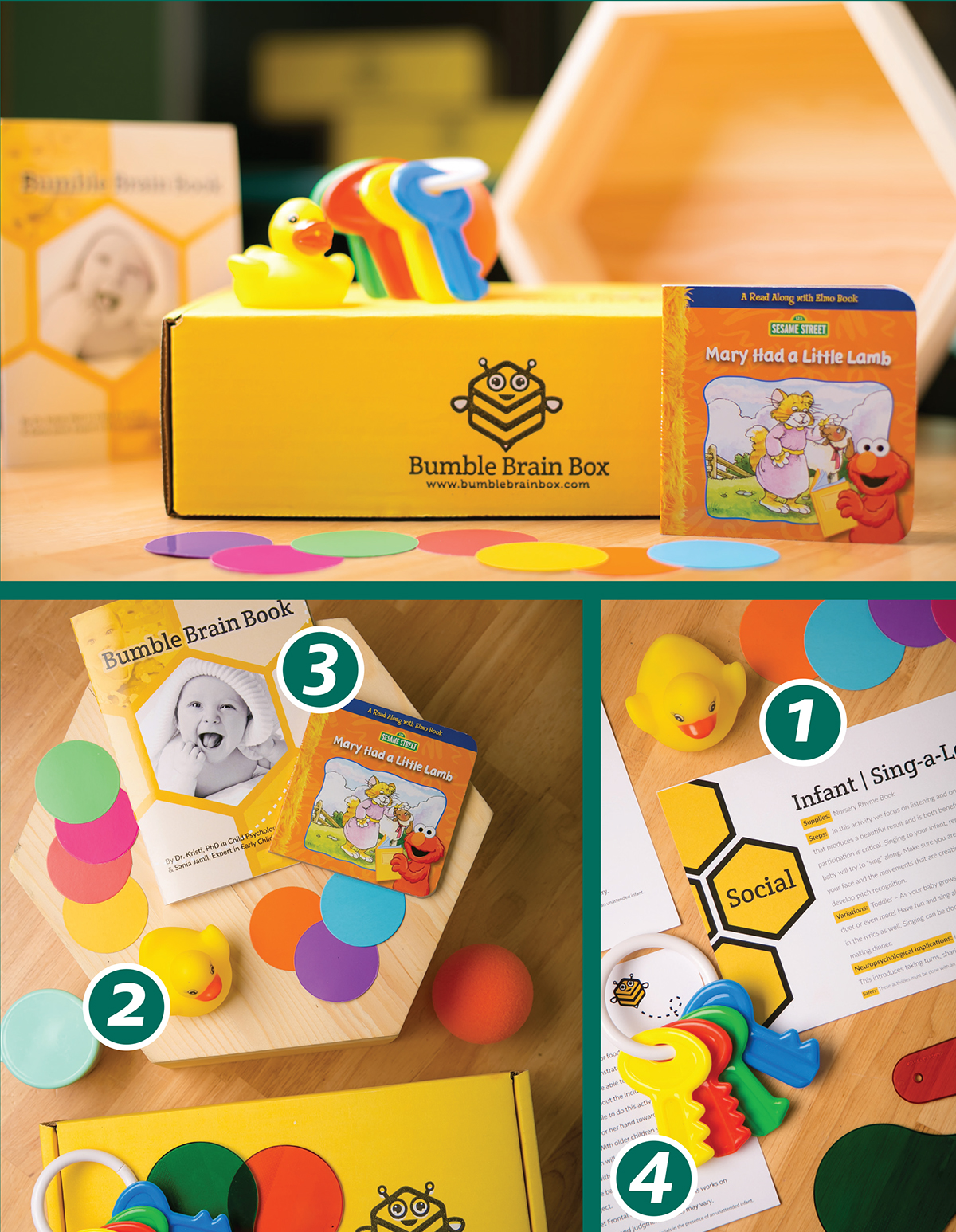 Each month, subscribers to Bumble Brain Box receive a curated package of items designed to support parents in targeting specific areas of brain development with their baby or toddler through play. Every box includes: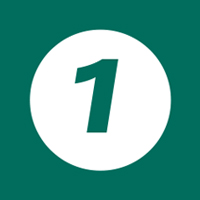 5 activity cards (targeting social, emotional, physical, cognitive and auditory development)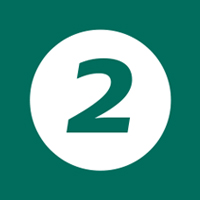 5 items designed for each activity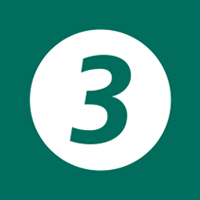 A book describing the science behind each activity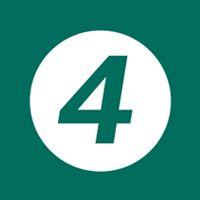 Unlimited email access to experts in education, psychology, medicine, nutrition and dentistry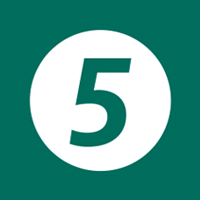 Becoming a parent can be overwhelming.
Gadgets and gizmos line the shelves of every ware-house store, begging first-time moms and dads to buy this or that to ensure a happy, healthy baby.
Friends, family members, that stranger in the grocery store — everyone seems to have an opinion on what your child should be doing (and when).
Books and blogs outline the typical trajectory for a developing newborn, infant and toddler, from the average age of the first reciprocal smile to targets for learning to walk and talk.
Bauer College marketing alumna Sania Jamil has decided to save parents from the stress and guesswork. She recently launched Bumble Brain Box, a company that provides a monthly curated subscription box for children up to three years old, aimed to teach parents how to play with their child to target specific areas of brain development.
When Jamil makes recommendations to parents, she speaks from a background of experience and research. She grew up with parents who owned preschools, immersed in the world of early childhood education, and entered the family business as soon as she graduated from college in 2013.
"Nothing is more important than the first five years of a person's life," she said. "In fact, research shows that about 90 percent of brain development happens by age 5, and as a self-development enthusiast, that is powerful. The fact that if I can help someone in their first five years, which will shape them for life, is some-thing that drives me to do the best I can every single day for my customers."
Jamil's customers seem to appreciate her passion for the idea behind Bumble Brain Box. After opening sales on Mother's Day this year, the company sold out of boxes in its second and third month.
As the business grows, Jamil said, so will the number of children benefiting from its mission. She plans to donate a percentage of profits to fund mission trips to support early childhood education in developing countries.
"I am not driven by money," she said. "I am driven by the need to succeed, leaving a legacy and helping others, which is my 'why.' Beyond that, I didn't want to simply write a check to charity. I want to put in my time and sweat into helping develop early childhood education centers in other countries. I want to create an impact."
Jamil is also making an impact locally in her family's preschool business as a franchisee for Kids 'R' Kids. She owns and operates three preschools in Katy, TX, where she initially got the idea for Bumble Brain Box. She also helped her family launch the Kids 'R' Kids franchise in China.
In addition, she spends time developing others through an online blog called @howgr8pplthink, where she chronicles her small business and startup journey, and as a contributor to The Huffington Post.
Through @howgr8pplthink and the blog for Bumble Brain Box, Jamil shares her insights online with over 20,000 followers.
"I also manage almost 150 staff members, and I find myself pulled in every direction constantly," she said. "It's hard to stay organized and on track. I create a to-do list only to have a million other things arise, which is a common characteristic of entrepreneurial life, but I absolutely love and embrace the madness. I wouldn't have it any other way."
Jamil prepared for success as an entrepreneur through Bauer College's undergraduate program, where she received a certification from the Wolff Center for Entrepreneurship program, completed the Program for Excellence in Selling and was a Bauer Honors student.
The fact that I can help someone in their first five years, which will shape them for life, is something that drives me to do the best I can every single day for my customers.
Sania Jamil, Founder & CEO, Bumble Brain Box
"I wouldn't have the confidence to call myself a salesperson without the training I received at Bauer," she said. "It is vital to who I am and my company's success. When I go to an expo, I tend to close one in every three or four people that stop by my booth, while other booths are just tied up in giving out prizes and freebies. I'm not focused on handing out freebies. I'm focused on my customers signing up on the spot, and that hunger and power to close — that is a byproduct of my education at Bauer."
Jamil also credits the team she works alongside at Bumble Brain Box for the company's early success. Her husband, Nausherwan Khiljee, is chief opera-tions officer, and Dr. Kristy Spath serves as chief research and design consultant.
"I'm over all of our marketing and sales, and (Khiljee) is over all service," she said. "It's such a blessing having him on the team because his strengths compensate for my weaknesses. (Spath) helps with the creation of each activity we offer, along with online content creation for our blogs and social media and launching the Bumble Brain Class, which we host in several preschools around Houston and may eventually offer at various preschools around the country.
"Just three years after completing her undergraduate education, Jamil is poised to impact the lives of children across the globe through her business. Success, she said, has as much to do with someone's own drive as it does with their ability to connect with others.
"Create relationships everywhere you go," Jamil added. "It really is true — it's not what you know. It's who you know. If you're still in college, spend every extra hour you have cultivating your network to reflect where you want to be in 10 years."