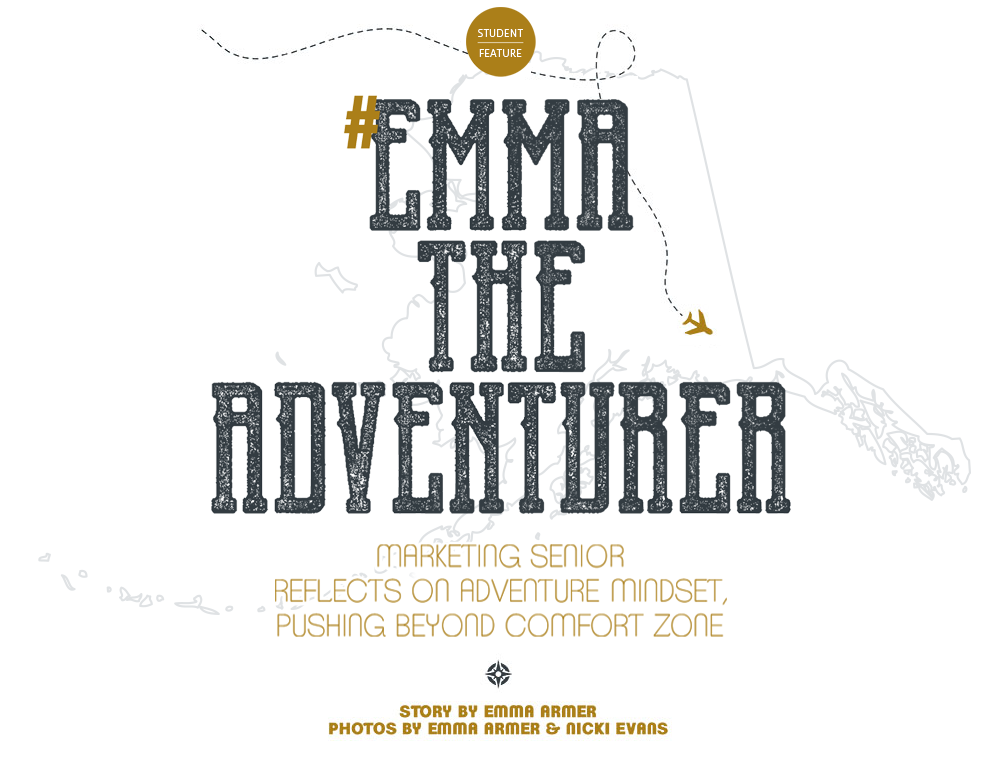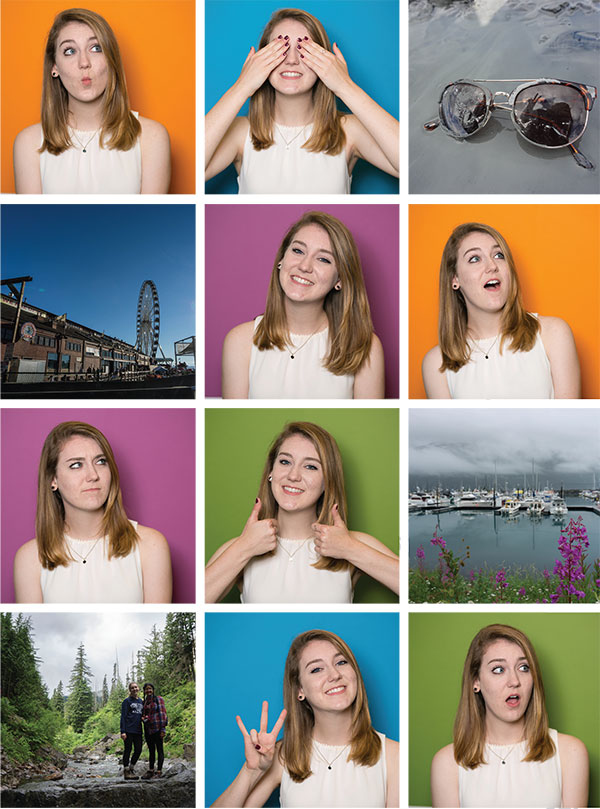 EMMA ARMER LIVED IN ANCHORAGE AND SEATTLE OVER THE SUMMER AS A HILTI INTERN.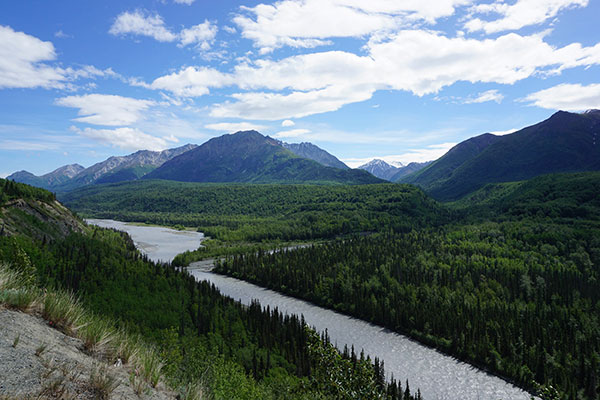 SCENIC VIEWS WERE ABOUND JUST A SHORT HOUR AWAY FROM EMMA'S OFFICE IN ALASKA EN ROUTE TO MATANUSKA GLACIER.
to me, adventuring is about taking calculated risks, about walking into the unknown, no matter how scary, and seizing the opportunity anyway.
Emma Armer
I HAD A LOT ON MY PLATE IN SPRING 2016.
I was serving as president of Enactus UH, a project-based student organization that aims to help the Houston community through entrepreneurial action.
I was mentally preparing to take a team of eight students to present our chapter's impacts in front of a panel of corporate judges at the Enactus National Competition in Missouri later in May.
I had also just joined the Program for Excellence in Selling, the nation's top sales program, which earned its name by giving students the opportunity to get real-life sales experience selling tickets and sponsorships for a golf tournament we would be hosting in March.
So as the early weeks of the spring semester started ticking away, I knew that before I got lost in a sea of deadlines, presentation prep and sales, I needed to find a summer internship that aligned with my career goals and ultimately set me up for life after graduation.
The Program for Excellence in Selling made my job search much easier. The program has 26 corporate partners, and two different companies come to campus each week to talk about their operations, answer questions and hold interviews.
When Hilti came to campus, I knew it had what I was looking for in a company — geographic, horizontal and vertical career mobility, a global presence, and an open-door culture. They extended me an offer for an outside sales position in Anchorage and Seattle. It was official. I'd be spending my summer in my dream location (the Pacific Northwest), working for an amazing company and doing sales, which I wanted to get an even deeper understanding for. 
I couldn't wait.
Some aspects of the internship intimidated me. I would be the only intern in Anchorage and Seattle. I had never been to Alaska and didn't know anyone who lived in either location. I had also never been away from home for 12 weeks at a time. In addition, the industry was brand new to me; Hilti sells construction tools and services. I was trained on the 12-volt power tool line and would be spending time making product pitches at construction jobsites. It was something I never imagined myself doing, but I was looking forward to mastering a brand new industry.
During the internship, I was a salesperson by day. I worked on planning events that targeted decision-makers and showed customer appreciation in order to drive $45,000 in sales, shadowed numerous employees in different roles to gain a deeper understanding of the organization, and sold $25,000 worth of firestop products. I overcame my initial fear of getting in a car and driving to a company to speak with people I have never met in order to turn blueprints into buildings and to build a better future.
This summer undeniably changed me for the better, both personally and professionally, in a myriad of ways. But I think the most significant impact my internship produced is that I try to live life with what I call "adventure mindset."
To me, adventuring is about taking calculated risks — about walking into the unknown, no matter how scary, and seizing the opportunity anyway. It's not limited to traveling a new city or exploring your own. I believe adventure can take place in any setting, including in school and in business.
Taking opportunities like that can sometimes means failure. Surprisingly, I think that may be what I like the most about it. When we fail, we learn, and we grow. Malcom Forbes said it best: "Failure is success if we learn from it." Instead of getting discouraged by my failures, I instead think, "Well, that was an adventure."
Whether it be in my community, in my campus, in my job, or in my personal life, I have made it my mission to serve those groups to the best of my ability because through taking action and creating my own adventures, I can grow as a person to be a better neighbor, a better officer, a better intern or a better friend.
At the end of the day, taking opportunities isn't just about seeing a new place, trying out a new coffee shop and taking pictures — it's about stepping into the unknown, possibly failing, becoming better, and using that knowledge to help others and improve organizations and communities along the way.