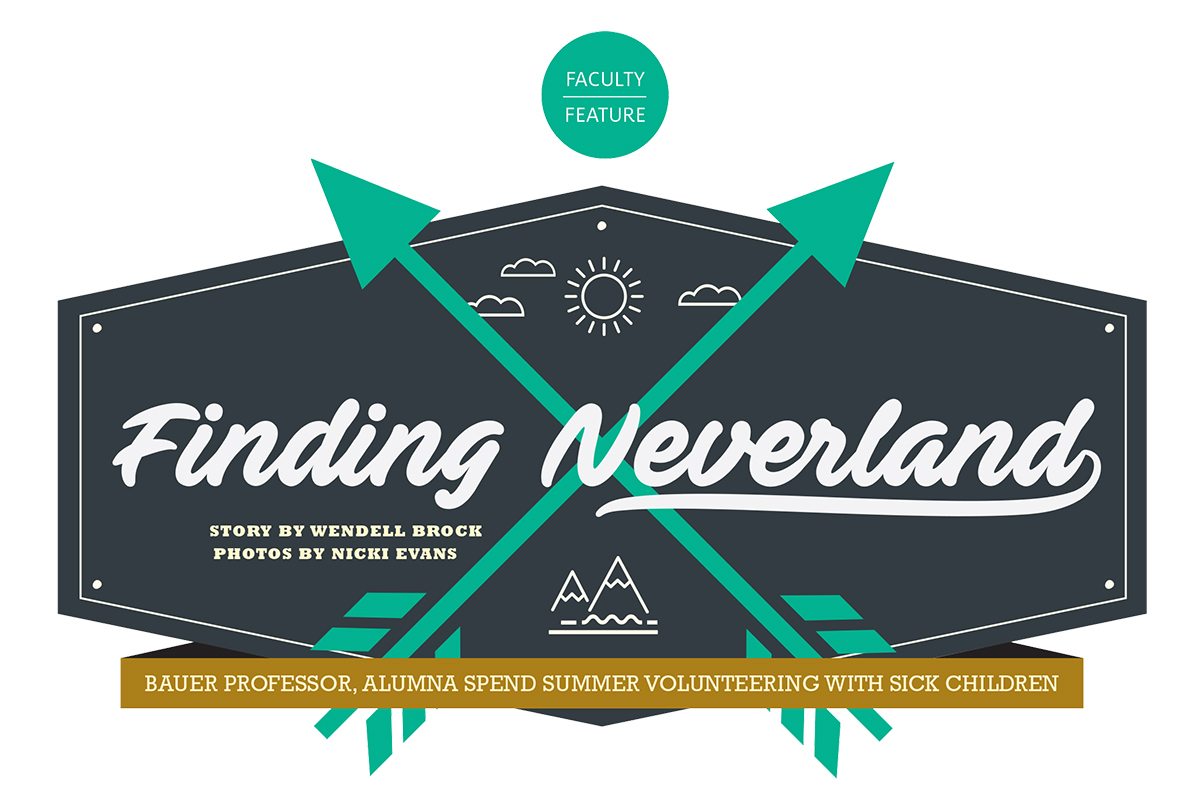 Perhaps your idea of a dream vacation is scaling the
heights of Machu Picchu, traveling to India to see
the Taj Mahal or taking the family to Disney World.
For Amy Vandaveer (MBA '11), it's spending a week
as a camp counselor at Double H Ranch in upstate
New York. For the past eight summers, Vandaveer,
a clinical assistant professor in Bauer College's
volunteered at the ranch, which serves children and
families dealing with life-threatening illnesses.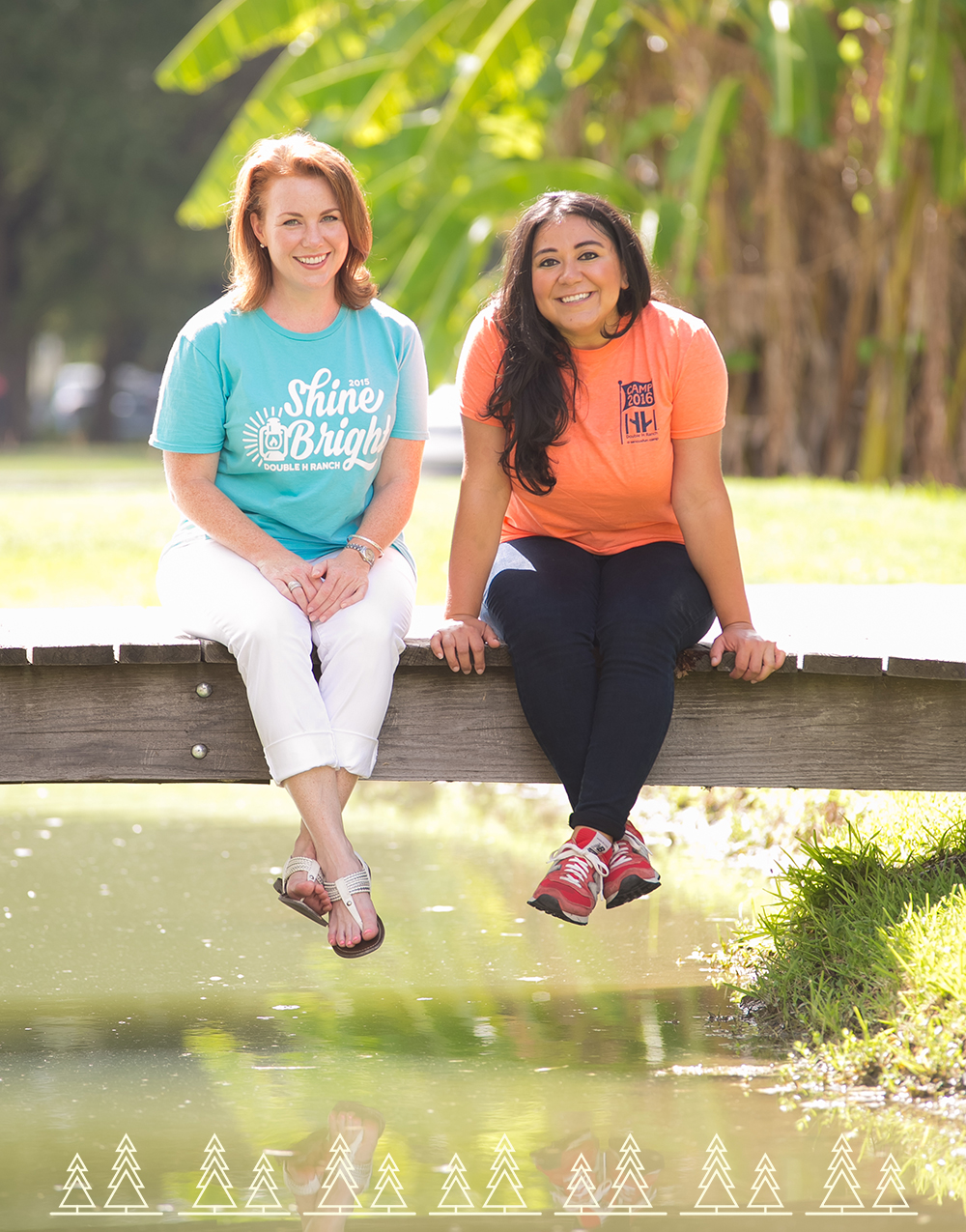 "SHE JUST HAS THIS MAGNETIC ENERGY AND ENTHUSIASM," CLINICAL ASSISTANT PROFESSOR AMY VANDAVEER (LEFT) SAYS OF CLARISA MIRANDA, A FORMER STUDENT INSPIRED TO VOLUNTEER ALONGSIDE HER AT DOUBLE H RANCH THIS SUMMER."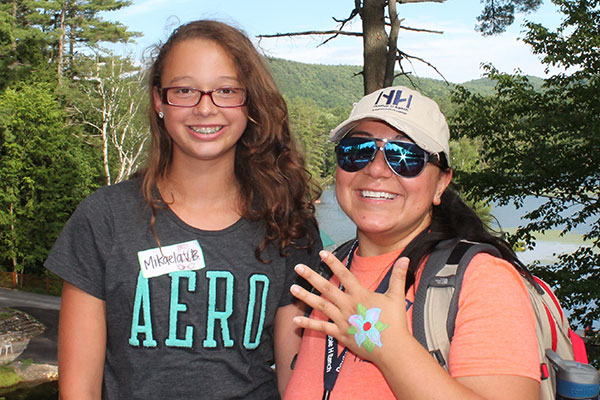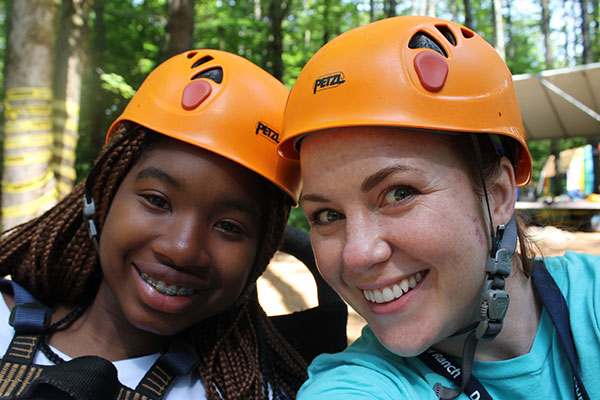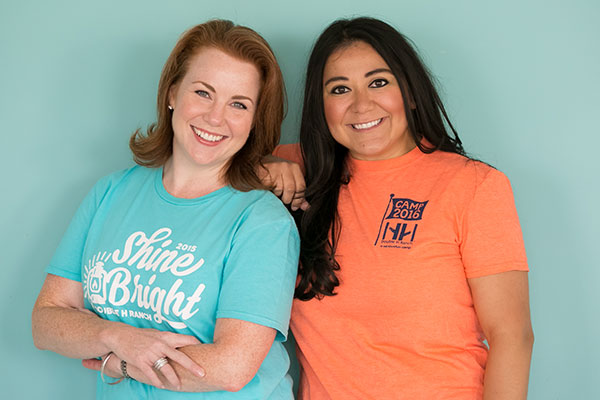 It's just taking that mindset from camp into the classroom and thinking, 'How can I make you be successful?'
"It's like Neverland," she says of the camp in Adirondack Park, founded in 1993 by actor Paul Newman and philanthropist Charles R. Wood. "It doesn't matter how old you are, or how cool you are as a teenager. Everybody ends up singing the insane songs and doing the wild cheers. It's just really freeing and crazy fun."
Vandaveer, who has won four Excellence in Teaching Awards in her 17 years at the University of Houston, jokes that her volunteer work is not entirely altruistic. "I do it for me," she says. Just as Double H campers are transformed and rejuvenated by the experience, so is she.
Some of the campers are wheelchair users who need help getting dressed or going to the restroom. Some of them can't speak. Immersing herself in a cabin full of campers, usually boys, Vandaveer's job is to navigate such awkward and vulnerable moments and make the kids feel safe.
Sometimes the children, who range in age from 5 to 16, arrive at the ranch lacking confidence and poise. They have been stereotyped and bullied. But after the zip-lining, the amusement-park visits, the talent shows and horseback riding, they feel empowered and accepted. Often, they leave as different people.
"I describe it as heaven on earth, because everyone is accepted as they are, regardless of race, creed, limitations, physical situation. It's just like magic," says Vandaveer, who was a camp counselor while a student at Texas A&M University and later volunteered with Make-A-Wish Foundation and Texas Children's Hospital.
"You can see a child change in a week. A child that is normally limited, that is normally scared, that is normally told 'no.' And the freedom and confidence that they get. And then you get the repeat camper that will say, 'I wait all year long to come here.' … It has the same effect on me."
Year after year, she wants to go back.
At Bauer, Vandaveer — who has more than a decade of experience in recruiting, sales, marketing and training — teaches Professional Selling and Personal Branding to undergrads, and Business Communications and International Marketing to MBA students. (The latter course, which she developed, includes a Study Abroad segment in Paris.)
She believes the camp experience gives her the grace to be a better professor.
"When you can step out of your own world and see things in a different perspective, it makes you a better teacher," she says. "You don't ever know what's going on with someone else. When you treat people with kindness and compassion and just have fun, the world is better."
Vandaveer's love of Double H is so apparent that it has spilled over to students and colleagues. Clarisa Miranda (BBA '10), a former manager for the Program for the Excellence in Selling, joined Vandaveer in New York the past two summers.
Miranda recalls visiting Vandaveer's office and being curious about the Double H photographs and mementos that clutter the room. "I remember going in there, and I would see pictures of kids in wheelchairs, and I was like, 'Who are they?' And she said: 'Oh, I volunteer at this summer camp in upstate New York for kids with life-threatening illnesses.'" Eventually, Miranda decided to give it a shot.
"I knew if she went in, she would go all in," Vandaveer says of her former student. "She did, and it was so fun."
"It's not easy volunteering at that camp," says Miranda, who now lives in Chicago, where she is market development manager at Mattress Firm. "But if you know that's something you are capable of, her pitch makes you want to try."
Getting Miranda involved was "kind of like a big sister moment," Vandaveer says. "I felt very proud. ... To be able to share that sacred place with someone and have it become that special to them, too, there's nothing better."