As a part of the WCE program, students have the opportunity to be 'servant leaders' in the surrounding community by working with outreach programs. These experiences benefit both the student and those with whom the student interacts as they share their knowledge and in turn gain new understanding.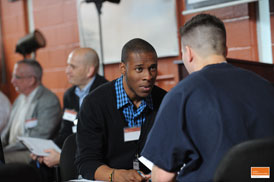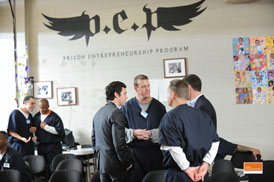 PEP is an award winning entrepreneurial extension to the Texas Prison System. This program has successfully graduated over 700 inmates with a 3 year recidivism rate of less than 5%. WCE students act as judges in season competitions and provide mentoring support of their own within the confines of this program. PEP has proven to teach more to those who get involved than the recipients of all of the guidance and help.
STEP is a program focused on empowering middle school students to become leaders who shape the future. It allows the student to be an independent thinker by coming up with their own ideas, spur them into action, and achieve their goals. STEP currently has 15 middle school student members from Cullen Middle School, and receives support from WCE students as well as other Bauer College staff and students.
Lemonade Day is a free, fun, experiential learning program that teaches youth how to start, own and operate their own business – a lemonade stand. It began in Houston, Texas by local entrepreneur and philanthropist, Michael Holthouse, when, instead of giving his daughter money to buy a pet turtle, he taught her to earn the money by setting up a lemonade stand. This inspired the event that started in 2007, and has since grown exponentially every year across America and into Canada. WCE students are able to get involved by helping kids with their early entrepreneurial endeavors.