Currently, we have a wide range of experience and tenure in our mentoring program. We have a number of Ernst & Young Entrepreneur of the Year award winners, new business owners, WCE alumni, women business owners, Silver Fox Advisors, and Operations Managers from leading corporations.
It is this selfless contribution on the part of these mentors that makes our program distinctive and unique and creates lasting value for our students and our program.
Claudia Ayala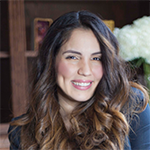 Claudia Ayala is a very well-known Latina businesswoman in the Houston community for dedicating herself to positively impacting and connecting other women through events and conferences focused on empowerment, leadership, and personal growth. She is the founder of The Latina Power community and specializes in building community relations, networking events, strategic campaigns, and visibility for non-profits.
About The Latina Power: The Latina Power is a community that promotes female empowerment by creating events and experiences designed with an atmosphere of sisterhood, union, and motivation highlighting the unique strengths, challenges, and opportunities women face during their personal and professional development.
"When women support each other, incredible things happen. In life, in business, in everything. It's magical when we stop pointing fingers and start opening our hands to one another, to link together, to raise each other up, to high five in support." - Claudia Ayala.
Myrna Baker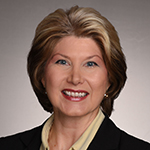 Myrna joined the Houston Methodist Hospital Foundation in August 2016 as Regional Development Director, working with the hospital leadership of Houston Methodist Clear Lake and Baytown Hospitals. Her focus is creating philanthropic strategies that engage the community for support of each hospital by focusing on strategic service lines and clinical programs.
With over 35 years in the healthcare industry, Myrna's career began in managed care contract negotiations for 15 years with nationally top-ranked health systems, including MD Anderson Cancer Center as assistant vice president of managed care, director with Humana Corporation (southeast Houston hospitals) and executive director of Gulf Health Network - a joint venture of UTMB Galveston and the Sisters of Charity St. Mary's Hospital and the first Physician Hospital Organization in the state of Texas. The next 15 years, Myrna served as director of business development and physician recruitment for CHRISTUS St. John Hospital which merged in 2014 with Houston Methodist and became Houston Methodist Clear Lake Hospital, where she served on the transition team for two years before joining the corporate division with the Foundation.
Myrna received a Master of Business Administration from the University of Houston - Executive MBA Program and a Bachelor of Business Administration, concentration in Marketing, from University of Houston - Clear Lake. She's held an active Group I - Health and Life Insurance License as a Texas licensed agent continuously since 1986.
Myrna has supported several non-profit agencies over the years and currently serves on the boards of West Chambers County Chamber of Commerce, the Bay Oaks Country Club Board of Governors, and the Association of Business and Professional Women in Clear Lake as treasurer elect. She's formerly served on the boards of Bay Area Turning Point, Inc., The Arts Alliance Center of Clear Lake and UHCL Alumni Association.
Myrna was born and raised in North Carolina and has lived in the Clear Lake / NASA community of Houston since 1983. She is married to Allen Baker for over 35 years; and they have three grown daughters. She enjoys gardening, hiking, biking, kayaking, cooking and hosting parties with family and friends.
Savannah Becerrill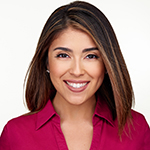 As a fellow graduate of the Wolff Center for Entrepreneurship, Savannah Becerril holds Bachelors degrees in Marketing and Entrepreneurship at the University of Houston (Class of 2014). She is also a certified audio engineer. With over 14 years of experience in the event industry, Savannah has managed to build a versatile career as an event planner, marketer, designer, and engineer. She now operates her own event planning and promotion firm called, Go Savvy LLC in Houston, Texas. Go Savvy specializes in purpose-driven events for businesses, nonprofits, and professional artists. When not busy with events, Savannah spends her time playing music, taking a hike with her pup, Jagger, or enjoying time with family and friends.
Professional Motto #1: Build a career out of what you enjoy and work with others for everything else
Professional Motto #2: Don't forget to fuel your drive on the way to the top!
Personal Motto: I can do all things through Christ who strengthens me ~ Phil. 4:13
Network Organizations:
Visitor Host Coordinator for the BNI First Class Referrals
Former Event Director for the Wolff Center for Entrepreneurship
Was featured in Voyage Magazine
Was featured in Nerdy Girl Success
Attended the University of Houston from 2010 – 2014
Jonathan Brown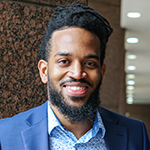 Jonathan Brown is co-founder and partner at ReImagine Biz, a Texas-based business strategy firm that empowers pioneering entrepreneurs to compete innovatively.
A connector at his core, Jonathan draws on his expertise to advise clients of diverse industries and sizes on their business strategies and brand development efforts. He and his team specialize in bridging industry knowledge and connecting that to the company's true value. With over 10 years of experience, Jonathan has collaborated on campaigns with global brands such as Nike and Adidas, produced creative work for brands such Macy's and Buffalo Exchange, and taught small businesses around the country to grow and unlock their market share potential.
Jonathan also serves as a board member for the rising non-profit Mason Makes Money Fund, an educational hub and source of seed funding for kidpreneurs. Founded in 2020, the nonprofit has taught children of all ages about entrepreneurship and financial literacy while also awarding grants to kid-owned businesses in Texas, Florida and Virginia.
Jonathan graduated from the University of Houston in 2014 after double majoring in entrepreneurship and marketing at the Bauer College of Business. The second youngest child of four, he grew up near Waco, Texas.
Jonathan credits his passion for helping others succeed to the service of his father, a U.S. military veteran, and to his mother, a life-long civil servant.
DD Carpenter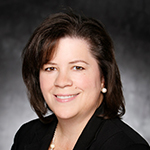 Co-Founder Adroit Partners, LLC – Headquartered in Houston, Texas · Women-owned staffing firm specializing in workforce solutions o Contract, Contract to Hire and Direct Hire Staffing · Expertise o Accounting & Finance o Administrative Support o Information Technology o Professional o Electronic Assembly/Light Industrial · Verticals We Serve o Business Services o Education o Energy o Healthcare o Publishing o Transportation , · Certified Diversity Supplier/Texas HUB o Women Business Enterprise Alliance (WBEA) – Diversity Supplier of the Year 2014 o Staffing Industry Analyst – Diversity Supplier of the Year 2015 & 2016 – Inc 5000 America's Fastest Growing Private Companies, Houston Business Journal fast 100 – Women Presidents Organization 50 Fastest Growing · Privately Held – Founded in 2012 o 700% Growth in 2013 o 1000% Growth 2014 o $17M in Revenue in 2021 and Growing · o In September of 2022, Adroit Partners was awarded the University of Houston System contract as their Primary Staffing Supplier DD Carpenter o A native Houstonian o 37 year Staffing Veteran o Fifth year WCE Mentor o Huge Houston Astros Fan & Cheers on the Houston Texans o Active in PugHearts Animal Rescue Group o Junior League of Houston Member • A graduate of SMU
Boma Cheetham-West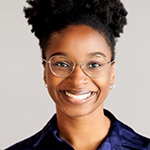 Boma is the Founder and Chief Strategist of BomaCurates LLC, a digital marketing company specializing in social media strategy, email marketing, and music curation. She is a Wolff Center Alum and graduated in 2017. She was selected as one of 2022's 50 Black Marketers on the rise by the African American Marketing Association and received the Rising Star Award from the Professional Association of Young Africans.
Over the course of her career, she has developed marketing strategies across multiple digital channels for companies and organizations in various industries. When she's not working she enjoys hanging with friends and family, helping her church, and enjoying the city!
Ron Farmer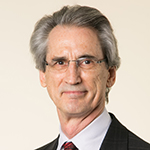 Ron is and has been a loyal and consistent supporter of the University of Houston. When Bill Sherrill started the program, Ron was in those meetings. He contributed as an original Stakeholder, was mentor to a student in the first class, lead one of the first roundtables and spoke at the first retreat. He was one of the first group of five to receive the WCE Excellence in Mentoring award.
In 2001, Ron founded U.S. LED, Ltd., a manufacturer of commercial and industrial LED lighting. They retrofit 4,000 – 5,000 building per year in the US. With his wife, Margarita, Ron also founded US Signs, a national sign company they sold after thirty-one years in 2011.
Ron was a successful race car driver from 2008 to 2012. As an amateur, at age 64 in 2010 he set the track record on all six tracks and won the NASA National Championship in his Corvette in the ST2 Class in a field of sixteen cars. Then in 2011 & 2012 he raced in the Grand Am professional race series as a gentleman driver. He and his co-driver placed in the top ten of thirty-five cars, five of the six races they finished in their first season.
At seventy, Ron climbed Mount Kilimanjaro. At seventy-five he hiked the Grand Canyon rim-to-rim, twenty-three miles in thirteen hours.
His greatest achievement was finding his wife, Margarita, fifty-one years ago.
Marcus Ford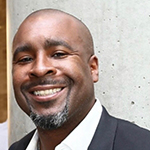 Marcus Yates Ford was born in Houston, Texas. The Missouri City native attended Strake Jesuit College Preparatory, and continued his education at the University of Houston, where he obtained his undergraduate degree in Psychology and a minor in African American Studies. Passionate about education and entrepreneurship, he is a certified educator with nineteen years of experience and has been a marketing consultant for over twenty five years. He is currently the CTE Academy Specialist at Westfield High School.
His goal is to create, enhance or inspire the students to fulfill a void or need in society. One of his proudest assignments as an educator was teaching Entrepreneurship at Carl Wunsche, Sr Career Academy in Spring ISD.
As a consultant, two of his notable clients have been the Cengage Group; a global education tech company and premium goods; the premier locally owned sneaker boutique in Houston. Marcus also has a keen eye for design and love of literature, he has completed interior design projects and is currently involved in a jewelry design venture. His most prized work is being a published author. He has successfully released books "Discovering Devotion", "Inspirations", "Foundation", and "Signature" under his Majestic Forte Publishing imprint.
When not working, Marcus enjoys spending time with his wife, daughter and being involved in church activities. He also enjoys a variety of hobbies, which include cooking, cultural learning, listening to music, reading and traveling.
Somya Gupta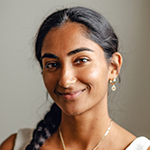 Somya Gupta, a native Houstonian, graduated from University of Houston and continued on to establish her grounds in a non-profit organization called Mala Market. As founder of the non-profit, Gupta hopes that Mala Market can provide the solutions to restructure old consumer habits into a more conscious and elevated practice. By providing local small businesses and makers with affordable, consistent, and reliable retail space, Mala Market aims to offer solutions for the community to always shop local and handmade. Gupta developed this concept of creating a non-profit collective space with a deep foundation rooted in the philosophy of a sustainable circular economy after she realized that our consumer habits were leading us down a dangerous path. It is a passion of hers to encourage people to be more aware of our consumer waste and to seek solutions within our everyday lives to combat these issues of over consumption. She strives for a simple life herself. In addition to Mala Market, Gupta is co-founder of a media production company based in Houston called SETSVN. SETSVN was nominated for Best Film Award at the 2021 Wild and Scenic Film Fest and has been a part of additional local film festivals. During her free time, Gupta enjoys dancing, surfing, listening to music, and cooking!
Lauren Jefferson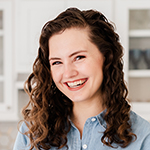 Lauren Jefferson is the Co-Founder and CEO of FocusCopy, a copywriting and content writing firm based in Houston, Texas. This passion for words and entrepreneurship began during her marketing internship and later Director of Marketing role with the late WCE adjunct professor and founder of The Strategic CFO, Jim Wilkson. Jim unexpectedly passed away in June of 2017 – catalyzing Lauren to apply everything she learned in WCE to keep the company afloat.
After ensuring Jim's legacy would continue, Lauren knew it was time to start her own venture. Today, the FocusCopy team caffeinates clients' brand messaging to energize their business's target audience to take action and become paying customers. More than the copy, she positions herself as her clients' strategic partner, where she helps them grow and scale their businesses. Always finger-tapping across the keyboard with a hot cup of coffee within reach, she enjoys connecting with entrepreneurs and bringing their brand voices to life.
Lauren is a WCE alumna ('16), the former Marketing Director of the Wolff Center for Entrepreneurship Alumni Network (WCEAN), a WCE mentor for the Class of 2020 and 2022, and the developer and mentor for the new Content Creation Program. It's because of the support, education, and encouragement of WCE that she continues to come back to the Wolff Center again and again.
Lauren and her husband, Andrew, are very active in their church and love developing relationships with community leaders. Her work passions lie in writing and entrepreneurship, with strong support from a nice hot cup of coffee.
Firoz Jhaver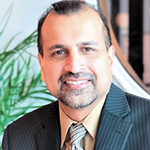 Firoz has spent the last 30+ years involved in IT services, the energy industry, with energy software, entrepreneurship and executive management. His current mission is to find, discover, and/or create technology innovations to bring to market which ultimately benefit society. Core interests include but are not limited to Robotics, Artificial Intelligence, Machine Learning, Data Analytics, Haptics, IoT and Augmented Reality. Firoz' experiences to date have come in the IT consulting arena delivering technology solutions primarily to energy firms This includes the areas of Commodity Management, IT management, project management, and software implementations. Firoz is also steeped in various aspects of corporate management including sales, operations, marketing, business development, partnerships, legal, and HR. His programming background includes software R&D, customization of package based systems, integration, OOD, and database modeling.
Firoz founded ATOM Solutions in 2011 to service the energy trading domain with niche IT solutions. This company was acquired by Capco in 2019 where Firoz served as Partner and headed the ETRM solutions practice until April 2022. He is currently part of the Venture Capital and Private Equity Program at Columbia Business School and pursuing interests in the VC/PE space.
Firoz graduated from the Bauer College of Business with a degree in Management Information Systems and is a Life Member of the UHAA.
Kristi Johnson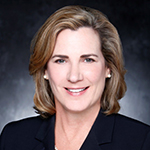 Co-Founder, Adroit Partners - Women-owned staffing firm established in 2012

Provide Contract, Contract to Hire and Direct Hire Staffing services to some of Houston's largest employers, including the University of Houston
Nationally recognized by;

Women's Business Enterprise National Council
Women President's Organization
Staffing Industry Analysts
Houston Business Journal
Inc. 5000

Certified Women Owned and Texas Hub business
More than 30 years of experience in business development and executive leadership
A third-generation native Houstonian
Married 40 years, Proud parent to 2 daughters and 3 grandsons
Alumni of Texas A&M, UH, and Goldman Sachs 10K Small Businesses
Wendell Jordan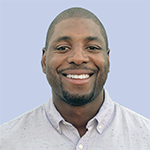 Wendell Jordan is a passionate and dedicated SEO specialist and digital marketer with a decade of experience in sales and marketing. He started his career as a business development and sales person for a design agency. Over the years, he learned the basics of web design and search engine optimization. After starting his own agency, he realized there needed to be more focus on visitor conversions and not just design and user experience.
Currently, He is the owner of Jordan Marking Consultants, a digital marketing agency focused on high-converting search engine optimization strategies. We create a monthly action item list that allows our clients to hold us accountable and see where our strategies are growing their business. Our goal is to educate our clients on what SEO can do for their business and how we can increase revenue through higher search rankings.
Zafar Kamal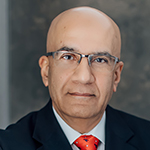 Zafar Kamal is the Chief Technology Officer at OFI Testing Equipment. He leads innovation to develop sensors in support of automation, manufacturing, and risk mitigation. His training and professional experiences are in the design, development, and commercialization of industrial solutions, edge devices, sensors and IIOT (industrial internet of things) - where he successfully converged tangible and nontangible disciplines of technology, digitization, value-chains, operations, business processes, and manufacturing optimization to create commercial value.
Dr. Kamal brings functional and industry experience from process, manufacturing, and infrastructure industries, where he led strategic and tactical business management, technology commercialization, product management, systems design, and delivery activities in senior executive roles. For instance, leading top-down and bottom-up business transformation in process industries, catalyzing organic and inorganic growth, integrated operations for upstream surveillance and production optimization, delivering operational and manufacturing excellence in chemical and pharmaceutical manufacturing, and commercializing new products and solutions, etc.
Prior to OFITE, he founded his own consulting practice, which was preceded by a senior leadership role at BP looking after advanced technology as related to sensors and enterprise integration, he was a GM at GE Intelligent Platforms focused to automation and integration, Vice President for R&D/commercialization at the Process Instruments Division at ThermoFisher Scientific, Vice President / Global Business Manager for Production Optimization Systems at ABB and a managing consultant at SHL. Dr. Kamal has authored or coauthored over 15 academic and more than 35 industrial publications. He has also actively led keynotes, panel discussions, and seminars. He is a member of the SPE and IEEE, past board member of the SPE Digital Energy Technical Section, and chair of the Digital Solution committee. In the recent past, he chaired of the IT/OT convergence committee, past board/committee member for the 2013, 2014 and 2015 SPE Distributed Fiber Optics ATW, 2015 Digital Energy Conference, 2014-2015 Energistics PRODML board, and has mentored startups through incubator programs at the Houston Technology Center, The Rice Alliance and LSU. Currently, he is on the industry advisory board of the University of Houston, College of Engineering Program for Innovation and Entrepreneurship (EPIE), and on the API standards committee for drilling fluids measurement standards.
Outside of professional interests, Zafar enjoys time with his family, run distances, walk, cook, and read.
Stephen Klein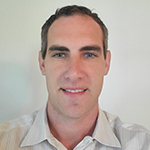 Stephen Klein, grew up in Houston and has just returned after 21 years in California with his wife and daughter to be closer to their family. Stephen went to Stanford for undergrad and masters degrees in chemical engineering, where he primarily focused on biotech and nanotech/materials. He has spent several summers in biochemistry labs in academic and corporate settings, including a company that was acquired by Amgen, but decided he was more interested in business than research and spent 3 years at Bain & Company as a management consultant after school. He also spent some time at a small biopharma company planning the commercialization of a new drug candidate. He returned to Stanford for his MBA and spent his summer in China working in eCommerce (and attempting to learn Mandarin). He then spent nearly 10 years at a ~$150b investment firm in LA called Primecap where he led all investments in internet, software, and alternative energy. This was a great experience, but he ultimately decided to leave to do something more hands-on and impactful (also with a new daughter he knew they were likely returning to Houston). He spent a year pivoting to strategy and innovation for a large investment manager and then nearly a year working for a very small financial operations automation startup, helping grow the company past $1m ARR and raising $2.5m in seed funding. He has now spent the last 10 months at Cart.com, where he is the VP of Strategy and Business Operations. He has been primarily responsible for integrating a Polish software company we acquired in March, working closely with their management team and the Cart leadership.
Susan Manning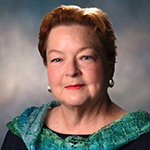 *2019 Co-Founder and Consultant for Manning Pool Service (retired)
*Worked with ActionCOACH and grew a business from $40K job to
$4 Million annual revenue in 5 years.
National Award for COMPANY CULTURE
Nominated for FEMALE NATIONAL ENTREPRENEUR
* 2001 Director of Montessori Elementary Education at Montessori Country Day School 7 years
*Manager of 1,000,000 square foot Showroom of Wilson Business Products. Working with architects and designers to specify commercial office furniture.
Graduated University of Houston, Art History
American Montessori Society, Lower Elementary education degree
American Montessori Society, Upper Elementary degree
Studied "Structure of Language" 2 years with Nathaniel Newby
Studied business with Doug Winnie, 4 years
Michele Mere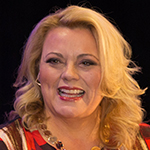 Michele Mere is a decisive, driven and committed entrepreneur who helps successful business owners expand, duplicate or sell their companies and make big profits using her business valuation and consulting skills.
Michele's business expertise has been highlighted during her speeches at Harvard and on NBC, CBS, Fox, Entrepreneur.com and Forbes.com. She is a Stevie Award winning business consultant, best-selling author and the Founder of Decisive Minds.
She is a serial entrepreneur who knows how it feels to fail miserably at business, at one time the bank called demanding their $1.5 million, and knows how it feels to sign the contract to sell her company for $9 million.
Mohina Panthi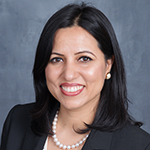 Mohina is an accomplished financial professional with 15+ years of Progressive Finance and Accounting experience in Manufacturing, Oil & Gas services, and advertising. She began her career with public companies like General Electric, Baxter, and FMC technology. For the last ten years, she has worked with Private Equity backed companies and extensively involved in Process Improvement and M&A. She has a strong track record of leveraging her operational experience and expertise in Accounting, Treasury, Finance, Tax, and M&A to build high-performing, results-oriented teams.
She is a Certified Public Accountant and holds a dual master's degree -MBA and Master of Accountancy from the University of Louisville.
She enjoys spending time with family and volunteering in her free time. She serves as an associate board director for the Prime Way Credit Union and volunteers at toastmasters international.
She is excited to be under consideration as a 2023 mentor in the Bauer Entrepreneurship undergraduate program. Her mentors are integral to her professional career, and she wants to pass on what she has learned and experienced to others.
Payel Patel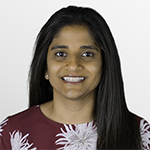 Payal Patel is a Principal at Softeq Ventures and Director of the Softeq Venture Studio. In these roles, she's on the investment team for a $40mm early stage venture fund and co-leads a YC-like accelerator program.
Payal began her career as a management consultant for restructuring firm Alvarez & Marsal and previously worked at executive search firm Spencer Stuart. Most recently, Payal ran the corporate business development function for Station, a startup incubator in Houston, and then at Plug and Play, an active Silicon Valley investor and accelerator program.
Payal has degrees in finance and accounting from Texas A&M University and an MBA from London Business School. She is a member of the Junior League of Houston and is President of the London Business School alumni club in Houston. In her spare time, Payal enjoys Crossfit, reading, and traveling.
Jennifer Pluma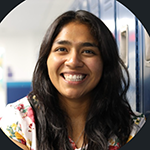 Jennifer Pluma is a Customer Solutions Representative at Clever with over 5 years of experience in training and instruction, client management, and program management experience. Specializing in remote troubleshooting and client retention, Jennifer uses that experience to expertly provide schools, districts, and application partners with remote guidance around product utilization and best practices.
By focusing on unlocking new ways to learn for all students, Jennifer has been able to put her BBA and M.Ed earned at the University of Houston and St. Thomas University to good use. Over the years, Jennifer's strengths in public education and in the ed-tech field, has garnered some recognition by earning the 2019 Texas Incentive Allotment along with surpassing the department's key performance indicators.
Jennifer may spend her days at Clever, but it's her family's restaurant where her entrepreneurial spirit shines. Making its debut at Wolffest, Quesadillas Las Chenchas has now expanded to 2 locations in the city of Houston. When she's not working at Clever, Jennifer spends her weekends at Quesadillas Las Chenchas while managing their social media accounts. And in her spare time, you can always find Jennifer working on her weightlifting techniques, watching a good documentary or editing the next episode for her podcast, Rare Gems with Jenn.
Reid Pennebaker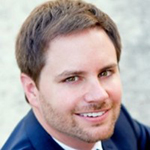 Reid Pennebaker has a broad range of experience across 20+ years, from seed stage ventures to multinational corporations.
Reid has worked for the New Ventures branch of Toyota Tsusho, a Toyota Group company charged with investing in and partnering with cutting-edge technology companies. Prior to that, he was a key member of the Continental Airlines Investor Relations team during several headline-making moments, culminating with the merger with United Airlines. He has also served as a management consultant for Mainspring Partners assisting small & mid-sized businesses with growth-related challenges.
Reid has an MBA from Tulane University and dual degrees in Entrepreneurship and Management from the University of Houston. In his free time, Reid is a mentor at the University of Houston WCE Entrepreneurship Program. He is passionate about international travel having visited over 50 countries, is an avid road biker, and relishes any opportunity to practice his Spanish.
Cathryn Renfrow
I love Houston and was born and raised here! I graduated with a double major from UH in Sales, Marketing & Entrepreneurship program. After college I spent my first 5 years in the sales world at Thomson Reuters. I worked with C-level executives in fortune 500 companies. Though Corporate America was an awesome chapter where I exceeded countless quotas and earned a few trips I wanted to try something on my own.
I made the jump into residential real estate following two prior generations in my family. After building a successful brokerage I branched off and formed Rio Realty Group. Rio Realty Group is partnered with Village Realty, a boutique brokerage … we are structured as one small team so we can best serve our clients. We've been featured in Houston Real Producers magazine, been awarded 8 Top Producer awards, and we have been recognized amongst one of Houston Business Journal's "Top 25 Real Estate Teams" in 2016, 2017, and 2018. Our small personal team has successfully closed over $65 million in sales since we joined forces, and we've continued to earn 5-Star ratings from our clients on Yelp, HAR, Zillow and other real estate sites.
My specialty is networking and forming relationships with different funnels that feed my team. What my clients say that they most appreciate about me is my patience, sincere caring and a high level of customer service whether it was their first home, move-up home or down-sizing home.
I have a passion for rescue animals, fitness/running, snowboarding, God, bettering myself, and music. I don't take life too serious though I'm pretty hard on myself. I'd like to say I have a green thumb but really have found a few survivors that are hardy enough to stick around. I'll stop to pick up any dog off the road and lead a ladies small group. I was recently married. We love to glamp and buy rental homes. We have a handful along with an airbnb in Crystal Beach. We are currently working on another in Galveston.
Mike Siegel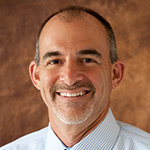 Mike recently started another company, Commercial Lister, providing digital marketing to commercial brokerage firms.
Prior to starting Nodus Solutions Mike spent six years with Compaq Computer Company as their manager of Desktop Support and Development. Mike was responsible for developing the first Intranet at Compaq and it is still in use and bears the original name.
Before joining Compaq Mike worked for Exxon as the manager of Desktop implementations. Mike implemented Windows 3.0 at Exxon and Word 1.0 (yes there was a Word 1.0!), Prior to Exxon Mike worked for Accenture as a systems analyst.
He earned his B.S. in Chemical Engineering from the University of Texas at Austin and his M.B.A. from the University of Houston. He enjoys time with his three children and grandchild with his wife, playing tennis, riding his bike (not a motorcycle), running and swimming.
John Thornton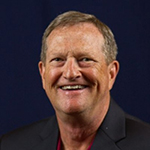 John Thornton is an accomplished Senior Executive and Entrepreneur with more than 40 years of success in the office equipment and wireless telecommunications industries. Leveraging extensive experience in sales and sales management, John is a valuable asset for companies seeking guidance on growth, product launch, and national expansion. His broad areas of expertise include sales management, organization of resources, market strategy, telecommunications, wireless cellular communications, mobile devices, vendor management, networking, contract negotiations, program management, and go-to-market strategy.
Throughout his executive career, John has held leadership positions with Irish Tower LLC; Trussnet USA; FMHC; GEM Engineering; Acme Business Products; Pitney Bowes Facsimile Systems Division, and Burroughs Corporation Facsimile Systems. In his current role as Co-Founder and CEO of Irish Tower, he has been responsible for the success of a unique business model that designs and builds the infrastructure for Wireless Telecom companies, and expands into Real Estate Development services. Previously, as Vice President of Business Development at Acme, he created a sales division with 16 offices covering six states and as Director of Business Development at FMHC, he oversaw telecommunications, site acquisition, engineering and Construction Services, with expansion into the southeast and southwest of the United States. At Pitney Bowes as Region Vice President John built a 75 person sales team with 8 managers and 8 offices covering 16 state area. His Region was consistently the top performer for the company.
John holds a BBA in Marketing from the University of Notre Dame.
Irsan Tisnabudi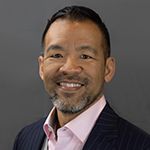 Irsan has been in Wireless Telecom Infrastructure Industry, focusing in Architecture & Engineering since 1997; he founded Aria Services, Inc. in 2010 in an effort to provide faster, economical and quality construction drawings and structural analyses within this particular field. Aria Services made the Cougar100 top-ten list, as well as inc5000 in 2017 and 2018.
Born and raised in his native country Indonesia, he migrated to USA in 1993 and obtained his Bachelor's Degree in Computer Engineering, Magna Cum Laude along with a Minor in Computer Aided Design from the University of Houston in 1997.
Other than with WCE, he is also an advocate of the InAria Scholarship Endowment as part of #educateagainstpoverty campaign at Houston Community College. Since 40% of HCC students come from families with annual income less than $20,000, our goal is to fill in the financial gap through scholarship, so one flat tire won't put a student out of school.
Irsan and his wife team up in commercial real estate investing. They are competitive Latin Ballroom Dancers and represented USA in Senior Latin competitions internationally from 2009 to 2016. They both enjoy traveling and exotic dining.
Founder and owner of Aria Services, Inc., a wireless telecom infrastructure engineering firm that made the Cougar100 top-ten list, as well as inc5000 in 2017 and 2018.
Born and raised in his native country Indonesia, he migrated to USA in 1993 and obtained his Bachelor's Degree with honors from the University of Houston in 1997.
Advocate of the InAria Scholarship Endowment as part of #educateagainstpoverty campaign at Houston Community College.
Irsan and his wife are competitive Latin Ballroom Dancers; they represented USA in Senior Latin competitions internationally from 2009 to 2016. They also team up in commercial real estate investing, enjoy traveling and exotic dining.
Bill Ward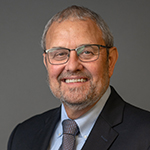 Bill Ward has 46 years of experience in the furniture retail business. Bill served as the President & Chief Operating Officer of Star Furniture from 1998-2018. Star Furniture is a retail furniture chain consisting of nine showcase stores and two clearance centers located in four cities. Results driven senior executive with comprehensive leadership skills in all facets of furniture retailing. Utilizing a unique blend of experience in store operations, warehousing, distribution, logistics, expansion, sales and customer service to reach goals and objectives. Recognized for creating and leading a profitable, operationally sound, distinguished company with an emphasis on fostering a culture of respect, integrity, accountability and high performance. Part of the team that created a brand that customers identified with and was well respected within the industry.
Catherine Woodruff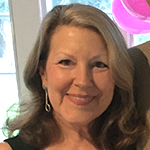 Catherine holds a Ph.D. in Finance from UT Austin, M.S. and B.A. degrees in Economics from LSU, and is a Chartered Financial Analyst. She has been involved in the Houston investment community for over thirty years. After starting her career at Texas Commerce Bank and Citicorp Investment Management, she joined the finance faculty at the University of Houston from 1989 to 1993, teaching investments and corporate finance. She spent the next 15 years managing large institutional investment portfolios at Davis Hamilton Jackson and Associates, becoming Managing Partner and Director of Equities. In 2009, she co-founded Houston Global Investors, an LLC which managed global equity portfolios. Her firm was acquired by Avalon Advisors, LLC in 2013 where she was named Managing Director and ultimately chaired the Investment Strategy Committee. Most recently, she was CEO of Fruth Investment Management until her retirement in 2019.
Over the last several years. Catherine created and continues to conduct unique educational and entertaining events designed to help women become more financially aware.
Catherine is published in the Journal of Finance and has been a featured speaker on global equity markets at various conferences, including two Pacific Regional Investment Conferences in Manila. She has also taught at Michigan State University, Louisiana State University, The University of Texas at Austin, the Florida Public Pension Trustee School, and the Glasscock School at Rice University for the Certified Financial Planner Designation.
Outside of investments, Catherine is a vocalist with two jazz CD releases so far, and is a member of the Piping Rock Singers, a Renaissance vocal group.
Travis Ziebro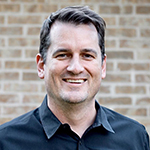 Travis is the founder of Momenta Tech, a software agency in the industrial space. Momenta Tech builds custom web apps, WordPress sites, and provides SEO and consulting services to mid market companies. Travis' side project, punchlistzero.com, provides engineering and career education to over 50,000 new engineers and students every month.
Travis holds a bachelors in mechanical engineering from Texas A&M and a MBA from the University of Houston Bauer.