The Mentor of the Year Award is bestowed in appreciation of exceptional contributions in building and sustaining mentoring relationships with entrepreneurial students. The extraordinary qualities, and selfless sacrifice, a mentor contributes are demonstrated by the development of outstanding student entrepreneurs. This consistent and unwavering commitment to a deep caring personal interaction that enriches the lives of students is deserving of such recognition.
This Mentor of the Year award recognizes the full measure of leadership, judgment and insight demonstrated in giving back, to a new generation, the gift of innovation and the sharing of life lessons.
Award Recipients
Lamar Curtis
Lamar Curtis is the founder and president of IAG. He is responsible for all aspects of the company's direction, strategy, financing, business development, and operations. Lamar brings an exceptional blend of technical, business and leadership expertise to IAG, with an unwavering commitment to client service. He has more than 27 years of experience in financial services, business operations and sales, technology services, and healthcare practice management, including more than 17 years of executive leadership in the technology industry. Lamar and IAG have a special passion and commitment to the field of technology service and the business process that makes their clients more profitable. IAG applies its formula of People + Process + Technology to help clients be more successful which adds value to their business.
Lamar has found his participation in the past few years in The Alternative Board to be very rewarding. TAB provides a forum for business owners to meet monthly to discuss business challenges and opportunities and provides peer advice and coaching. He is also a member of BNI, the largest networking organization in the world, offering members the opportunity to share experiences and referrals. For the 2011-2012 year he served as the President of the Greenway Plaza BNI group, one of Houston's premier BNI groups.
In the past few years IAG, under Lamar's guidance, has experienced some exceptional honors. IAG has received the "Winners of Distinction" award for the last five years from the Houston Better Business Bureau in their yearly "Awards for Excellence" competition. IAG also has made the Houston Business Journal's list of the top 25 largest Technology Consulting Firms for the last five years.
Before starting IAG in 2002, Lamar was the chief operating officer for a start-up software development company that developed online business systems and produced multimedia content. Large-scale projects included an Internet-based medical practice management system for a multi-state network of oral surgeons, and animation-based media products. Prior to that, Lamar was a CPA and Certified Financial Planner for a financial consulting firm, where he also served as the in-house IT consultant.
Lamar has been a technology enthusiast since he bought his first computer right after high school. In college he built a computer system for a bank's student loan program and has been building computer systems, or teams to build them, ever since. Through his capable and inspired leadership, Lamar has built a thriving company with an extremely talented and dedicated team.
Lamar has a B.A. in accounting and finance from the University of Texas at Austin. He also has a special interest in coaching boys' sports. For the past three years he served as a Commissioner for the Spring Branch Memorial Sports Association's soccer program in the boys' 11 – 13 years division. This year he is starting over coaching his youngest son as a soccer coach for the boys 4-6 years division and also serving as the Commissioner in this same age bracket. His interest in the Spring Branch Memorial Sports Association programs from the time he grew up and participated in the leagues to now has led to the honor of being elected to the Board of Directors of the Spring Branch Memorial Sports Association. He is looking forward to further serving the community through these efforts. He has been a supporter of cycling and has been on the board of the Greater Houston Cycling Foundation which supports the running of the Alkek Velodrome.
Last year Lamar became involved in the mentoring program for the Wolff Center for Entrepreneurship at the University of Houston.
Chris Cornell
Chris was born in Evanston, IL, grew up in North Barrington, IL, lived in Cleveland, OH for four years then finally made his way to Houston. After graduating from Cy-Fair High School, Chris attended the University of Houston on a music scholarship. After three years of music and a realization that teaching was not his future, a move to the Hilton School of Hotel and Restaurant Management came about. Graduation with a Bachelor of Science degree in Hotel and Restaurant Management happened in December 1977. Chris worked in restaurant management for General Leisure Corporation until the spring of 1980 when a family friend urged him into the printing business where he has remained for the last 33 years. He has enjoyed sales, sales management, production, executive management, and back to sales where he is now employed at ImageSet, a marketing services company that provides growth solutions based in digital print genre. He is an avid golfer, a three-time marathoner, the President of the Houston Striders, a local running club that boasts over 260 members, and the race director of the Koala-Luke's Houston Half Marathon. He also counts Dave Cook to be among his closest and dearest friends.
Richard Helmey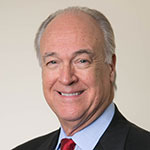 Dick Helmey has been a faithful and consistent supporter of the University of Houston. He is President of Campus Document Systems operating under University Copy Centers (serving UH, UH Downtown, Rice and HCC) These printing, graphics and marketing services are generally assessed to be the best service within the University.
His background has been in the consumer products area having worked with Coke Foods (think Minute Maid) as well as having been director of marketing for Houston's Seven Up Bottling Distributorship. He has been an enthusiastic volunteer for the WCE mentorship program, and received the Excellence in Mentoring Award.
Terry Stockham
Terry Stockham is a Human Capital Advisor, Executive Coach, Business Coach and Consultant with 40 years of experience. Since 1999, he has consulted and coached thousands of owners, managers, and employees of companies across the US, Europe and Russia.
HR Manager
General Manager
Div. President
Goodyear Tire & Rubber
Coca-Cola
Pepsi Cola Bottlers
Total Synergy Solutions
Human Capital Institute
Warren Barhorst
Warren Barhorst is the founder and CEO of Iscential (formerly Barhorst Insurance Group), headquartered in Houston. Warren left the corporate world and opened his first Nationwide Insurance office in November of 1993, and since has developed Iscential into the largest Nationwide Agency in the country with over $50 million in sales, 30 offices and 100 associates. Iscential has been featured in Texas Monthly magazine's 'Best Companies to Work For' since 2006.
Houston's Fast 100
"Best Places to Work in Texas"
Best Companies to Work For in Texas Monthly
1 of the fastest growing private companies last 4 years
2008 Ernst and Young Entrepreneur of the Year
Author of "Game Plan"
Ron Farmer
The highest recognition that WCE can bestow on anyone is the WCE Excellence in Mentoring. Ron Farmer is one of five to receive it. When Bill Sherrill started this program they had no money. Ron Farmer was an original stakeholder. Ron is founder and owner of U.S. LED which is experiencing spectacular growth nationally and internationally. Ron is and has been a loyal and consistent supporter of the University of Houston acting as a Stakeholder, Roundtable Leader, and Guest Speaker.
Recently Sold US Signs
Amateur Race Driver
Set track records on all 6
National Champion NASA ST2
Professional Race Driver
Monte Pendleton
Specialty
Mentoring Houston Entrepreneurs on their Missions, Strategy, Plans, Profit and Sales Growth. Specializing in established companies with up to 50 employees.
Experience
Silver Fox Advisors, Inc.
Charter Member, Past President and Chairman of the Board
Over the past 15 years I have successfully mentored over 100 Houston entrepreneurs, increasing both sales and profits and solving major internal problems.
SunX International, Inc.
Founder and CEO for 15 years
Franchised over 500 dealers and distributors of DuPont's SunX Glass Tinting in 69 countries
Brickstone International, Inc.
Founder and CEO for 4 years
Established over 100 franchised dealers nationwide who sell and install US Gysum's Brickstone Sculptured Masonry
Lusterock International, Inc.
Founder and CEO for 3 years
Franchised 100 domestic manufacturers and installers of Lusterock Decorative vanity tops
Education
University of Missouri B.S. Civil Engineering with courses at Harvard, U.C.L.A., U. of Chicago, and U. of Houston
Organizations
Silver Fox Advisors, Past President, Board Chairman, International Franchise Assn., Past President and Director, Young Presidents Organization, Vice Chairman, Director, World Presidents Organization, Forum Facilitator, Dover Club, Vice President, Director, Breakfast Association, 50 years, Director Greater Houston Partnership, Roundtable Facilitator, Steering Committee. Stakeholder and Mentor of U.H. Wolfe Center of Entrepreneurship, Advisory Board of the Prison Entrepreneurship Program
Boards
Served on 5 Corporate, 1 Bank and 11 Organization Boards
Honors
Houston Outstanding Young Man of the Year Award
President Kennedy's ":E" Aware for Export Achievement
President Johnson's Small Business Development Commission
1995 Delegate to President Clinton's White House Conference on Small Business
Featured in Wall Street Journal, Fortune, Professional Review, Money Magazine, Houston Business Journal, Chronicle and Post
Beth Williams
Beth Williams was raised in North Carolina, and attended East Carolina University. After college, she joined the water-skiing troupe at Cypress Gardens (Florida's very first theme park). Beth performed with the acclaimed show-skiing group for a few years. She went on to work in banking before marrying and raising a family.
Her husband, a Marine test pilot and astronaut, was killed in a training flight crash in the 1960s. Widowed with two daughters, Beth returned to work, first as a real estate broker and later as Director of the New Initiatives Office at The Lunar Planetary Institute. Beth's initiative and varied working experience proved invaluable when she turned to building her company in 1993.
TechTrans International
Beth Williams co-founded TechTrans International in 1993, and she continues to serve as its President. TechTrans simplifies cross-cultural communication and enhances collaboration and understanding through world-class translation and interpretation, language instruction, logistics, and people.
TechTrans is headquartered in Houston, Texas and maintains a full-service office in Moscow. The company has grown from eight employees in 1993 to more than 150 employees in the United States and Russia.
The firm has garnered numerous awards including NASA's 2002 Woman-Owned Business of the Year, 3 U.S. Small Business Administration Awards, recognition in many lists of top woman-owned and small businesses, and many NASA team excellence awards.
Beth herself has received many honors including being named a 2003 Top 10 Houston Woman on the Move by the Houston Chronicle and Texas Executive Women. Most recently, she was selected as the National Association of Women Business Owners Houston Area 2006 Woman Business Owner of the Year.
Community Involvement
Beth sits on the Board of Directors of the American Pacific Corporation. She is a member of the National Association of Corporate Directors, the Greater Houston Partnership, the Astronaut Memorial Foundation, and the Grand National Waterfowl Association. She participates in Baker Institute Roundtable meetings. She's a Charter member of the National Women's History Museum.
She sits on the Board of Directors for the Houston Chapter of the Texas Executive Women. She also serves as a mentor at the University of Houston School for Entrepreneurs.
Beth is a cancer survivor who has responded to her doctors' call to help raise awareness and fight the disease. She sits on the Cancer Network Consulting Committee–Early Detection Research Network and the President's Associates of the University of Texas M.D. Anderson Cancer Center.