Stephen Stagner Sales Excellence Institute
Executive Education - Customized Programs
Our Approach
We have developed a renowned expertise in assessing, improving and quantifying the return on investment of three key related areas: Managing the Sales Process; Managing Salespeople; and Managing Customers.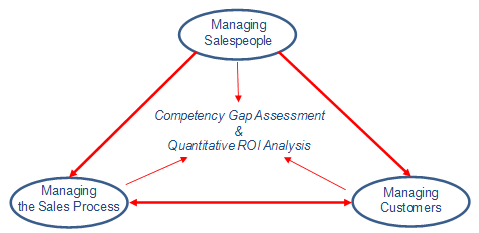 Managing the Sales Process
There is a small group of key accounts that are critical to a corporation's success. Stephen Stagner SEI Executive Education helps assess the skills, knowledge and tools the organization uses to manage these key accounts. We identify the steps in the complex selling process necessary to win and grow these complex accounts. Once we have identified the ideal process for a specific organization, we help implement it through training, coaching and integration with the company's sales automation technologies.
Managing Salespeople
Many corporations excel at recruiting, training and managing salespeople. However, when they promote their salespeople into management functions, most of them do not provide adequate level of support and training for such critical leadership positions. Stephen Stagner SEI Executive Education helps identify the competencies and skills that impact sales management performance at each unique corporation. Then, we develop the appropriate curriculum, deliver the training and provide the coaching to support behavior changes that reduces the competency gaps and improves sales leadership and performance. We follow all our training interventions with follow up assessments of performance and a precise analysis of the return on investment.
Managing Customers
Ultimately, companies' success depends on the quality of their relationship with their customers. Our assessment processes measure and analyze the strength and long term value of a company's relationship with its clients. By helping organizations better understand their competitive market position, Stephen Stagner SEI Executive Education trains salespeople and managers' on identifying high value customers and increasing their retention and profitability.