Community
Keeping Score
Bauer Alumnus Doubles as Private Wealth Manager & Baseball Official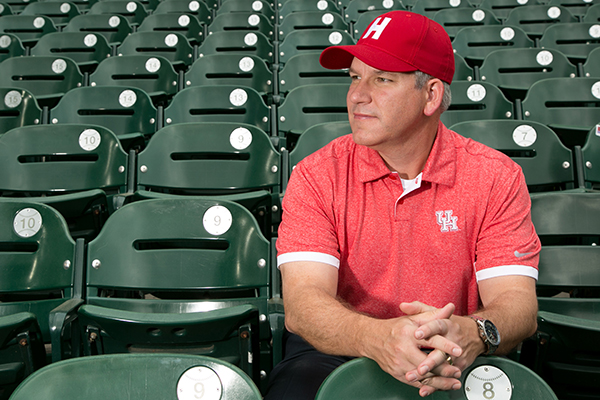 Trey Wilkinson, who worked with the Houston Astros before moving into wealth management, remembers what Drayton McLane Jr., former chairman and CEO of the Astros, used to say about leadership: "'A leader is somebody who will take people to places they wouldn't go by themselves.'"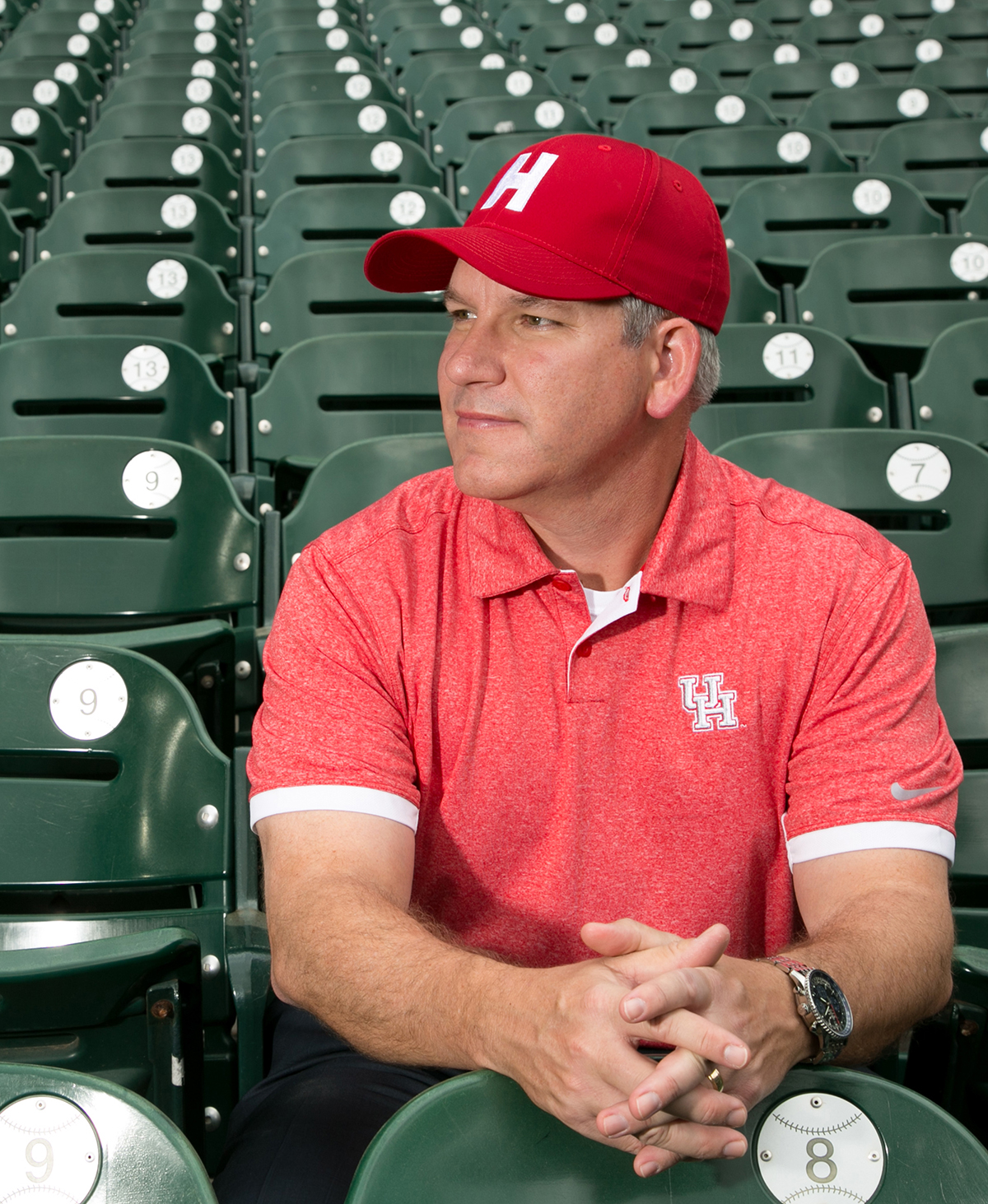 I think that leadership and ethics are intertwined. I don't think you can find a really strong leader without that person being a person of integrity and character.
Trey Wilkinson (BBA '92, MBA '02)
PRESIDENT & CEO, TRINITY LEGACY PARTNERS, LLC
Trey Wilkinson (BBA '92, MBA '02) spends his days managing money for wealthy clients. After hours, he switches caps to work as an official scorer for Major League Baseball. Say what? How did that happen?
It all started during Wilkinson's junior year at Bauer College. As a member of the University of Houston's legendary golf team and its honors program (and a scholarship recipient for both sports and academics), Wilkinson didn't have much time for summer internships.
Then one day the kid from San Antonio spotted a flyer on a Bauer bulletin board. The Houston Astros were looking for a marketing intern. He was a marketing major, so that was perfect.
"I sent in a résumé and wound up getting that internship," Wilkinson recalls. "There's no question that having that internship changed my life in a lot of ways, because it set me on a path to work in sports that most people don't ever get the opportunity to do."
After graduation, Wilkinson eventually scored a job as an assistant director of communications with the Astros. The job was not without its challenges. He survived the 1994-95 baseball strike and cancellation of the World Series.
Today, Wilkinson is president and CEO of Trinity Legacy Partners LLC, a Houston private wealth management firm that handles over $123 million in client assets. But he still maintains his ties with the Astros as an official scorer for Major League Baseball, and he is a tireless supporter of the University of Houston, where he has served as president of both the Bauer College Alumni Association and the University of Houston Alumni Association Foundation. Wilkinson also serves as a member of the Bauer College Board.
We recently checked in with Wilkinson about his winning streak in the world of business and community leadership.
You attended UH partly on a golf scholarship. How did that go?
My biggest contribution to the golf program was my GPA, and I graduated on time (laughing). I did not shower myself with glory with my golf. There were a lot of really good players. It kind of crystallized: I'm a good player, but I wasn't good enough to try and think about taking the next step of trying to play professionally.
Tell us about your time with the Astros. What did you do exactly?
It was writing ad copy and writing TV commercials and radio commercials and print ads, all the things that have to be written for a baseball team. After the '94 strike, I spent the '95 season in the communications role, but they also put me as manager of publications on the media-relations side. We worked a lot of hours.
Why did you want to switch careers?
I got the opportunity to work at AIM, which is Mr. (Charles T. "Ted") Bauer's company. When I started, I didn't know a mutual fund from a bottle of water. But I'd always been intrigued with the idea of investing, of taking a pot of money and being able to grow it. I'd always saved money on my own. My dad is a CPA who had worked for a bank for a long time, so I had a little bit of that gene in me, I guess.
How did you end up back at Bauer for your MBA?
I happened to be on the desk at AIM one day, and a gentleman who was working on the investment side said: "Have you thought about going back and getting your MBA? If you want to manage money, I think that would help you an awful lot. Oh, by the way, AIM is going to help start a program called the AIM Center for Investment Management," at what was about to be named the Bauer College of Business. All that resonated, so I quickly took my GMAT and applied to go to get my MBA.
So what's been your most exciting experience as a Major League Baseball official?
I had the privilege of calling Craig Biggio's 3,000th hit. It kind of fell in my lap, because that wasn't supposed to be my game.
Why is leadership and giving back, especially to Bauer College, important to you?
The University of Houston has molded me into the person I am today. … I was working at AIM when Ted Bauer made that gift. I just feel a great sense of pride both that I was a University of Houston alumnus, I was a business school alumnus, and I was working at a company where the head guy made such an incredible investment in our business school, having never, at that point, set foot on campus. … I do think it's important to be involved in your alma mater in whatever capacity you feel comfortable.