Community
Excellent Expectations
Bauer Executive MBA Alumnus Leads by Example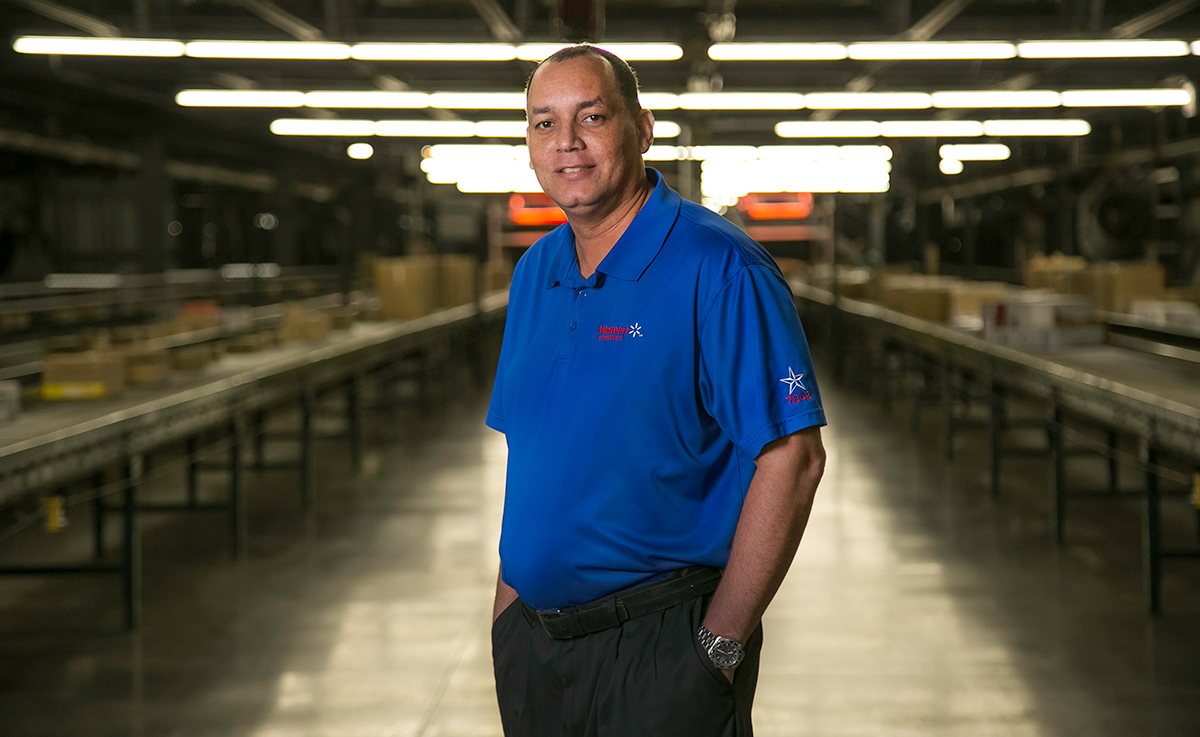 MIREO LATHAM (EMBA '14) LEADS A TEAM OF 67 MANAGERS AND 800 ASSOCIATES FOR WALMART'S SEALY DISTRIBUTION CENTER, INSTILLING LEADERSHIP AND EXCELLENCE IN HIS EMPLOYEES.
When people believe they do excellent work, they're likely to produce excellent work.
MIREO LATHAM (EMBA '14)
For Mireo Latham (EMBA '14), leadership didn't come naturally — or so he thought.
"In high school, I was a very good student athlete, but I wouldn't say I was the best leader," Latham said. "I was always an active participant, but didn't seek leadership roles."
After completing his undergraduate degree from Howard University, he was commissioned as a 2nd lieutenant in the U.S. Army, and that's where he discovered his ability to lead others. From 1992 until 1995, Latham sharpened his leadership skills by serving in a variety of roles, ending his service as a captain in field artillery. He credits his military experience with helping him realize that he was, indeed, a natural-born leader.
That newborn confidence led Latham to success in his civilian life and corporate career, where he became a leader within the world's largest retailer, Wal-Mart.
"I always strive to lead with a level of excellence," Latham said. "I set high expectations for myself and my teams. I am committed to influencing and developing leaders, creating a culture of excellence and empowering others to be and do their best."
Latham was promoted to general manager in 2005 in New Mexico before moving to Texas in 2009 to oversee the largest Wal-Mart facility, a 4 million square foot distribution center in Baytown.
But along the way, he realized he needed something more to move forward.
"When I surveyed the organization and the leaders at the executive level, I realized the majority of them had MBA degrees," Latham said. "To remain competitive and be in alignment with the "next level" qualifications, I felt it was important to prepare myself for this level of success."
He added: "At the time, I was in a tactical assignment, so I wasn't dealing with division level strategy. In an effort to gain exposure and improve my strategic thinking, I felt it was imperative to get my EMBA."
That's when he decided to return to school, entering the Bauer MBA program in his early 40s.
"One of the best parts of the EMBA program was learning to work in teams," Latham said. "Understanding team dynamics and trying to get four to five strong-willed individuals to work in unison definitely teaches the art of leadership. That was one of the more challenging, but fun and rewarding experiences."
In addition to building those leadership skills, the program also strengthened Latham's skills in strategic thinking, data analysis and corporate politics.
"It changed how I value relationships and how I interact with others throughout the organization. My experience in the program helps me think more strategically and work more collaboratively to provide organizational solutions," he said.
After earning his EMBA from Bauer in 2014, Latham led his team to receive the prestigious 2015 Import Distribution Center of the Year award. He then assumed another level of responsibility and was relocated to Sealy, TX, to become the general manager of the Wal-Mart distribution center there, where he leads 72 managers and more than 875 associates.
"I always strive to be competitive and be the best at whatever I do," he said. "Now that I've instilled that level of excellence in my associates, it makes a big difference in our bottom line performance. When people believe they can do excellent work, they're likely to produce excellent work."