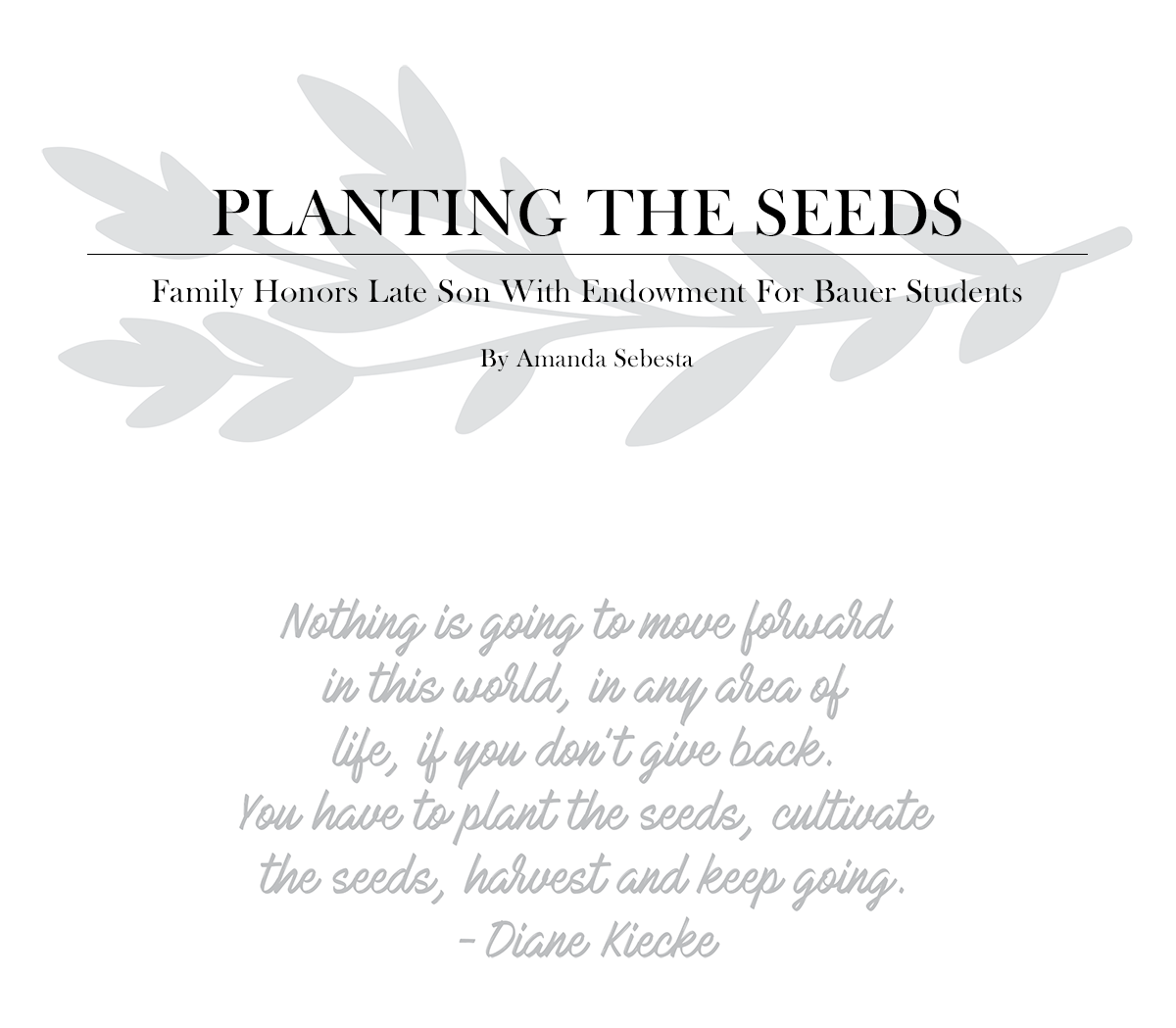 For Ken and Diane Kiecke, the decision to honor their late son's memory through a scholarship endowment was simple — the only way to grow is to give.
"Nothing is going to move forward in this world, in any area of life, if you don't give back," Diane Kiecke said. "You have to plant the seeds, cultivate the seeds, harvest and keep going."
Just three years ago, the Kieckes lost their son, Cameron, at the age of 22. Ken Kiecke, partner and senior vice president for Houston-based insurance agency Bowen, Miclette & Britt, shared a love of the insurance industry with Cameron, who graduated from the University of Mississippi and soon after landed a job in an Atlanta wholesale brokerage firm.
"I think that Cameron kind of surprised us in the fact that he chose himself, even though dad was in this business," Diane Kiecke said. "He was around the business and would sometimes do things with clients with Ken, but he chose on his own to do the insurance route."
The couple is honoring their son by nurturing future generations of business students passionate about insurance. They've created an endowment at Bauer College that will award an annual scholarship to a student pursuing a career in the insurance and risk management field.
"We wanted to make sure that we gave back to something related to education," Ken Kiecke said. "We wanted something local — something we could feel, touch, see, talk to the beneficiaries. When we dug more into Bauer College, it was the perfect fit for what we were trying to do in Cameron's memory."
The Kieckes also support Pine Cove Christian camps, the Boys and Girls Club of Austin County and Hope for Haiti's Children, through proceeds from their annual golf tournament and the Cameron Kiecke Memorial Foundation.
"We thought if we could do one thing really well, we could over time give donations to specific charities and to accrue enough to create a more permanent endowment and continue to support organizations for many years to come," Ken Kiecke said.
This year, the foundation's "Kieckes Got This" golf tournament raised $80,000 to benefit those organizations, celebrating Cameron's memory as the Kieckes intended.
"I feel like everybody has benefited from somebody or something, and sometimes we have to stop and remember that," Diane Kiecke said. "Unfortunately, it was a tragedy for us, but it has made us aware of that whole side of life, but when you stop and think, like this caused us to do, it opened our hearts to give to others."