Faculty

AN
ENTREPRENEURIAL
ICON

HOUSTON LEGEND
CELEBRATES 90TH BIRTHDAY,
SHARES LIFE LESSONS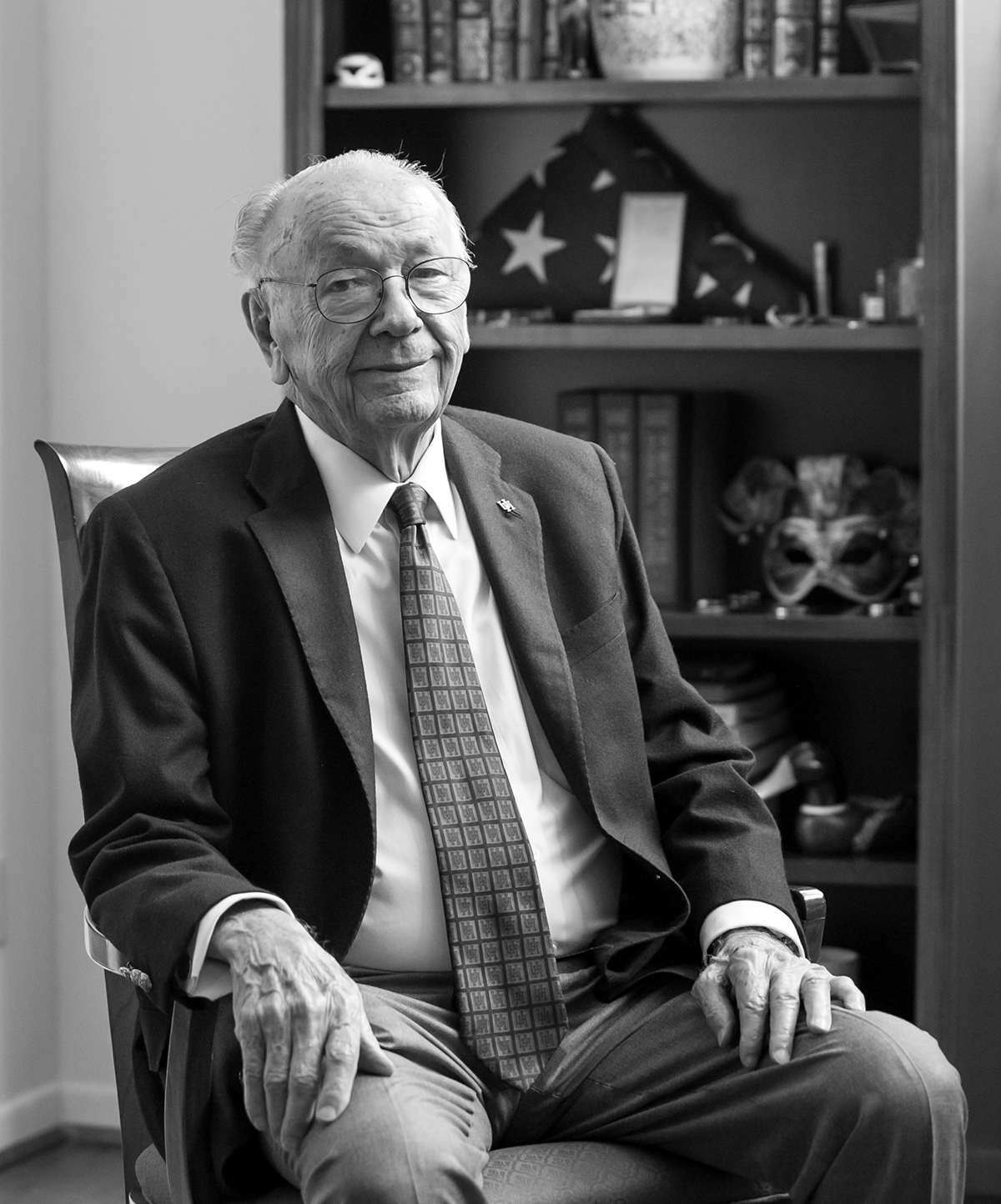 THIS YEAR, WOLFF CENTER COFOUNDER BILL SHERRILL CELEBRATED HIS 90TH BIRTHDAY, REFLECTING ON A LIFETIME OF ENTREPRENEURSHIP IN HOUSTON AND BEYOND.
VISIT: Cyvia and Melvyn Wolff Center for Entrepreneurship →
For many in the Houston business community, the name Bill Sherrill is synonymous with the city where the entrepreneurial icon was born, raised and made.
Born less than three miles from the University of Houston campus, Sherrill has spent his life creating memories in Houston, from swimming in Buffalo Bayou and living through the Great Depression as a child to launching the entrepreneurship program at what is now known as Bauer College later in life.
In August, Sherrill celebrated his 90th birthday alongside a standing-room crowd during a party at the Junior League of Houston. To say he's lived a large life would be an understatement.
"My first job was as a carhop at a drug store. I sat out with a chair, and when people drove up, I would get their order," he recalled. "It was a well-paying job at 60 hours a week, and it paid me $3, but the pharmacist explained to me that I was going to get rich on tips, and I made another $3."
Sherrill made a life-changing decision at age 15 when he joined the United States Marine Corps.
"My last job before going into the Marines was wrapping meat for a frozen locker. I would wrap meat in the special paper, and we did a quick freeze, then stored it in their locker before they would come and get it," he said. "I was on my way to being a successful butcher in life when the war came along."
That was when Sherrill enlisted and went to Hawaii, three months after the Battle of Pearl Harbor. He spent months training as a gunner before he was sent to fight in Iwo Jima. There, he experienced the bombardment now described in history books firsthand — it cut his military experience short as he was wounded in action, earning a Purple Heart before being discharged.
Sherrill returned to Houston to recover, but the trip home led to an-other unexpected opportunity.
"A young lady came up to the ward, and she was crying, looking for her boyfriend, and he wasn't there," Sherrill recalled. "She says 'I'm head of the educational unit at the hospital and nobody will sign up. They're going to transfer me if no one participates. Would you come and take a course?' I told her if I come and take it, they'll transfer you to Siberia."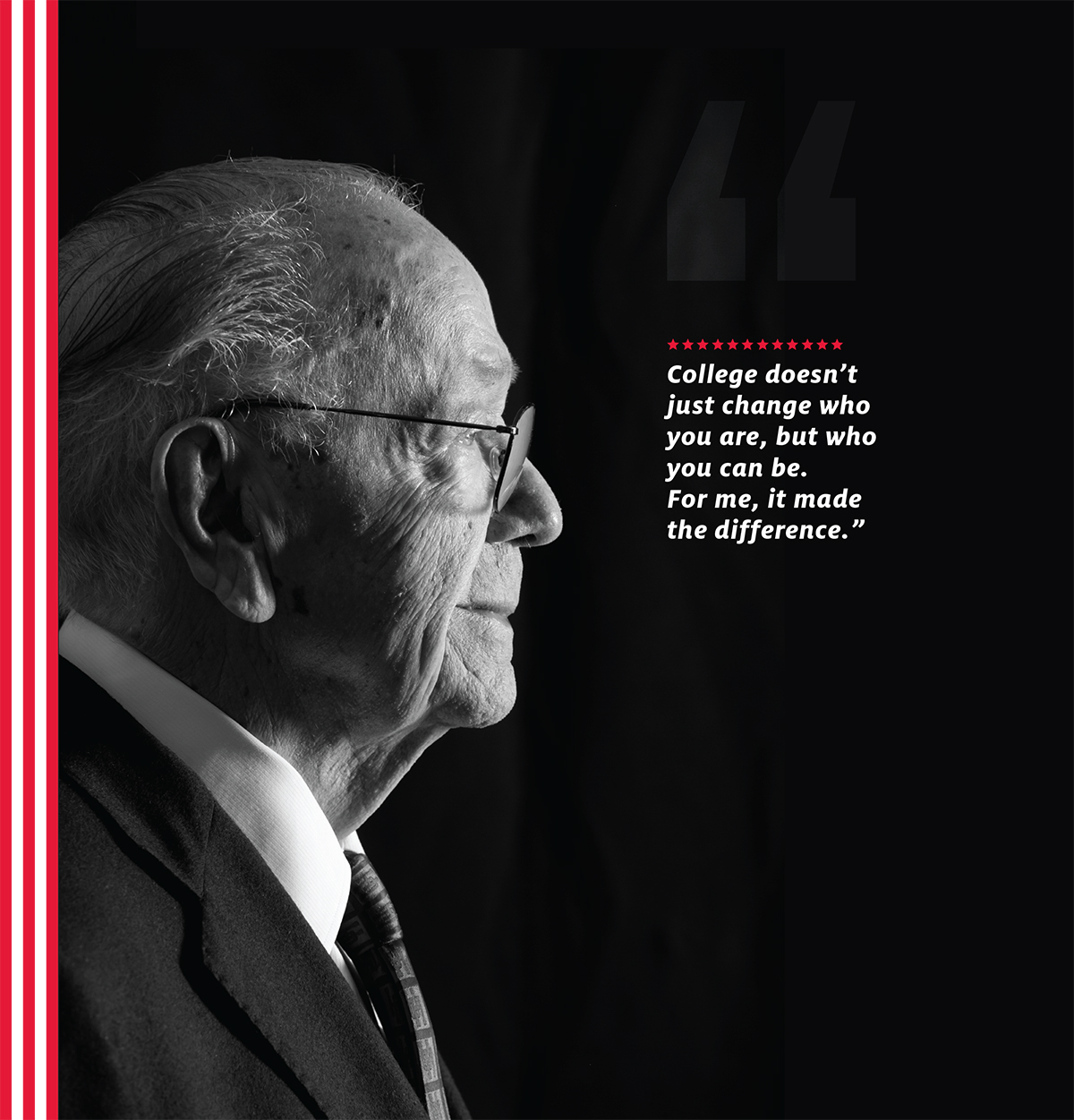 Sherrill eventually did sign up and recruited a few of his friends. Although he didn't have much faith in his abilities as a student, he soon discovered he had an aptitude for academia.
"A month later, she comes running up the ward, and she has a paper and a big book, and says 'Look at these scores!' The test we took grades you against high school seniors, and she was waving my results," he said. "It turns out that I was in the 90th percentile. That was great guessing on my part."
She encouraged him to pursue a college degree at the University of Houston, where at the time, there was a loophole for admission that didn't require a high school diploma, Sherrill said.
"She told me, 'At UH, they expect you to have a GED, but they don't say you have to have it,'" he added. "So, on that basis, I stood in the registration line, and when I got to the head, they asked for a certificate. I said 'You know, all I want is a semester to try.' And just like that, I was in."
From there, Sherrill served on the student government boards, organized a junior and senior prom, and dove head first into his education. After earning his undergraduate degree, Sherrill received an MBA from the Harvard Graduate School of Business Administration.
"I hit the ground determined to enjoy the education experience," he said. "College doesn't just change who you are, but who you can be. For me, it made the difference."
Post-graduation, Sherrill attempted to start a business but had little success. He came home to Houston to begin a company with other UH alumni, including Welcome W. Wilson Sr. (BBA '49), Jack Valenti (BBA '46), Johnny Goyen ('47) and Jack Wilson ('50).
"I came back and felt something was wrong with me that I could lose a business," Sherrill said. "So I was down, but my friends wouldn't let me sulk. We formed a group that made up the Jamaica Corporation."
Together, they worked to develop Jamaica Beach in Galveston County. According to Sherrill, the project was slow to move, and he eventually left to work for the City of Houston as chief administrative officer, executive assistant to the mayor and city treasurer.
His career weaved again at the invitation of President Lyndon B. Johnson to serve on the Board of Governors of the Federal Reserve System, an appointment he held twice. He also served as director of the U.S. Federal Deposit Insurance Corporation (FDIC) before holding a range of roles in small and large companies.
Sherrill made his way back to Houston in 1990 and rediscovered the campus that gave him his professional start.
"I was teaching a single course in entrepreneurship (at what was then the UH College of Business Administration,") he said. "I realized you can't teach entrepreneurship in a single course, and I saw potential value in creating a major in entrepreneurship and a center to run it from."
He worked with others to develop the six courses needed to establish an undergraduate entrepreneurship major and then helped to launch the Center for Entrepreneurship & Innovation in 1993. (The center was renamed the Cyvia and Melvyn Wolff Center for Entrepreneurship in 2008 after a naming gift from the couple.)
The center graduated its first class of around 30 students in 1995. The Wolff Center is now nationally ranked by The Princeton Review and Entrepreneur magazine and annually counts more than 2,500 students across campus on its roster, including the 36 students competitively selected as entrepreneurship majors each year.
Sherrill still mentors and teaches in the entrepreneurship program at Bauer College.
"What I like about entrepreneurship is that you run the business," he said. "You have full control and quick control. You can have an idea and put it in place by noon."