Department of Graduate and Professional Programs
Full-Time MBA
Meet the Bauer MBA Ambassadors 2016-2017
Request a coffee chat with an MBA ambassador
Bauer MBA Ambassadors Program
Bauer MBA Ambassadors help prospective classmates learn about the amazing opportunities that await them at the
C. T. Bauer College of Business. They offer a real-life perspective about being a Bauer MBA student and an insider's view of life in the classroom and beyond.
During the school year, the ambassadors host class visits and informal coffee talks. They also work closely with our Recruitment Office to host MBA Orientation and Tours.
Our MBA Ambassadors look forward to working with you and welcome your questions by phone, e-mail or in person.
For more information, contact Tanieka Young at tjyoung2@uh.edu.
---
Become a 2017 MBA Ambassador
The Bauer MBA Ambassador program is made up of current students who highlight the strength and diversity of Bauer MBA Programs. By acting as direct liaisons between the Bauer MBA program and prospective students, MBA Ambassadors will stimulate the interest and participation of prospective students while promoting the image of the Bauer MBA.
Bauer MBA ambassadors are students who have demonstrated leadership ability in and outside the classroom. Ambassadors should have strong interpersonal skills, the ability to work in team environments, and display Bauer pride. Students who have demonstrated extensive involvement in extracurricular activities, student organizations, and other significant leadership opportunities are encouraged to apply.
Duties:
Respond to interest/inquiry e-mails and correspondence
Facilitate classroom visits and coffee chats with prospective students
Attend recruitment events and Bauer MBA orientation
Benefits:
Increased exposure and visibility (Bauer online profile)
Bauer MBA Ambassador perks (may include special invitations to exclusive events)
Ambassadors Dinner with the Dean
Graduation certificate and stole
Reward for your contribution up to $1,000.00 (gift card)
Interested Students should:
Be enrolled in at least 6 hours
Maintain minimum 3.4 GPA
Have completed a minimum 12 semester hours
Commit to term of 1 year (2 semesters)
Commit to attend recruitment and orientation events and tours
Attend required training and monthly meetings
How to Apply:
Submit the online application
Applications will be reviewed within two weeks of submission
Applicants who are selected will be interviewed
Final selections will be made for the Fall 2016 semester by June 15
See Also:
As a Bauer MBA student, you will have access to a wide array of developmental, job search, networking and recruitment opportunities— coupled with career guidance from experienced and well-respected career specialists.
The Rockwell Career Center has an entire team of specialists who work exclusively with Bauer MBA students for professional development services.
BAUER MBA AMBASSADOR
Lola Soyebo Harris
---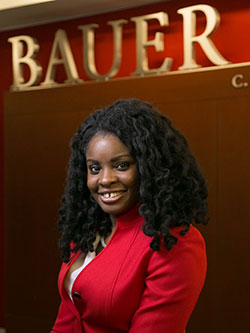 Email: fsharris@bauer.uh.edu
Concentration: Entrepreneurship & Leadership
Work Experience: 11 years as a Product and Packaging Development Engineer.
Undergraduate University and Degree: University of Oklahoma, B.S. in Chemical Engineering.
Hometown: Lagos, Nigeria
Memberships & Organizations: National Association of Women MBA- UH Chapter - President, MBA Advisory Board Member.
Why Bauer? Why Houston?: I decided to get my MBA so I could place myself in a stimulating environment that would give me a chance to focus on my goals and equally prepare me for the business world. Being a mother to two young sons, I also wanted the flexibility the professional MBA program offers. I just completed a year in the program and I am very grateful for the many opportunities I have had to learn and challenge myself on a daily basis as well as be involved in the Bauer community, which is something that was equally important to me. My MBA experience so far has been very rewarding as I continue to learn how far I can push myself.
I moved to Houston to pursue my current job but I also targeted Houston in my job search because I wanted an MBA in an environment with deep ties to its local community.
×
BAUER MBA AMBASSADOR
Salem Nseir
---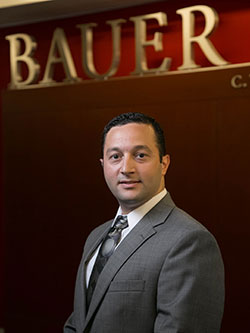 Email: snseir@bauer.uh.edu
Concentration: Finance, Business Modeling, Operations
Work Experience: 7 years in facilities management and operations.
Undergraduate University and Degree: Bachelor of Science in Electrical Engineering from Tishreen University in Syria.
Hometown: Latakia, Syria
Memberships & Organizations: Bauer MBA Society, University of Houston Graduate Supply Chain Organization, IFMA, APICS. Former volunteer with the Syrian Arab Red Crescent (SARC).
Why Bauer? Why Houston?: I landed in Houston - as few of my family members live in Houston. I was taken by the diversity, the business opportunities, and the strong economy of Houston. The family ties and the uniqueness of Houston made this city on top of the list of cities where I can pursue my degree and call home for the next few years.
Considering the quality of education, the flexibility of the MBA program, the variety of certificates and concentration areas, the return on investment, and the after-graduation business potential, Bauer was my obvious choice. UH provides a unique combination of well-designed courses, highly recognized professors, world renowned facilities, and an unparalleled business networking opportunity. The reputation this University preserves is well defined in every corner of this great city, in every proud alumnus I have met, and in every research article I've read.
×
BAUER MBA AMBASSADOR
Ruth Russell
---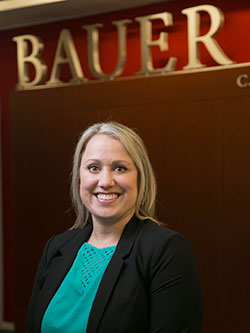 Email: rrussell@bauer.uh.edu
Concentration: Finance
Work Experience: 7 years in public high school education as a Math Instructional Specialist and Algebra teacher and 4 years in the oil and gas services industry in accounting and finance.
Undergraduate University and Degree: Texas A&M University, BBA in Accounting.
Hometown: League City, TX
Memberships & Organizations: Cougar Investment Fund, National Association of Women MBA's.
Why Bauer? Why Houston?: I knew Bauer could teach me to transition the management and organization skills I had acquired after many years of leadership in public education while intensifying my passion for anything analytical to thrive in the private business sector. It was clear to me that Bauer would serve me best in making a career change back into the corporate business world, particularly due to their deep connections with the Houston business community and their uniquely business-focused Rockwell Career Center. Another deciding factor in choosing Bauer was the ability to custom tailor my MBA to concentrate in whichever content I was most passionate about, while still receiving a core MBA education and getting a small taste of all aspects of the business program. My favorite thing about Bauer is the people, from the administration who led me through my admissions and orientation process, my professors and advisors, and most importantly my fellow Bauer classmates. They have challenged me, strengthened me academically and personally, and are a constant support in the midst of the challenges of obtaining an MBA while working full time.
×
BAUER MBA AMBASSADOR
Anthony Urbani
---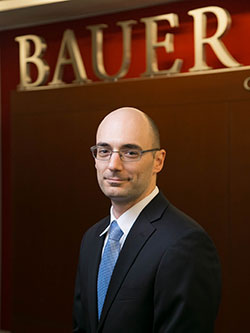 Email: ajurbani@bauer.uh.edu
Concentration: Finance and Energy
Work Experience: 15 years of accounting work experience in the Energy Industry, including both external and internal reporting.
Undergraduate University and Degree: Texas A&M University with a BBA in Accounting and Management Information Systems.
Hometown: Galveston, TX
Memberships & Organizations: Co-VP of Mentorship in the Bauer MBA Society, American Institute of Certified Public Accountants, Toastmasters.
Why Bauer? Why Houston?: Bauer has a strong academic reputation and is one of the best values in the country.  The Bauer MBA program is one of the only programs that offer a curriculum in the energy industry which is very important for professionals who work in Houston.  Also, the flexibility of the program allows students to choose the courses that best fit the needs of their career.  For these reasons, Bauer was the best choice for me.  Why Houston?  Houston is the energy capital of the world and one of the most diverse cities in the United States.  Houston has a variety of excellent restaurants, museums and other attractions that make it a great place to live.
×