Department of Graduate and Professional Programs
Full-Time MBA
Meet the Bauer MBA Ambassadors 2016-2017
Request a coffee chat with an MBA ambassador
Bauer MBA Ambassadors Program
Bauer MBA Ambassadors help prospective classmates learn about the amazing opportunities that await them at the
C. T. Bauer College of Business. They offer a real-life perspective about being a Bauer MBA student and an insider's view of life in the classroom and beyond.
During the school year, the ambassadors host class visits and informal coffee talks. They also work closely with our Recruitment Office to host MBA Orientation and Tours.
Our MBA Ambassadors look forward to working with you and welcome your questions by phone, e-mail or in person.
For more information, contact Tanieka Young at tjyoung2@uh.edu.
---
Become a 2017 MBA Ambassador
The Bauer MBA Ambassador program is made up of current students who highlight the strength and diversity of Bauer MBA Programs. By acting as direct liaisons between the Bauer MBA program and prospective students, MBA Ambassadors will stimulate the interest and participation of prospective students while promoting the image of the Bauer MBA.
Bauer MBA ambassadors are students who have demonstrated leadership ability in and outside the classroom. Ambassadors should have strong interpersonal skills, the ability to work in team environments, and display Bauer pride. Students who have demonstrated extensive involvement in extracurricular activities, student organizations, and other significant leadership opportunities are encouraged to apply.
Duties:
Respond to interest/inquiry e-mails and correspondence
Facilitate classroom visits and coffee chats with prospective students
Attend recruitment events and Bauer MBA orientation
Benefits:
Increased exposure and visibility (Bauer online profile)
Bauer MBA Ambassador perks (may include special invitations to exclusive events)
Ambassadors Dinner with the Dean
Graduation certificate and stole
Reward for your contribution up to $1,000.00 (gift card)
Interested Students should:
Be enrolled in at least 6 hours
Maintain minimum 3.4 GPA
Have completed a minimum 12 semester hours
Commit to term of 1 year (2 semesters)
Commit to attend recruitment and orientation events and tours
Attend required training and monthly meetings
How to Apply:
Submit the online application
Applications will be reviewed within two weeks of submission
Applicants who are selected will be interviewed
Final selections will be made for the Fall 2016 semester by June 15
See Also:
As a Bauer MBA student, you will have access to a wide array of developmental, job search, networking and recruitment opportunities— coupled with career guidance from experienced and well-respected career specialists.
The Rockwell Career Center has an entire team of specialists who work exclusively with Bauer MBA students for professional development services.
BAUER MBA AMBASSADOR
Anthony Romanoski
---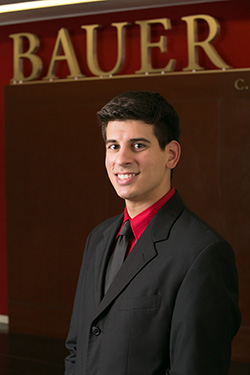 Email: amromanoski@bauer.uh.edu
Program: Professional MBA
Concentration: Finance
Work Experience: 4 years as a Geoscientist.
Undergraduate University and Degree: Lafayette College, B.S. Geology – Texas Tech University, M.S. in Geoscience.
Hometown: Etters, Pennsylvania
Memberships & Organizations: MBA Advisory Board – President, MBA Society Member.
Why Bauer? Why Houston?: There is no greater value than the University of Houston's MBA program. Bauer has one of the largest selections of courses of any MBA program in the state which allows for students to truly customize their degree. I choose Bauer because I wanted to define my path and Bauer lets me achieve this goal. The faculty, staff and students at the University of Houston are its greatest assets and has provided me with meaningful resources to enhance my professional career.
There is no better place in the country to do business than in Houston. From its flourishing medical community to one of the hottest real estate market and its crown as the energy capital of the world, Houston has it all and is the perfect place to grow my career as a professional.
×
BAUER MBA AMBASSADOR
Alejandro Sanoja
---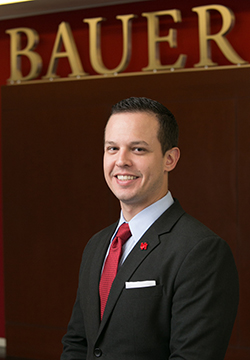 Email: aisanojapayares@bauer.uh.edu
Program: Full-time MBA
Concentration: My area of focus is Finance particularly in investments and capital markets. I will be starting an analyst position at the Cougar Fund next semester, which is a requisite for the Financial Services Management certification that I am pursuing.
Work Experience: Most of my experience is in the Finance industry. I have some valuation experience as an Intern in Deloitte. Also I have worked at boutique Investment Banks, as a currency and fixed income trader.
Undergraduate University and Degree: I studied economics at the Universidad Metropolitana in Caracas, Venezuela.
Hometown: Caracas, Venezuela
Memberships & Organizations: Currently I serve as the President of the Consulting Club, which is part of the Bauer MBA Society. Most recently I had the honor of being inducted into Phi Beta Delta, an Honor Society for International Scholars. I am also the president of the SURE Incubator. Housed at the Bauer College of Business, the SURE Program offers education modules and mentorship for businesses in their beginning stages of development.
Why Bauer? Why Houston?: I have been visiting Houston for about 15 years, since part of my family moved here. That is why when I decided to start my MBA program this city was the clear choice given that is one of the biggest cities in the U.S and is also the city that has more Fortune 500 companies.
What caught my attention out of the MBA Programs in Houston was the Cougar Fund, because finance and investing has been my passion since I started reading Warren Buffett's books when I was in high school. That is why I selected Bauer and now that I'm here I am grateful that I was given the opportunity to be part of such an amazing program and environment of growth.
×