Business Summer Institutes for High School Students
2023 EXPLORE Business Summer Institutes
Looking for ways to learn more about the business world? Then take advantage of our FREE summer enrichment programs for current 9th, 10th and 11th grade. This unique experience offers students an exploration into Entrepreneurship and Financial Empowerment through education and panel of experts.
Summer 2023
Want to explore the real world of business?
Application for our EXPLORE camp will open shortly later in the fall.
---
EXPLORE Financial Empowerment Institute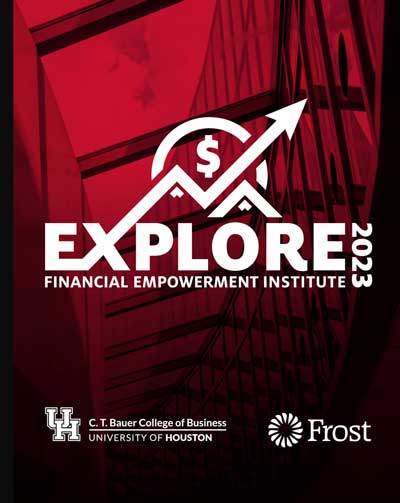 Dates: June 11 - June 15, 2023
Times: TBA
Method: Residential
Open to: Current 9th, 10th and 11th graders
Are you interested in taking control of your finances? Do you want to plan for your future career and educational finances? The Financial Empowerment Program will provide you information on essential financial topics on personal financial planning such as money management, budgeting, and goal setting.
---
Frequently Asked Questions
Here are some of the most frequently asked questions about the institutes.

Who is eligible to apply?

You must be a rising 10th, 11th or 12th grader (current 9th, 10th or 11th grader for the 2021-2022 school year). An application is required (see below). Space is limited: Forty students will be selected per institute through a competitive selection process.

When are the institute dates?

EXPLORE Financial Empowerment Institute: June 20 - June 24, 2022

EXPLORE Entrepreneurship Institute: June 27 - July 1, 2022

Where is the institute?

EXPLORE Financial Empowerment Institute will be virtual via Zoom and EXPLORE Entrepreneurship Institute will be In-Person Daytime Camp (Not a Residential Camp).

How much does it cost?

The institutes are free, however only 40 total students will be selected per institute to participate. Full scholarships will be awarded to all participants.

When and how do I apply?

Apply online from January 1, 2022 until April 7, 2022 at 11:59 p.m.

When will I hear back about the status of my application?

By the first week of May 2022

Who do I contact if I have questions about EXPLORE institutes or my application?

Contact EXPLORE Business Summer Institutes team at exploresummercamp@bauer.uh.edu!