Inclusive Leadership Institute
Transforming the Workforce,
Together

.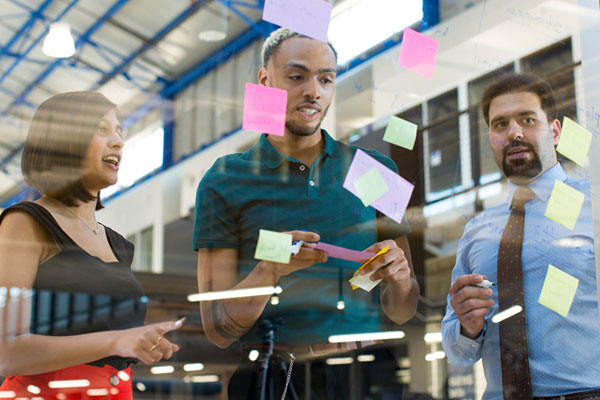 Teaching
---
The C. T. Bauer College of Business currently offers courses that fit within the Inclusive Leadership Institute's mission. These courses are open to undergraduate, graduate, and prospective students. Additionally, courses can be customized for our partner organizations.
Methodology:
The Institute offers personalized learning with individual assessments, leadership coaching, and experiential learning, focusing on inclusive leadership and interpersonal skills.
Propel inclusive leadership by cultivating an inclusive culture and enhancing essential skills such as trust, engagement, collaboration, active listening, problem-solving, and decision-making.
Offer results-oriented learning through engaging leadership labs and empowering participants with personalized and experiential learning opportunities.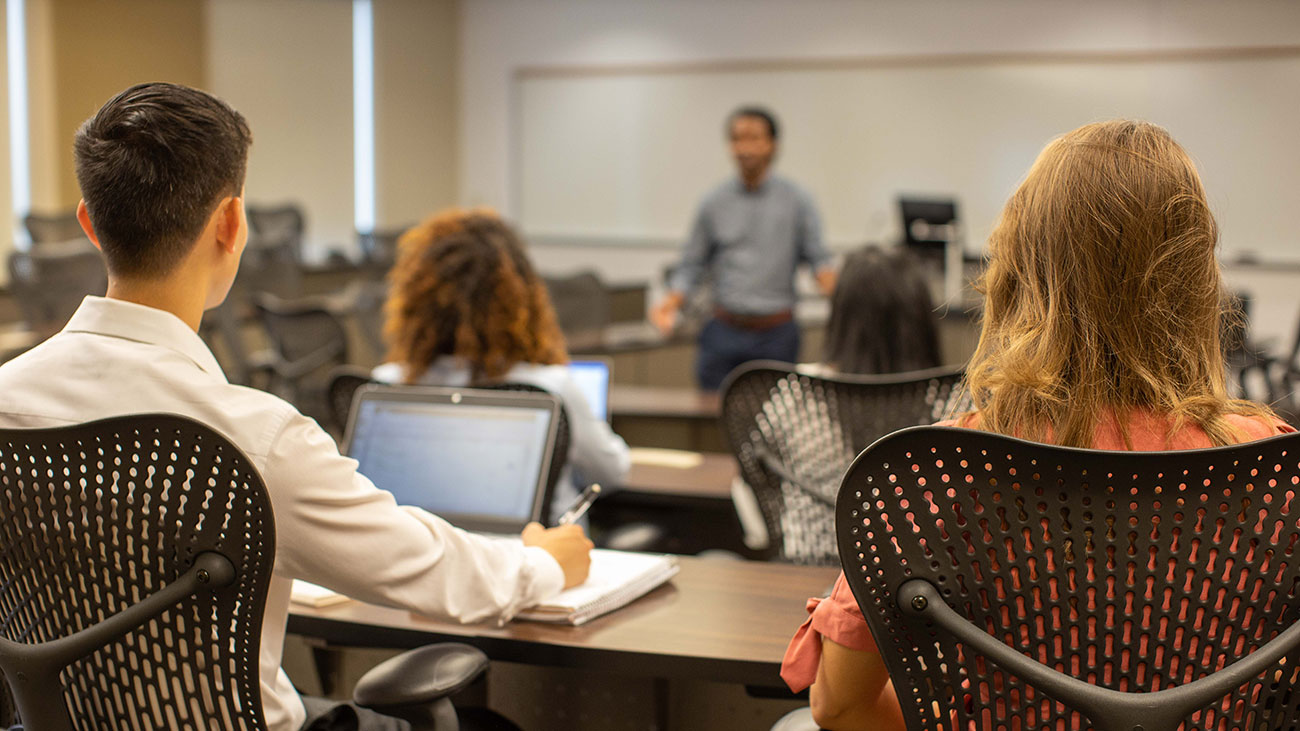 Undergraduate
Undergraduate DEI Certificate - The Department of Management & Leadership offers two upper-division undergraduate electives on the topic and a DEI certificate for undergrads.
MANA 4356 Managing Diversity – The effects of changing global worker demographics on the effective management of organizations.
MANA 4354 EEOC Internship – Students participate in a semester-long internship at the Equal Employment Opportunity Commission Houston field office. In this internship, they become familiar with the Civil Rights Act of 1964 and related amendments and the processes and procedures of the EEOC as it investigates allegations of discrimination in workplaces.
Phillips 66 DEI Case Competition - This competition responds to Phillips 66's dedicated effort to promote DEI by supporting partners on the same journey. This one-month competition involves teams of Bauer undergraduates (each team with three to five members). Student teams assess and provide solutions to create a culture more conducive to a diverse and inclusive workforce. The first competition occurred in 2019, and the second one in 2022.
---
Graduate
Graduate DEI Certificate - The Bauer College has developed a newly approved Certificate in Leading Diversity, Equity, and Inclusion, requiring students to take the first two listed classes and then one of the other listed classes. This graduate certificate will be launched shortly.
MANA 7357 Fundamentals of Diversity, Equity, and Inclusion - Introduces the concepts of diversity, equity, and inclusion and how individuals in organizations can act with good intentions in ways that hurt others.
MANA 7359 Diversity, Equity, and Inclusion Strategy - The course focuses on organizational group-level processes that impact diversity, equity, and inclusion. It further examines the relationship between DEI and company strategy and performance.
MANA 7356 Inclusive Leadership - Effective management in the context of changing global worker demographics to maximize organizational performance.
MANA 7354 Cultural Issues in Global Management – Effective management in the context of cross-national and cross-cultural factors to maximize organizational and individual performance.
MANA 7375 Global Leadership – Examines the roles of global leaders, the competencies they need to develop, the challenges they face, and the personal and organizational aspects of becoming a global leader.
ENTR 7342 Women in Entrepreneurship – Issues that women entrepreneurs face and means of addressing those issues.
DEI Consulting Class – The ILI faculty will offer a 6-credit Consulting Class where "consulting teams" formed by MBA and MS students help Houston organizations to solve business issues related to their DEI strategies and implementation. This class is experiential.
---
Executive Development
Women in Leadership - This leadership training was launched in 2017 and is designed to empower women leaders to identify their unique facets, ask for what they want, and bring their best selves to work. The training has been delivered more than ten times in face-to-face and online formats. As part of an online community of women (through LinkedIn) who have taken this leadership program, the participants continue their development journey with the guidance of the lead faculty of the program, Professor Vanessa Patrick.
Participants learn (1) their unique leadership style to help leverage their talent to lead others more effectively, (2) the importance of leading oneself and developing a set of personal policies, skills, and implementable action plans to increase happiness and decrease stress, (3) how to conduct an honest self-assessment and develop a portfolio of skills to help participants better negotiate salary and promotions, manage conflict, and, have difficult conversations, (4) how to recognize and address stressors and promote well-being in the workplace, and, (5) stories of successful female professionals to inspire and allow participants to create their own stories and utilize technology to create a unique professional identity that captures the authentic "you."
The program is designed — by women for women — to bring together research-based insights and professional leadership experiences of Bauer faculty and industry leaders to create an empowering learning experience. Sessions are highly interactive and promote open conversations and dialogue. As a result, new professional ties, friendships, and a supportive community of women leaders emerge.
Inclusive Leadership - The ILI will contribute to Bauer Executive Education portfolio with a 3-day Inclusive Leadership workshop intended to introduce managers to the competencies and skill sets needed to become inclusive leaders who can manage organizational diversity to achieve high performance. The 3-day workshop is composed of 4 elements.
Fundamentals of Diversity, Equity, and Inclusion
Diversity, equity, and inclusion have undergone an evolution and a revolution in corporate America. It is no longer enough for companies to say they are building a diverse workforce. Instead, companies must also ensure that they are building a culture that is inclusive of employees of all diverse backgrounds and that their internal systems allow employees to have equitable opportunities for success.

Leaders have a vital role to play in an organization's DEI journey. In this section, leaders will learn the core competencies of diversity, equity, and inclusion and will have the opportunity to explore the elements of identity that comprise leaders' whole selves. Leaders will learn about key concepts that are part of the discussion around DEI today, such as privilege, systemic inequities, and microaggressions. We will delve into the psychology of unconscious biases and discuss biases that most frequently manifest in the workplace, along with strategies to mitigate these biases on an individual level. We will then explore what it means to be an inclusive leader and how leaders can confidently and authentically engage with employees of diverse backgrounds to create a more inclusive culture in any organization.


Diversity Dialogue in Organizations
Creating an inclusive culture for a diverse workforce is the goal of almost every organization. Working with and interacting within diverse groups is becoming increasingly important for organizational success. The experiences of all employees, inside and outside of work, shape the prism through which they connect and work with each other daily and is not something we can 'turn off.' Communicating across differences about emotionally charged topics such as race and ethnicity requires a deep and broad understanding of oneself and others and goes well beyond basic business communication skills. Many individuals lack formal instruction and training in engaging in challenging conversations, and our tendency to lean into our comfort zones limits the likelihood of developing these skills naturally.

This course is designed to help individuals understand why these conversations can be so problematic and empower them with the skills to have them successfully. Organizations understand that their most valuable asset is their human capital, and having a diverse workforce understand the root, structure, and value of effective diversity dialogue is a necessary investment.


Interpersonal Conflict Styles
In many organizations today, the focus is on results. Teams need to find better solutions faster. To optimize performance, we must effectively resolve issues, settle differences, and implement solutions at every level. The individual interpersonal conflict style session aims to create awareness of our natural tendencies when dealing with conflict. Participants will take the TKI conflict assessment tool. Participants are introduced to five basic conflict-handling modes. They learn how and when each method is typically most appropriate and gain insight into how overusing or underusing any one conflict mode can create unwanted situations for themselves and others.


Inclusive Leadership and Character
Effective Inclusive Leadership has three main components: competencies, character, and commitment. We focus on the element of leadership that has largely been neglected in leadership development – Character – but that has been identified as critical for decision-making. We discuss the concrete behaviors associated with Inclusive Leadership, including accountability, drive, collaboration, courage, justice, temperance, humility, humanity, integrity, transcendence, and judgment. We also illustrate how these behaviors can be developed and how character leads to improved diversity, equity, and inclusion.
---
New Inclusive Culture and Inclusive Leadership Programs
We are developing a range of impactful programs focusing on various aspects of Inclusive culture to create positive change and foster a more inclusive and collaborative environment. We would love to share some brief insights into each program to help you determine which ones align best with your interests and goals:
Implementing Meaningful Jobs: Our program creates purpose-driven roles that align employees' skills and passions, boosting job satisfaction and productivity. Individuals surpass their perceived capabilities, thrive in a supportive environment, and contribute meaningfully to a more significant cause.
Developing Trust: Trust is the foundation of any successful team or organization. This program focuses on developing trust among team members and leaders, fostering open communication, and building strong relationships to drive high-performance outcomes. It aims to help learners become more trustworthy and credible individuals, which can enhance their personal and professional relationships and ultimately contribute to their success.
Engaging Your People: Employee engagement is crucial for a motivated and productive workforce. This program equips leaders with strategies to engage employees, promote a positive work culture, and recognize and reward contributions.
Leading with Character: This program fosters ethical leadership by promoting integrity, authenticity, and empathy. It cultivates self-awareness, reflection, and personal growth, which are essential for effective decision-making in dynamic contexts. Developed at Ivey Business School's Ian O. Ihnatowycz Institute for Leadership, this course equips leaders with practical character assessment and development tools. True leadership transcends mere management, empowering leaders to make a lasting impact.
The Inclusive Leader: Inclusivity is key to unlocking the full potential of diverse teams. This program provides leaders with tools and insights to foster an inclusive leadership style, ensuring that everyone's voices are heard and valued.
Inclusive Meetings: Meetings are an essential part of collaboration. This program focuses on making meetings more inclusive, productive, and respectful of diverse perspectives.
Building an Inclusive Culture: Building an inclusive culture is a long-term commitment. This program helps organizations develop strategies to foster diversity, equity, and inclusion at all levels.
Accountability: Accountability is vital for individual growth and team success. This program encourages a culture of responsibility, where commitments are honored, and progress is measured effectively.
Creating Inclusive Teams: High-performing teams thrive on diversity and inclusion. This program explores ways to create teams that embrace differences, leading to innovation and better problem-solving.
Active Listening: Effective communication begins with active listening. This program teaches the art of listening to understand, not just to respond, promoting empathy and better collaboration.
Please let us know which of these programs interests you the most, and we will be delighted to provide you with more detailed information to support your development journey.
---
Custom Programs
The ILI will also offer highly customized programs for companies wanting to develop inclusive leaders in their organizations. We will work with companies to define their educational objectives and then find the proper faculty to develop and deliver programs.
First, we will meet to discuss specific learning objectives and identify the levels of the organization's leadership that will need to be involved. Second, the faculty chosen for each class will work collaboratively to develop class content. Finally, at the conclusion of the program, feedback is solicited from the participants. This feedback will define follow-up instruction and revisions to class content. The participants will emerge equipped with the skills to leverage their knowledge into strategies for the company to attain a new level of success. A follow-up program is offered with each learning proposal.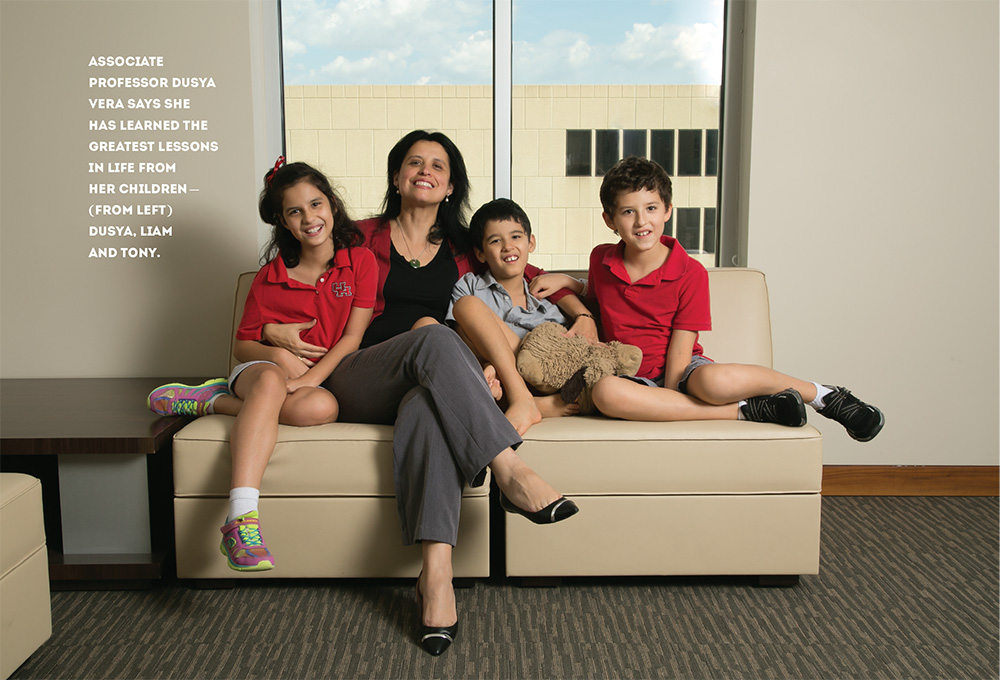 Infinite Possibility
Dusya Vera is a flurry of motion. In conversation, she speaks with her hands, often leaning forward to nod or ask a question. Vera's life, too, is one of constant movement — she is a mother of triplets, and she works full-time as an associate professor of management at Bauer College, producing academic research and teaching graduate-level courses."Of course I have felt overwhelmed many times, and I still do sometimes," Vera said. "But the problem with feeling overwhelmed is that we are judging ourselves. So, one thing I repeat to myself is, 'I am doing the best I can.'"
"I have these humongous hopes and beliefs for my children, and now I have that for my students, too. I see infinite possibility for all of them."
×