Acknowledgements
---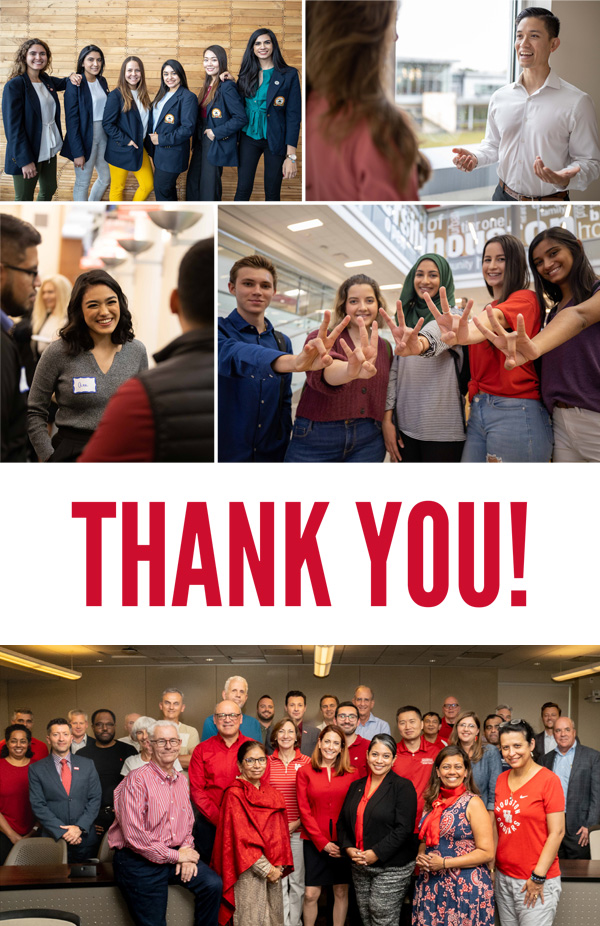 We thank all
faculty, staff, students, alumni, partners and Board members, and other stakeholders

who participated in this collective effort with their survey responses, feedback, and suggestions that shaped this Strategic Plan.

We also thank the 42 members of the steering committee for their dedication and feedback throughout the process. We especially thank the 10 members of the working group for their hard work. Special thanks to Greg Bean for facilitating the strategic planning process, Roger Barascout for overseeing the logistics of the process, and Barbara Carlin for overseeing the work conducted by the undergraduate and Executive MBA students. We also thank the undergraduate and graduate students who participated in this process for their input and suggestions.

This was truly a collective effort, and we thank all Bauer faculty, staff, students, alumni, board members, and industry and community partners for their support and guidance.
---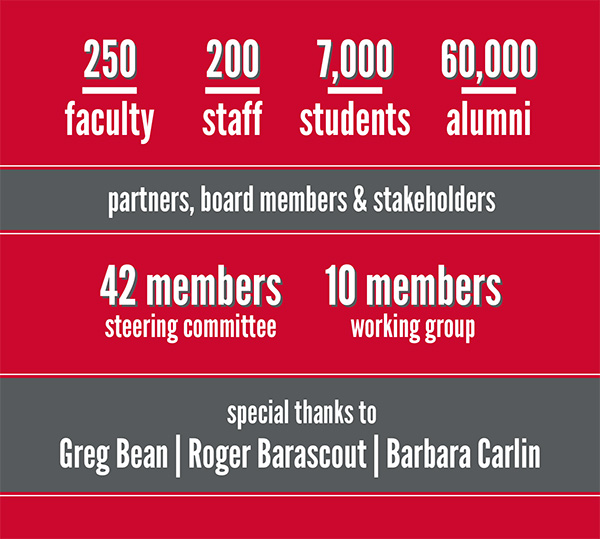 Steering Committee
Raji Aiyer, Director of Recruitment and Employer Service, Rockwell Career Center
Roger Barascout, Associate Dean, Strategic Initiatives
Ed Blair, Professor and Chair, Department of Marketing & Entrepreneurship
Sara Brown, Chief Business Officer
Barbara Carlin, Instructional Assistant Professor, Department of Management & Leadership
Dave Cook, Director, Wolff Center for Entrepreneurship
Rex Du, Professor, Department of Marketing & Entrepreneurship
Tom George, Bauer Professor of Finance, Department of Finance
Sarah Gnospelius, Director, Bauer Honors Program
Mary Gould, Director, Registration and Academic Records
Frank Kelley, Associate Dean, Undergraduate Business Programs
Saleha Khumawala, Robert Grinaker Professor of Accounting and Founding Director, SURE ™ program, Department of Accountancy & Taxation
Praveen Kumar, Professor and Chair, Department of Finance
Mohan Kuruvilla, Assistant Professor, Department of Accounting
Steve Lawrence, Executive Director, Small Business Development Center
Dalia Pineda, Director of Advancement, External Relations
Charles Morgan, Director of Information Technology, Bauer Division of Technology
Kaye Newberry, Professor and Chair, Department of Accountancy & Taxation
Vanessa Patrick, Associate Dean of Research, Bauer Professor of Marketing, Department of Marketing & Entrepreneurship
Paul A. Pavlou, Dean and Cullen Distinguished Chair
Paul Peacock, Chair, Bauer College Board
Paul Povel, Professor, Department of Finance
Gary Randazzo, Director, Bauer Executive Development
Alicia Sandoval, Coordinator for Strategic Initiatives, Office of the Dean
Richard Scammel, Associate Dean, Student Affairs and Professor, Department of Decision & Information Sciences
Lisa Shumate, Associate Vice President and General Manager, Houston Public Media
Leiser Silva, Associate Dean, Graduate and Professional Programs
Stephen Stagner, Executive Chairman and CEO, Mattress Firm
Dusya Vera, Professor, Department of Management & Leadership
Steve Werner, Professor and Chair, Department of Management & Leadership
Phillip Wiseman, Ph.D. Student
Kian Zare, MBA Student
---
Working Group
Greg Bean, Director, Gutierrez Energy Management Institute
Jamie Belinne, Associate Dean, Career and Industry Engagement
Daniel Currie, Professor of Practice, Department of Management & Leadership
Blake Ives, Professor, Department of Decision & Information Sciences
Kris Jacobs, Professor, Department of Finance
Norman Johnson, Professor and Chair, Department of Decision & Information Sciences
Jessica Navarro, Executive Director, Office of Communications
Michael Newman, Director, Senior Professor of Practice, Accounting Programs, Department of Accountancy & Taxation
Keith Richards, Executive Director, Real Estate Program
Randy Webb, Senior Professor of Practice, Executive Director, Stagner Sales Excellence Institute, Department of Marketing & Entrepreneurship
---
Undergraduate Research Group
Saeed Aijaz
Salman Al-Luqman
Veronica Herrera
Nathan Morales
Nirmal Patel
Sufyan Yousaf