Prospective Students
Bauer Doctoral Programs
One of our faculty members recalls the graduation ceremony at which his Ph.D. degree was conferred. The president of the University called forward all the new Ph.D. recipients and, he recalls, spoke 11 words: "I welcome you to the ancient and honorable community of scholars."
Preparing students for that moment characterizes all Ph.D. programs at the University of Houston. Those in the Bauer College of Business are no different. Research to advance knowledge and teaching to disseminate that knowledge are as necessary to achieve progress and professionalism in business administration as in any other field.
Students who have bachelors' degrees from recognized colleges or universities, regardless of the undergraduate field of study, may apply for admission to the Ph.D.. program. Degree programs that suit the research interest of candidates are planned by graduate advisory committees within students' major areas. Students consult with the Ph.D. coordinators of their departments to choose their advisory committees. Although doctoral candidates have individualized degree plans, the college usually requires four or five years of course work, research, and teaching. We require 42 hours of coursework at a minimum, plus at least 18 hours of dissertation credit.
For more information, visit the Doctoral section of our website
Also Visit
---
Latest News
---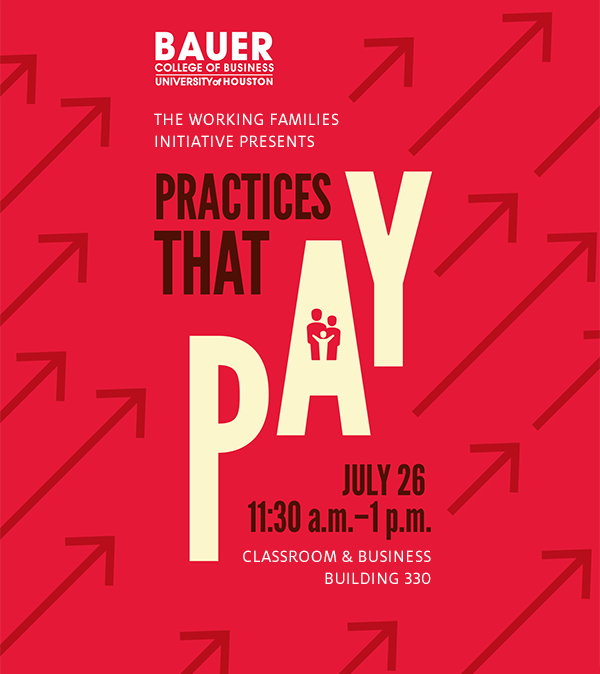 Join us on campus 7/26 for a conversation on best practices for working families. Lunch will be provided. Learn more.
---