Bauer College Announces Thasunda Brown Duckett (BBA '96) as Leadership Award Recipient
Published on February 21, 2023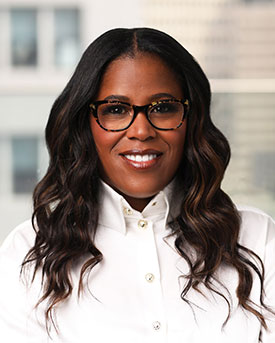 The C. T. Bauer College of Business will recognize TIAA President and Chief Executive Officer Thasunda Brown Duckett (BBA '96) with the Leadership Award at the second annual Bauer Gala on Feb. 24.
The gala is the college's signature event to celebrate business excellence with Bauer alumni and leaders from across the City of Houston. During the event, the college will honor awardees in three categories, including Leadership, which honors distinguished individuals who have demonstrated meritorious professional accomplishments and contributions to their field, while displaying leadership qualities inherent to the fabric of the Bauer College.
"Our goal at Bauer is to transform lives and create leaders in organizations and society. As we prepare the future generation of business leaders at Bauer, we strive to ingrain leadership skills in our students early on," Bauer College Dean and Cullen Distinguished Chair Professor Paul A. Pavlou said. "This is the first year we are awarding the prestigious leadership award, and Thasunda exemplifies the essence of effective leadership given her numerous accomplishments."
Before joining TIAA in 2021, Duckett held several key executive roles during a 17-year career at JP Morgan Chase, including CEO of the Consumer Bank and Auto Finance. Earlier in her career, she was a Director of Emerging Markets at Fannie Mae.
"I am incredibly honored to receive this Leadership Award from the Bauer College, which gave me so much. Receiving this award, this acknowledgement of leadership, is also a testament to everything my parents have instilled in me," Duckett said. "My parents are the reason I am the leader I am today. They taught me resilience and courage. They encouraged me to use my voice to make an impact."
Her parents, who have served as inspiration, led Duckett to create the Otis and Rosie Brown Foundation in their honor. The Foundation recognizes and rewards people who use ordinary means to empower and uplift their community in extraordinary ways.
"It was incredibly important to me to create a foundation that honored my parents, generous people who have led ordinary lives that have had an extraordinary impact. I wanted to help them create a legacy that will continue for generations to come," Duckett added. "I wanted them to see that everything they have given me goes back to the community. When a student receives a scholarship from this foundation, they are essentially receiving it from Otis and Rosie Brown. Just as my parents believed in me and supported and encouraged me, this foundation does the same for the community."
Duckett serves on the boards of NIKE, Inc., Brex Inc., Robert F. Kennedy Human Rights, Sesame Workshop, National Medal of Honor Museum, Economic Club of New York, the University of Houston Board of Visitors, and the Dean's Advisory Board for Baylor University's Hankamer School of Business. She also belongs to the Executive Leadership Council, Delta Sigma Theta Sorority, Inc. and Jack and Jill of America Inc.
In addition, Duckett is an appointee to the President's Board of Advisors on Historically Black Colleges and Universities (HBCUs), The Business Council Executive Committee, the Business Roundtable and the Committee for Economic Development of The Conference Board.
Duckett has received a wide array of accolades from financial media, including Fortune, Forbes, Barron's, American Banker, Money and MarketWatch.
"There are a few lessons I've learned that have helped me get to where I am today. The first lesson is what my father always told me: 'Reach for the moon, because even if you miss, you'll be among the stars.' The second is to always be intellectually curious," she said. "Don't be afraid to ask the next question, and the next one, and the one after that."
She added: "The third and final lesson is to remember that you are enough. It is so easy to get stuck in what I call 'mental gymnastics — to overthink, to question or doubt yourself, to regret past mistakes, but what good does that do? I want everyone to remember that their voice is necessary and required. Be authentic and stay true to yourself."
Click here to learn more about the Bauer Gala and all honorees.