Community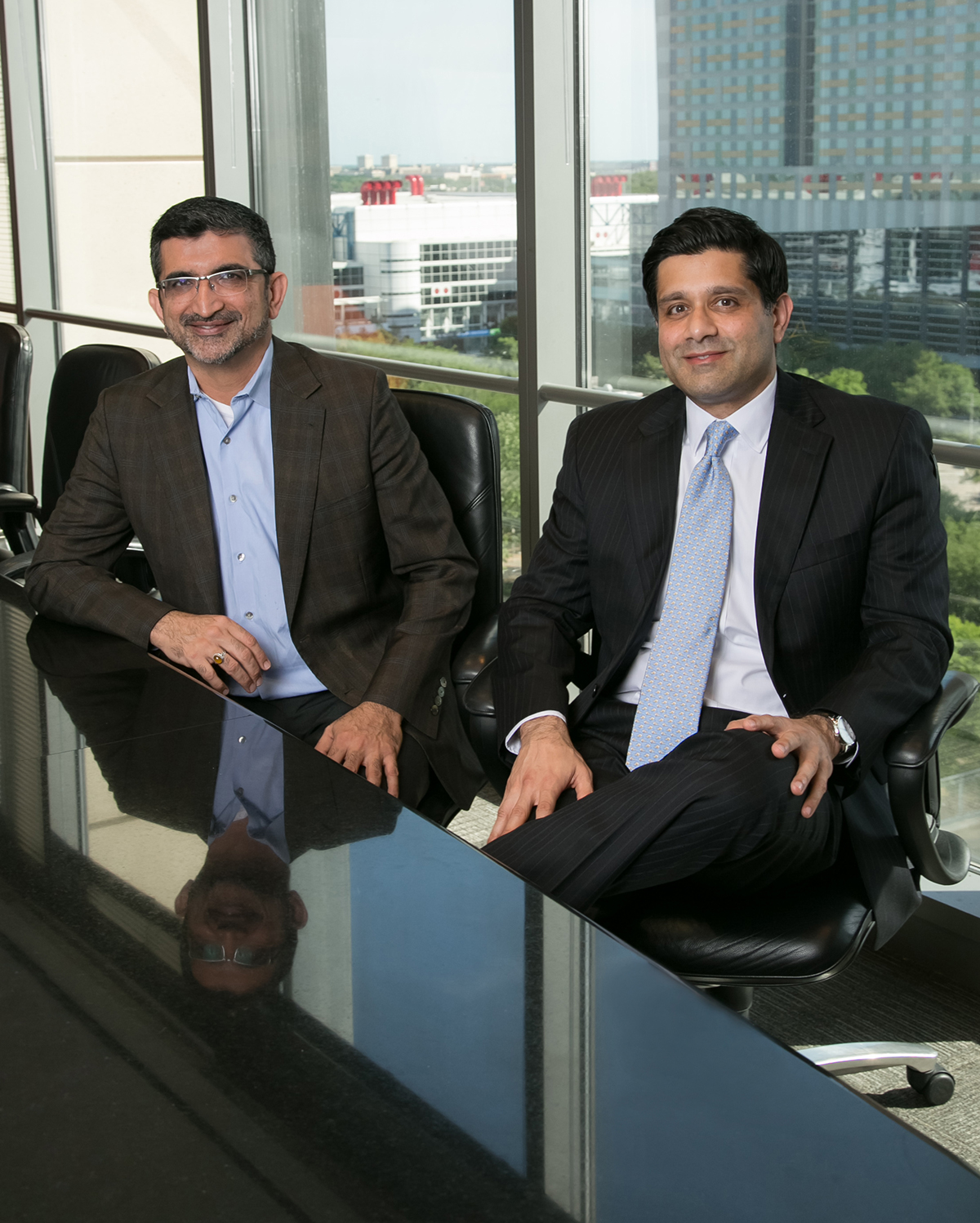 ERNST & YOUNG PARTNERS TALIB DHANJI (BBA '93) AND ABDULLAH KHAN (BBA '98) HAVE CONNECTED THROUGH THEIR SHARED EXPERIENCE AS BAUER COLLEGE ALUMNI.
You connect at a deeper level … (and) there is a sense of trust.
ABDULLAH KHAN (BBA '98)
LEARN MORE:
Bauer College Alumni Association →
Community Connections
Bauer Alumni Bond at Ernst & Young
All across Houston's business sector and beyond, the Bauer College alumni network connects colleagues and clients, forging relationships that withstand the ups and downs of business cycles, political shifts and changing personal fortunes.
Two Ernst & Young partners, Talib Dhanji and Abdullah Khan, are an example of the ways that Bauer alumni work together while expanding the network for the greater good of current students and other alums.
Dhanji, who graduated from Bauer College with an accounting degree in 1993, remembers mentor and EY colleague John King, another Bauer alumnus, as instrumental in making an initial connection with the firm.
An advisor on commodity trading with regards to accounting rules, and a partner at EY, Dhanji works with merchant energy, oil and gas industry and financial services clients and has deep knowledge of the complex business risks associated with commodity trading and hedging practices.
Khan, also a partner at EY, works with businesses on reorganization to enhance the efficiency and effectiveness of performance or navigate new markets. He has worked closely with Dhanji since joining EY in 2003. He graduated from Bauer in 1998 with a degree in finance and later earned an MBA in finance and accounting.
The two of them reconnected with the college recently, and each talked about feeling deeply connected to the program. Dhanji, who grew up in Dubai but is originally from Pakistan, talked about feeling welcomed by accessible teachers and administrators in Melcher Hall at what was then known as the College of Business Administration.
Khan recalled being in awe of the campus, which his parents wanted him to attend because it was close to home.
"I didn't really know what experiences I was looking for (at college)," he said. "But even though people called the university a commuter school at the time, the school operated like a community, especially within the business school."
Dhanji has been impressed by the evolution of Bauer College, and by its primary representative, Dean Latha Ramchand. "We were both really blown away by her command of the room and her vision (after hearing her speak)," Dhanji said. "She genuinely believes in what she is saying, and it's clear that she works with the students and staff very closely. She is a connective leader."
He has also established ties with the SURE™ (Stimulating Urban Renewal Through Entrepreneurship) program founded by Bauer accounting professor Saleha Khumawala.
"It aligns so much with EY's global initiative of building a better working world. It focuses on a demographic that is underserved. And it talks about entrepreneurship, which we treasure," Dhanji said.
Each of them mentioned the ways Bauer ties have strengthened and broadened business connections.
For Khan, sharing a UH legacy with people he is working with has been something that has helped build strong bonds.
"It is a great way for people to relate and formulate a better relationship," he said. "It's a common thread. You can have business conversations, but it's connecting at a deeper level that accelerates the relationship. There is a sense of trust that starts to build because of those conversations."