Students
Breaking records (and barriers)
Bauer MBA Student Sets Sales Records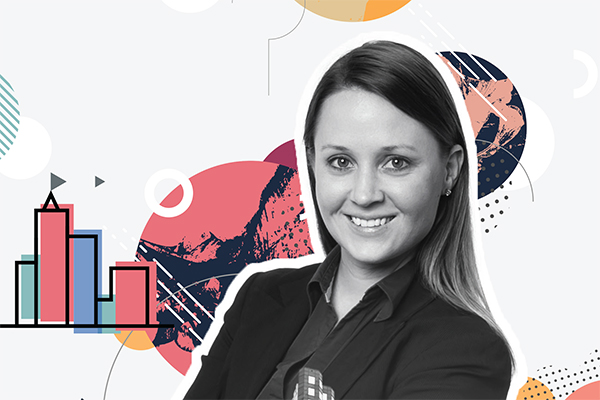 IN ADDITION TO HER LEADERSHIP ROLE WITH HYATT REGENCY HOUSTON, EDDY IS AN INVOLVED STUDENT OFFICER IN THE BAUER MBA SOCIETY AND WORKS AS A REALTOR WITH CHASESTONE REALTY.
I want to help (my team) develop confidence in their decisions so that one day, they can make those decisions without me."
Darlene Eddy, Professional MBA Student
For some reason, Darlene Eddy knew life would lead her to skyscrapers.
She grew up in a small, rural town outside Cleveland, Ohio, but Eddy had big dreams that she is now realizing as a student in the Bauer College Professional MBA Program and a rising leader in the Hyatt Regency organization.
"I have very supportive parents who taught me to work hard and to value education," Eddy said. "They encouraged me to choose a career based on what I wanted to go to work to do every day, but they also made sure I knew that even if you enjoy your job, you have to work hard — there's something to learn in every situation."
That perspective led Eddy to impressive heights early in her career. She became an account manager in 2010 for Hyatt Regency Houston and was promoted to manage contracts of more than 150 rooms per peak night within 18 months of her start date. After just one year on the job, she was nominated for Sales Manager of the Year for Hyatt Hotels North America.
"It was a huge honor," Eddy said. "I was the only nominee with a non-senior title, and I was fairly young as well. The nomination is based on production, so you have to achieve a minimum to be nominated, and you need the support of your hotel and bosses along with their bosses and the regional office. It's a huge award and something that doesn't come around very often."
In 2012, she earned the Elite Performer Award and was recognized as one of the company's top performers in sales. In December, she became Hyatt Regency Houston's associate director of sales and is now responsible for meeting her own quotas along with mentoring new sales managers, maintaining client relationships and reviewing performance metrics of the hotel.
"Instead of a 'do as I say, not as I do,' mentality, I think I lead with a 'do as I do' attitude," Eddy said. "I try to be hands-on, sitting down with someone and going line by line if needed when we're combing through something."
She added: "I don't just tell someone what to do. I ask for their opinion and recommendation. They may see something I don't. I want to help them develop confidence in their decisions so one day, they can make those decisions without me."
Eddy says she's seen a similar diversity in thought among her classmates in the Bauer MBA program, something she values from her experience as a student.

"Once you get into a graduate program, like the MBA, everyone is looking to do something different, and that brings different perspectives," she said. "When you're working with classmates on case studies and projects, no one is coming at it from the same background."
Eddy has become a leader within the college, as well, serving as vice president of finance for the Bauer MBA Society, where she manages the budget for five clubs within the organization, and vice president of marketing for the group's Finance Club, where she initiated and implemented a monthly newsletter and coordinates speakers, field trips and club socials.
"Being involved as a student is about camaraderie and getting to know each other," Eddy said. "You get to develop relationships with other students who you might come across and work with in the future."
While finding the time for extracurricular activities can be a challenge for graduate students, she added, it's an investment worth making.
"Being a professional student, you work 40 or more hours a week and come to class three nights a week for three hours — it can be hard to have time to build those relationships outside class," Eddy said. "But being involved makes you get out of your shell, and you get to see the more social side of business school."
Eddy also started working on the side as a realtor a few years ago to broaden her network.
"I got the license as a kind of side hobby after going through the purchase of my own home and really enjoying the process," she said. "I was already 'selling' a hotel in my day job, so I figured I could sell a house as well. It helps me gain exposure to other industries."
She added: "You either get to see clients purchase a home, which is exciting for them, or you're helping them sell or lease a home, and you get to see them move on to their next chapter."
Whether she's working alongside peers in the classroom, reviewing new listings in her real estate role or developing new sales managers at Hyatt Regency Houston, Eddy applies the same motivation for success for every task she tackles.
"I want to be proud of my work and know that I worked hard, whether it was a huge project or a small one," she said. "I want to know that I did my best, and if I make a mistake, I want to learn from it and grow."