Bauer Graduate Certificates
Energy Finance (EF)
You must be a current Bauer graduate student (MBA or MS) to earn one of our graduate certificates listed on this page.
Also View
Students who wish to become expert in the financial management of energy firms should consider this Certificate. The courses offered should benefit professionals in the Treasury and Controllers functions and those aspiring to a CFO position for an energy firm.
Energy Finance exposes students to the connection between the business strategy and financing strategy of the energy firm. EF explores the two principal strategies for financing energy companies, i.e. Centralized and Stand-alone financing, and devotes considerable attention to the interplay between financing and the special tax optimization opportunities available to energy firms. Oil and Gas accounting, the measurement and management of foreign exchange/ remittance risks, the strategic uses of project finance, and the operation of an internal affiliate financing system are major topics covered.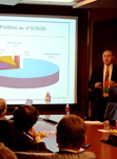 The courses which compose this Certificate are: International Energy Finance, The Strategy of Project Financing and Oil and Gas Accounting.
Curriculum
(need 9 credit hours)
FINA 7A20 Capital Markets
FINA 7A23 Portfolio Theory & Practice
FINA 7A97 Real Options in Energy Finance
FINA 7321 Fixed Income Security Analysis
FINA 7330/ 7A30 Advanced Corporate Finance
FINA 7334/ 7A97 Strategy for Project Finance
FINA 7336/ 7A97 Techniques for Project Finance
FINA 7352 Energy Derivatives
FINA 7360 International Finance
FINA 7397 Energy Value Creation
FINA 7333/7A33 Mergers and Acquisitions
FINA 7370 Cases in Corporate Finance
ACCT 7397 Oil and Gas Accounting
FINA 7397 Energy Insurance and Risk Management
FINA 7354 Financial Securities and Innovations
FINA 7397 Future of Value Creation in the O & G Industry
FINA 7397 Alternative Energy Investments
FINA 7397 Applied Finance Projects
FINA 7397 Midstream Energy Finance
FINA 7397 National Oil Company Value Creation
FINA 7397 Electric Power Markets
ACCT 7397 Transfer Pricing
GENB 7397 Future of Natural Gas
GENB 7397 Seminar in Energy Efficiency
GENB 7397 Capturing Upstream Growth Opportunities
What do past students think of the Program?
"Bauer made sure to get extremely qualified and engaging instructors to teach the subject matter. They also chose material that was very relevant to current energy marketing issues. Much of it is very useful in my actual work, such as instruction on reading a 10-k and the overview of all segments of the energy value chain." - Jean A. Salisbury, ERM Class '06
Certificates: You must be a current Bauer graduate (MBA or MS Finance) student to enroll in any of our certificate programs.