Bauer Graduate Certificates
Economics of the Energy Value Chain (EEVC)
You must be a current Bauer graduate student (MBA or MS) to earn one of our graduate certificates listed on this page.
Also View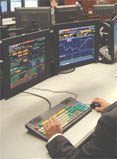 Students interested in developing a broad economic perspective on the energy business should consider this Certificate. The courses offered should be very helpful to engineers and other functional specialists seeking to develop managerial perspective suitable for executive responsibilities
The Certificate exposes students to both the 'physical' side of the energy business, i.e. what is the nature of the assets, operations and products produced, and to the economics of each component of the EVC. Students will be able to gain an understanding of how the energy firms' activities 'add value' along the chain, e.g. how basic refinery units upgrade crude oil and how more complex conversion and chemical units upgrade basic products into higher value fuels or chemicals. The role of transportation logistics and trading will also be considered. The courses which compose this Certificate are: The Energy Value Chain, Upstream Economics and Downstream/Petrochemical Economics.
Curriculum
(need 9 credit hours)
FINA 7A97 Regulatory Environment & Risks - Energy
FINA 7371 Energy Value Chain
FINA 7372 Upstream Economics
FINA 7373 Petrochemical & Refining Economics
FINA 7397 Alternative Energy Investments
FINA 7397 Energy Value Creation
FINA 7354 Financial Securities and Innovations
FINA 7370 Cases in Corporate Finance
FINA 7397 Future of Value Creation in the O & G Industry
FINA 7397 Midstream Energy Finance
FINA 7397 National Oil Company Value Creation
FINA 7397 Electric Power Markets
GENB 7397 Future of Natural Gas
GENB 7397 Seminar in Energy Efficiency
GENB 7397 Capturing Upstream Growth Opportunities
Certificates: You must be a current Bauer graduate (MBA or MS Finance) student to enroll in any of our certificate programs.