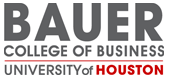 The Bauer MBA is Houston's MBA
The true reward of an education furthers not only your career and leadership potential, but also your personal network and growth.
The Bauer MBA at the University of Houston offers a world-renowed faculty that provides personalized attention in classrooms comprised of diverse professionals, a strong and large network of Bauer alumni that dominate the Houston workforce, a variety of courses in specialized disciplines, and resources that only a full campus can offer. And all at a reasonable cost.
All of these elements make up the true return: a seat at the table and a higher degree of confidence in exemplifying leadership in any setting.

---