Bauer College Launches Redesigned Website
New Features Include Updated Navigation, Modern Look and Mobile-Friendly Site
Published on August 17, 2022
Today, the C. T. Bauer College of Business at the University of Houston is launching a redesigned website that emphasizes overall design enhancements, including a more modern look, refined navigation, improved search engine optimization (SEO) and more.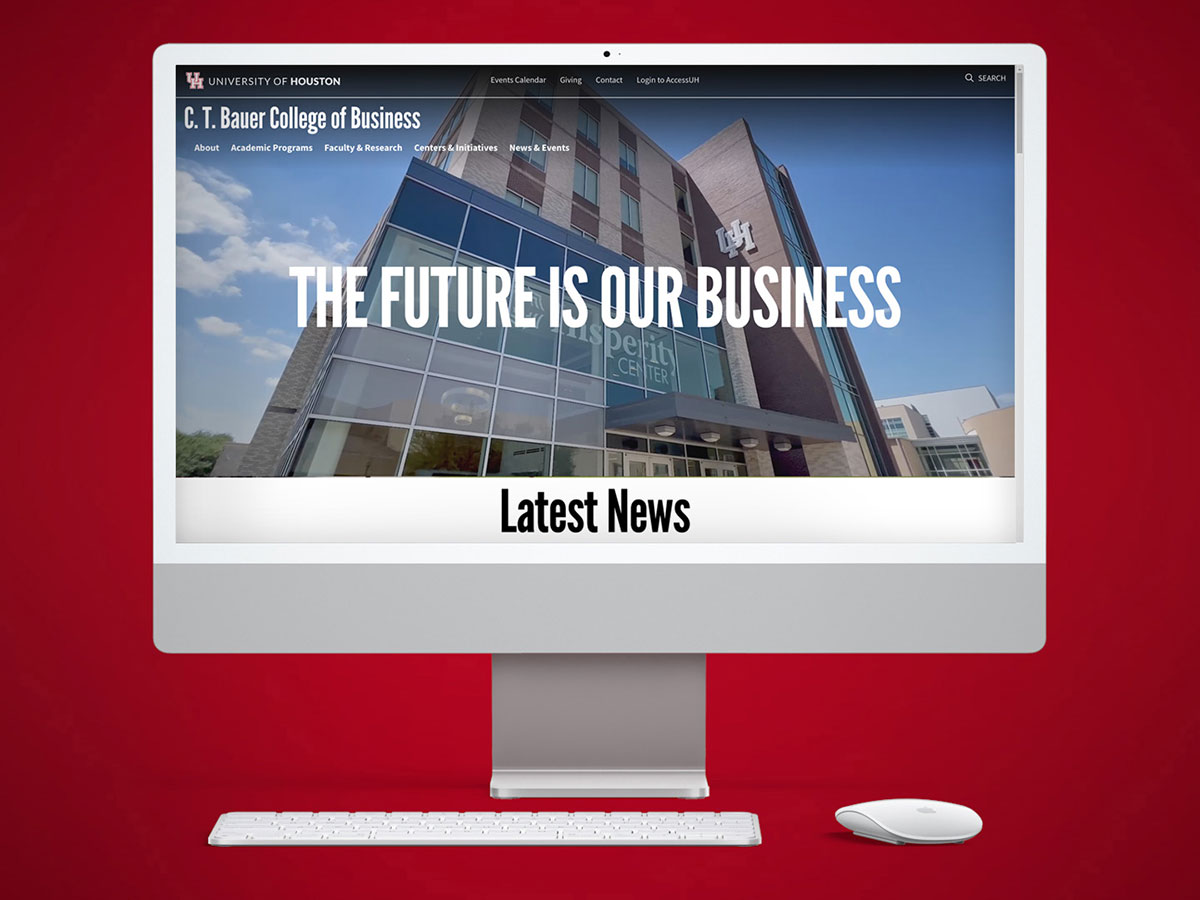 The project aligns with the 2020-2025 Bauer College Strategic Plan, which identifies the vision to be a world-class business school that transforms lives, organizations and society. As the plan was being developed, college leadership identified a need to fully redesign the Bauer website to reflect a more modern design, create an improved user experience and respond to increasing mobile device usage with a responsive template.
The redesigned website also prominently reflects "The Future Is Our Business," a message launched by the college last year that guides all Bauer communications.
"We are proud to launch the first phase of the Bauer College redesigned website," Dean Paul A. Pavlou said. "Our website serves as the front door to the College, providing a visual experience to prospective students, faculty and staff, and is also a vital resource for our community of students and alumni."
The Bauer College website was last majorly redesigned in 2013, with minor cosmetic updates over the last several years, both to incorporate web trends and to expand the navigation to include new and burgeoning centers, programs and initiatives as the college has grown.
For the recent redesign project, the college engaged an external marketing firm to research and develop a new strategic direction and redesign for the Bauer website. The firm worked closely with college leadership and stakeholders, as well as the college's Office of Communications to deliver an updated site map, wireframes, content and copy direction on 18 key pages, and overall design and coding, with web development staff implementing the changes and finalizing the project.
"The enhanced website is the result of extremely hard work from a dedicated team of staff and partners, and we engaged stakeholders along the way to get input and feedback," Pavlou said.
The redesigned website launches today with major programs, centers and department sections, and it will continue to roll out throughout the site over the fall semester.
To see the updates, visit www.bauer.uh.edu.