Meet our Dean - Dr. Latha Ramchand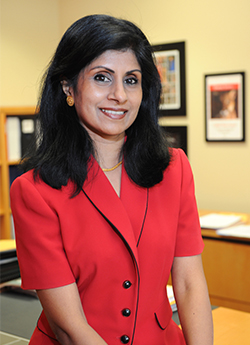 Greetings,
It is a pleasure to welcome you to the C. T. Bauer College of Business at the University of Houston. Here, everything we do begins and ends with student success in mind.
We are committed to providing the necessary resources for students to thrive, becoming business leaders who make a difference and transform their organizations. Our students don't just seek out opportunities; they create them.
It is an exciting time to be at the Bauer College. As we mark our 70th year, we celebrate our past and look toward the future. One goal for the coming year is to invest in our future by building The Bauer Excellence Initiative, a recruiting scholarship campaign aimed at attracting high quality applicants to the college's programs. Together, we can ensure that our students will advance Houston as a leading business hub.
In the more than 10 years since Charles T. "Ted" Bauer gave $40 million to name our college, we have experienced tremendous growth. It is my commitment to you that we will continue to leverage this momentum and bring the Bauer College to the next level of success. The following is a snapshot of some of the stories we have told in the last year to give you an idea of what we are doing to move the college forward:
Faculty Expertise:
As part of a Carnegie-designated Tier One research university, the Bauer College leverages the expertise of the business community alongside academic research to create a learning environment that learns from current best practice while building better models for the future. Given our home in Houston, we are uniquely suited to bring real world business leaders into the classroom to share their knowledge with students.
It is no wonder that our faculty are sought after by the government, businesses, and the community both nationally and internationally. Click here to view a list of research produced in recent years by our faculty, along with those who serve as editors or on boards for leading academic journals.
And, for a list of highlights of faculty achievements in the last year from each of our academic departments, click here.
Student success:
Best described as "intelligent without the attitude," we consider our students to be our most valued asset. That is exemplified in students like Justin Farley, Louis McEneny, Randy Hannemann, Adam Trojanowski and Tattiana Reznick — these students from the college's Wolff Center for Entrepreneurship made a name for themselves and the Bauer College this past spring as their business plan won several national competitions. Known as the "UNlimiters," this group truly created opportunity, developing an e-commerce website to sell products optimized for disabled customers, an idea borne from personal experience; Justin himself has cerebral palsy and wanted to build a community and resources for others with similar circumstances.
Another team of students from the Program for Excellence in Selling — Grace Moceri, Sonya Brooks, Bryan Hentges and Markee Johnson — swept the National Collegiate Sales Competition, retaining the national trophy for the college for the second year in a row. At the MBA level, our students have experienced similar success, with two teams from the Bauer College taking first and second place at the recent Rice MBA Marketing Case Competition, developing a strategy for Cameron.
No matter what the business area, our students achieve the highest awards of distinction, lending credibility and humility to what we do at the Bauer College. We celebrate diversity in the truest sense of the term. That we are Texas' top producer of African American and Asian BBA's and second nationally for Hispanic BBA's comes as no surprise, given the community we are honored to serve. With nearly 80 different languages spoken by our students, it is safe to say we define diversity. Having this global perspective is another factor why Bauer students are highly recruited by more than 2,000 companies.
We see proof every day of the quality education we provide at the Bauer College. Our distinguished alumni lead some of the nation's most successful and inventive companies and remain actively involved with the college through service, financial support and recruitment.
Innovative curriculum:
Bauer College offers a program portfolio that the business community can tap into, including our Global Energy Management (GEM) program; our Global Energy Executive MBA (GEMBA) program offered here in Houston and in Beijing, China; our Global Studies Sequence; the Professional Program in Accountancy; our Program for Excellence in Selling; our Cougar Fund learning experience; not to mention the certificates and tracks we offer in areas like energy risk management, energy value chain economics, leadership and real estate management. Our undergraduate program in entrepreneurship housed in the Wolff Center for Entrepreneurship ranked #1 in the nation in 2008, 2010 and 2011, speaks to the synergy created by the partnership between faculty experts and an entrepreneurial community for which the city of Houston is known.
Our efforts have not gone without notice. Bauer is consistently ranked in surveys among the top five percent of public universities in the nation. This section of our website highlights in detail the most recent rankings and successes for the college, including mentions for both our undergraduate program and full-time MBA program in the top 50 among publics from U.S.News & World Report. The magazine also ranks our Professional MBA 33rd in the U.S. among publics, and gave our full-time MBA program recognition in its recent list of the 10 Least Expensive Public B-Schools for Out-of-State Students.
Additionally, BusinessWeek cites our undergraduate program as 51st in the nation among public business schools and our Professional MBA program as 20th among publics. A Financial Times' evaluation of the top 75 EMBA programs in the world ranks our EMBA program 20th in the U.S. among publics. Our entrepreneurship program is consistently ranked as one of the best in the nation by The Princeton Review and Entrepreneur magazine, with recognition as #1 in 2008, 2010 and 2011, #2 in 2007 and 2009, and #3 in 2012.

This recognition is exciting for the college but perhaps even more important is the response we get from people who interact with our students. For us, what really matters is the quality of learning and who really matters are students.
Ted Bauer, after whom the college is named, once remarked, "To help people get an education is the finest thing you can do. Students are the great future." Ted's message informs decision making at the Bauer College. The transformation that the Bauer gift led to is nothing short of a regime shift. The life and message of Ted Bauer continues to inspire us every day. Please take a minute and click this link to get a closer glimpse of the life and message of Ted Bauer.
I encourage you to browse our site and see the energy and dedication that drives the work ethic at the Bauer College of Business. I also welcome your suggestions on ways to take the Bauer College to the next level of business leadership. Please send your suggestions to suggestions@bauer.uh.edu
Welcome to Bauer!
Latha Ramchand
Dean, C. T. Bauer College of Business
Professor of Finance