Dear Bauer faculty and staff,
One year ago to the day, I joined the Bauer College family as Dean, and the last 366 days (2020 is a leap year) have shown me that Houston is indeed a special place, anchored by the University of Houston and the remarkable work you all are doing to transform the lives of our students, alumni, partners, our community, and society as a whole. I am reaching out today with a simple message of gratitude for a most memorable year.
With this message, I would like to share some of the highlights of the last year, knowing that it would be impossible to capture all of the exciting and impressive things happening at the Bauer College in just one email!
Strategic Plan
In a truly collaborative effort that involved all relevant stakeholders, we undertook a major Strategic Planning Exercise to learn more about ourselves as an organization, and we used that knowledge to develop our 2020-2025 Bauer College Strategic Plan.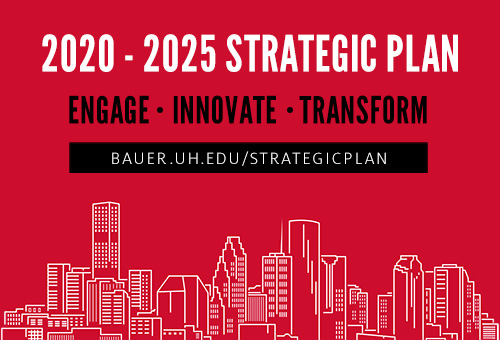 I hope you all look at this Strategic Plan and feel a sense of pride for the achievements we have already made, as well as enthusiasm and excitement for the future!
Bauer College is a business school of tomorrow, and with our commitment to innovation, impactful faculty research, state-of-the-art curricula, inter-disciplinary programs, and entrepreneurial mindset, in addition to recognition as the Tier 1 public urban business school in Houston with the largest undergraduate program in Texas, we have a solid foundation to successfully navigate this transformation as a world-class business school.
Thank you all for your participation in the Strategic Planning Exercise, particularly the members of the Steering Committee and the Working Group, with a special thanks to Greg Bean for facilitating the process and Roger Barascout for overseeing the process, and Barbara Carlin for leading the work by our undergraduate and Executive MBA students.
Rankings and Accolades
The past year has also been monumental in terms of recognition that the Bauer College has earned from several very impressive entities – your hard work to develop innovative, enriching programs is not going unnoticed!
Congratulations to the Wolff Center for Entrepreneurship, named the #1 undergraduate entrepreneurship program in the nation by The Princeton Review and Entrepreneur magazine! We celebrated the news by transforming the first floor of Melcher Hall into a party, complete with the Spirit of Houston Cougar Marching Band!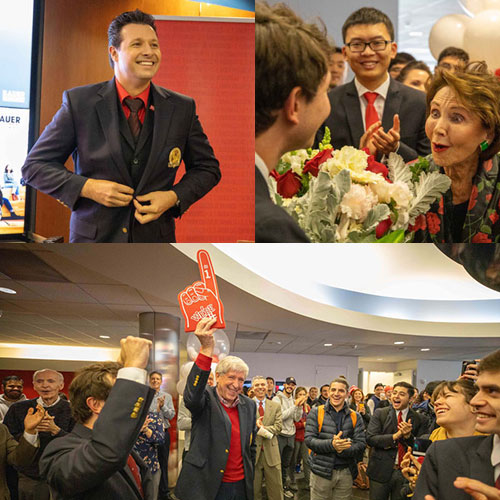 The SURE Program has also been recognized globally this year, named one of 66 organizations in 14 countries that make up Ashoka U's #MillionsofChangemakers coalition, showcasing SURE's commitment to development next-generation leaders and entrepreneurs whose business ventures elevate individuals, their neighborhoods, and the world at large. Accordingly, SURE has been recognized as one of the nation's best university-led economic development initiatives, with the University Economic Development Association (UEDA) presenting the program with the 2019 Award of Excellence for Innovation + Talent. Congratulations to Saleha Khumawala and everyone involved in the SURE Program on this well-deserved achievement!
Both our undergraduate and graduate programs were included in noted rankings programs, including Bloomberg Business Week (with the Full-Time MBA jumping six places from the previous year, along with recognition among the Top 10 for alumni startups), Poets&Quants (which ranked the Bauer BBA among the Top 25 public programs and one of the country's top value business schools), and U.S. News & World Report (with the Professional MBA included in the Top 50 public programs on the 2021 Best Graduate Schools list).
You can see a full list of current rankings on our website here – please feel free to share this information broadly!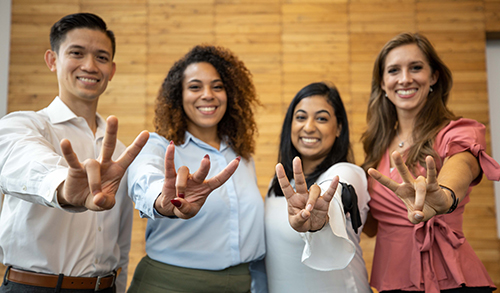 Donor Support
In terms of philanthropy, during the last year, the Bauer College has received nearly $20 million to help students with scholarships. Notably, we secured a $13 million transformational gift for the Wolff Center for Entrepreneurship, the second largest gift in the history of the Bauer College!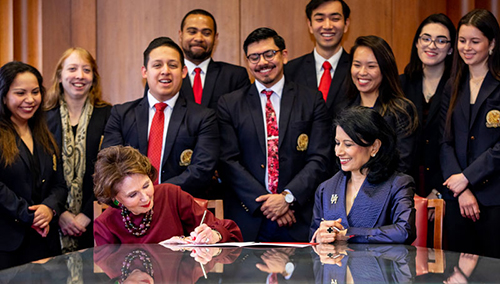 We have also received considerable support from members of the Bauer College Board, including board chair Paul Peacock, who gifted the existing Peacock Excellence Scholarship Fund with a significant donation designed to recruit highly qualified students to Bauer College. In his honor, our Boardroom (CBB 502) now bears his name!
We were also fortunate to continue to receive the generous support from the C.T. Bauer Foundation in the form of numerous scholarships for our students, and we are grateful to the trustees of the C.T. Bauer Foundation for their unwavering support.
More recently, due to the challenges and increased financial burden that COVID-19 brought to many of our students, the Bauer College Board has collectively given over $60,000, resulting in a total $120,000 in emergency funds for Bauer students with a matching opportunity from the University. This effort with the end goal of ensuring students receive the necessary help to remain in school during the COVID-19 crisis. Continued fundraising to support students with financial aid remain active, and our primary efforts have focused on securing scholarships with students in need.
We also recently announced a $75,000 gift from Frost Bank, which will fund the SURE Program and other Bauer programs that emphasize financial literacy from this year until 2023.
New & Expanded Programs
In the spirit of better serving the Houston business community by offering industry-relevant, leading-edge programs, we have also been extremely busy in the last year working to develop new and expanded programs, including a Master in Business Analytics and an Online Master in Management & Leadership. We also have proposals for Master programs in Entrepreneurship and Sales Leadership, in addition to a Doctorate in Business Administration, besides additional programs under development at various stages.
Our goal is to provide a comprehensive set of skills to train the Houston workforce of the future. Accordingly, the Bauer College has substantially increased its enrollment given the increased demand for its programs because of the unique value proposition of offering world-class education that is accessible and affordable, founded on research and grounded in the real world. Notably, graduate enrollment for Fall 2020 is currently up 71% since last year and earlier for Spring 2020 up 57%.
The Sales Academy within the Stagner Sales Excellence Institute also launched this year, filling a gap in the city's tech scene by teaching participants "the science and art of selling" and connecting students to people from local startups and scaling tech companies.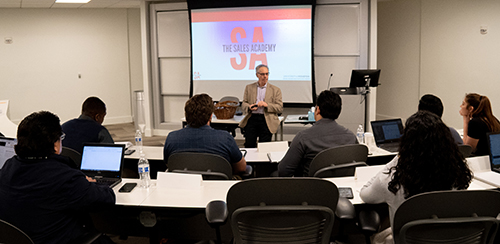 To strengthen our connections to the business community and encourage engagement with industry, we developed an interdisciplinary faculty task force with industry partners to design and launch an Office of Experiential Learning, led by Assistant Dean Jamie Belinne. The Office seeks to allow all students at Bauer to have hands-on experiences and real-life projects in their chosen field of study prior to graduation. The launch of this Office has resulted in the development of several new courses in cooperation with industry representatives as well as a renewed enthusiasm for industry engagement in the classroom throughout the Bauer College.
By involving industry partners as we revamp the curricula and programs to respond to the needs of the ever-changing workforce in the City of Houston and the State of Texas and increase the job placement of Bauer students, our placement rate is now almost 100% within six months of graduation. Keep in mind that Bauer College is the largest undergraduate business program in Texas with almost 7,000 students, meaning we place almost 2,000 graduates annually, predominantly in the Houston area!
Student Success
Bauer students are thriving – as of the end of Spring 2020, we have the highest 4 and 6 year graduation rates at UH. Our pre-business academic advising team continues to contribute to the retention of the Fall 2019 FTIC cohort through outreach and academic advising, and Bauer is now leading the first-year retention rate among colleges. We also currently have a 100% retention rate for our Bauer Honors Fall 2019 FTIC cohort and a 100% retention rate from Spring 2020 to Fall 2020 for Bauer Honors!
You can read some of our many individual stories of student success from the last year here, including senior Veronica Herrera, who was just named a scholar to the Texas Business Hall of Fame!
Coping with COVID
We cannot talk about the last academic year without talking about COVID-19 and how it has impacted our operations and mindset. On March 19, 2020, following the statewide order to work from home, the remaining of the Spring semester had to be delivered online. At the Bauer College, this meant having to ensure that all faculty had the ability to convert all their courses to an online delivery mode right away, and all employees had the tools and resources to work remotely, including student advising, career services, and all regular operations.
In response to COVID-19 and campus closure, together with the leadership team, we drafted a comprehensive plan to ensure that all courses and student services are fully functional and offered virtually within a matter of days. With the aid of our Communications team, we increased communications with all Bauer stakeholders to ensure everybody is apprised of all issues, could provide feedback, and have any of their concerns addressed. The transition to online instruction and student services was undertaken swiftly and effectively thanks to a quick decision to shut down all campus operations in order to ensure the health and safety of all faculty, staff, and students. Thank you all for your commitment to serve students and our community during this unprecedented time!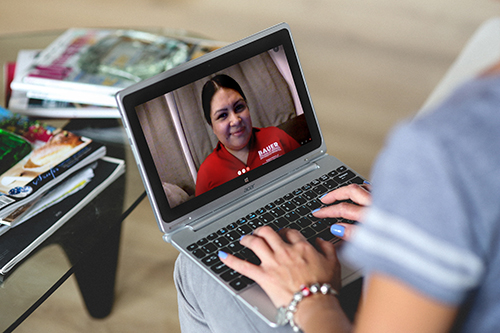 The effective transition to virtual instruction required the creation of a unit (Office of Digital Learning) devoted to digital learning under the leadership of our first-ever Director of Digital Learning (Mesh) Felvégi, providing resources and training to faculty and students on the use of technology, converting all student social events to online formats, and creating virtual social events for faculty and staff to expand the sense of belonging and community. A metric of our success has been the students' course evaluations, with the majority of courses receiving high markings despite the change from face-to-face to online instruction.
Notably, for our May 2020 graduates, we hosted an online graduation celebration, viewed live by over 800 attendees. Other programs, such as the Wolff Center and the Stagner Sales Excellence Institute, have hosted their own graduations.
Although the pandemic has brought many challenges to us, it also gave us the opportunity to connect as a Bauer family, with weekly Virtual Happy Hour events each Friday, with one event gathering over 100 attendees!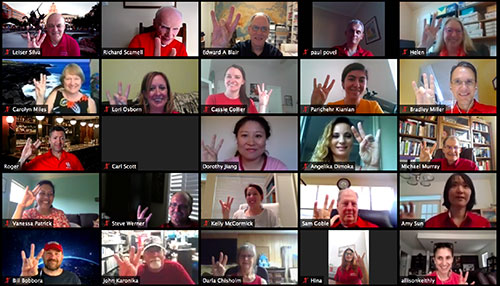 Community Impact
All of our efforts over the last year have not only impacted our students and campus but also the surrounding community – we are living our vision to "transform lives, organizations, and society"!
We have expanded our emphasis on our Third Ward initiative that provides educational, economic, and financial support to residents of the Third Ward, and the SURE Program, which has provided free training and support to more than 1,300 Houston-based and traditionally disadvantaged entrepreneurs. In addition, we have expanded the importance of several Bauer programs, such as the Texas Gulf Coast Small Business Development Center (SBDC) that provides free training and support to small businesses in the region, the Institute for Regional Forecasting that provides a free economic outlook on the Houston economy, the Women in Entrepreneurship program, which pro bono helps female entrepreneurs to start their own businesses, and the Prison Entrepreneurship Program that has successfully graduate over 700 inmates with a 3-year recidivism rate of less than 5%.
In recognition of the efforts and accomplishments of the Bauer College, Houston Mayer Sylvester Turner formally proclaimed March 3, 2020, as "C. T. Bauer College of Business Day in the City of Houston" to celebrate the achievements and impact of the Bauer College to the City of Houston!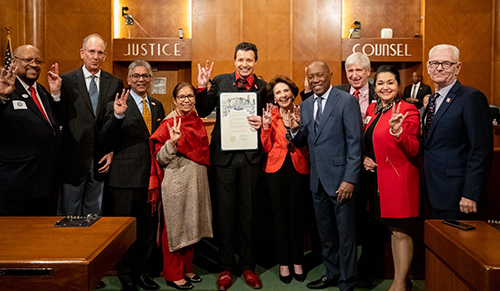 Because of each of you, the Bauer College of Business is a success story for Houston, particularly given your efforts during the COVID-19 pandemic to continue to promote student success, support organizations and small businesses in Houston, offer pro bono training and education to alumni and people throughout Houston, and support the community through its outreach efforts, particularly in the Third Ward.
None of these could be achieved without the unwithered commitment of all Bauer faculty and staff whose passion for our vision and mission enables the C. T. Bauer College of Business to accomplish impressive things and play a positive role in the City of Houston and the State of Texas. Your resilience during the COVID-19 pandemic has enabled us to continue pursuing our mission during these challenging times.
Thank you for the tremendous dedication you have shown, and I look forward to continuing to achieve exciting things alongside you all!
Paul