Programs
Engage, Innovate, Transform
Bauer Aims to Transform Lives, Organizations, and Society with a World-Class Education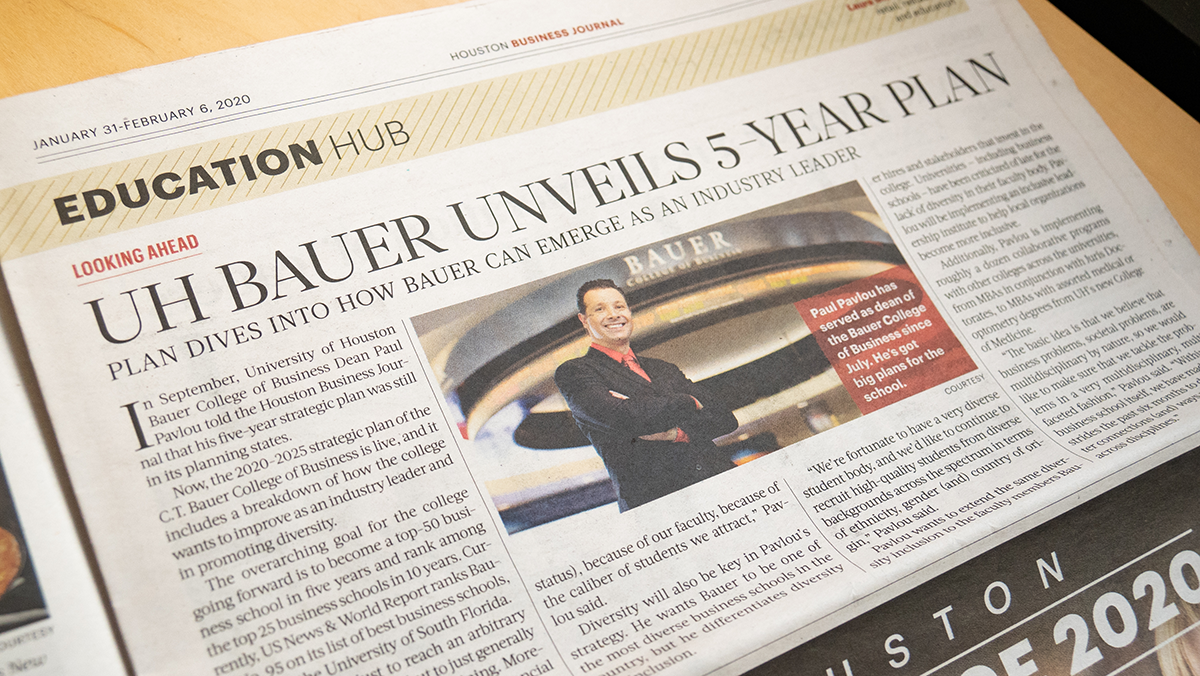 THE 2020-2025 STRATEGIC PLAN HAS ALREADY RECEIVED CONSIDERABLE SUPPORT FROM THE HOUSTON BUSINESS COMMUNITY.
We believe the next decade will be transformational to business education, practice, society and humankind.
PAUL A. PAVLOU
DEAN, C. T. BAUER COLLEGE OF BUSINESS
Learn more at
bauer.uh.edu/strategicplan
In recently unveiling its 2020-2025 Strategic Plan, Bauer College has embarked upon a bold plan designed to drive excellence at all levels, aiming to transforms the lives of students, organizations, and even society at large.
The Strategic Plan, developed over six months with input from students, faculty, staff, industry partners, and other stakeholders, reflects the vast potential of the college to lead change in the Houston region and around the world.
"We believe the next decade will be transformational to business education, practice, society and humankind," said Dean and Cullen Distinguished Chair Professor Paul A. Pavlou.
"This new environment requires a new generation of leaders and entrepreneurs who can work across disciplines to leverage emerging technologies and tools to transform lives, advance organizations, reinvent industries, and better society."
The Strategic Plan relied upon input from existing Association to Advance American Collegiate Schools of Business (AACSB) task forces. It also used research and analysis conducted by undergraduate and Executive MBA students under faculty direction, and faculty, staff, students, and alumni surveys conducted by Deutser Clarity Institute.
Greg Bean, Director of Gutierrez Energy Management Institute at the Bauer College, helped coordinate the strategic planning process. The areas of current and emerging strengths at the Bauer College that form the basis of Strategic Plan objectives are closely aligned with the Houston area's economic drivers and global reach, he said.
One of the key focus areas for growth and development at the Bauer College is Sustainable Energy.
"We are definitely in a transition that involves reducing the environmental impact of the energy we use," Bean said. "It's not just about developing renewable energy, it's also about reducing emissions of hydrocarbon fuels and making energy use more efficient. Houston, the Energy Capital of the World, will play a big role in that transition."
Another area of strength at the Bauer College targeted for growth and transformation is Healthcare Innovation.
"With our proximity to the Texas Medical Center, and the new College of Medicine at the University of Houston, we are positioned to be a leading-edge research institution in that space," Bean said.
A third sector, Analytics and Artificial Intelligence (AI), spans all disciplines, but has significant applications for literally most industries, including healthcare. Technology-driven changes in both clinical and nonclinical care settings hold promise for everything from improved physician decision-making to more efficient record-keeping.
"There is tremendous potential for integrating business and healthcare at Bauer using analytics and AI," Pavlou said. The Strategic Plan's outlook for the school's world-class Entrepreneurship and Sales programs ensures continued innovation and investment. Bauer's Financial Services and Real Estate programs will be expanded upon with revised curriculum designed to reflect new financial models and other changes in the marketplace.
The Strategic Plan calls for highlighting Bauer as a model for diversity in higher education, as well as elevating awareness of how inclusion can be a source of competitive advantage to organizations. World trade, logistics, manufacturing, transportation and the arts and sports are major industries of the region and the Bauer College will build on its expertise in offering leading-edge professional development, workforce support and research for these and other industry sectors.
More broadly, the Bauer College will redouble efforts to build cross-disciplinary research, programs, and partnerships, while also developing educational opportunities that leverage Houston's uniquely global perspective, Pavlou said.
The Strategic Plan calls for increasing instructional innovation, adding satellite campuses in Houston and around the world, and emphasizing experiential learning opportunities, specifically with the creation of an Office of Experiential Learning.
The plan's overarching goal is ambitious: To become a Top 50 business school in five years and among the Top 25 in 10 years. With the strategic foundations in place to "Engage, Innovate, Transform," the Strategic Plan outlines specific metrics that provide a roadmap for accomplishing its bold objectives in stages over the next five years.
The Bauer College is well-prepared to meet the challenges and opportunities identified in the 2020-25 Strategic Plan, Pavlou said.
"We will continue to offer leading-edge, affordable and accessible student-centered education and world-class research, while developing an integrative portfolio of areas of excellence as a basis for competitive advantage.
"We want to transform lives, we want to transform organizations, and we want to transform society," Pavlou concluded.