Faculty
On the Road Again
Bauer College Dean Researches Tech Solution to Traffic Congestion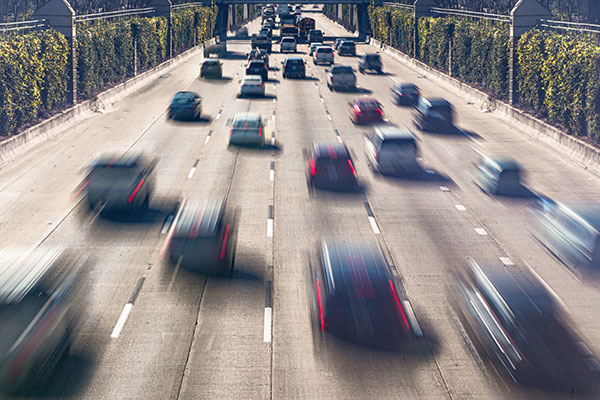 BY USING INTELLIGENT TRANSPORTATION SYSTEMS (ITS), METROPOLITAN AREAS ARE FINDING WAYS TO REDUCE CONGESTION ON THE ROADS, ACCORDING TO RESEARCH FROM BAUER COLLEGE DEAN PAUL A. PAVLOU.
Most major metropolitan areas have turned to Intelligent Transportation Systems (ITS) to significantly reduce traffic congestion, lost productivity and fossil fuel consumption.
Bauer College Dean Paul A. Pavlou is one of three researchers who sought to quantify the savings for cities' use of interactive technology, earlier known as 511, to combat traffic, as opposed to merely building additional expensive roads. Their findings, which will be published in an upcoming issue of Information Systems Research, are based on a longitudinal study of federally supported ITS systems deployed from 1994 to 2014 in 99 urban areas in the United States.
Technology has the potential to help society, and one way is to help us make better (infrastructure) decisions and put less pressure on roads.
PAUL A. PAVLOU, DEAN,
C. T. BAUER COLLEGE OF BUSINESS
The researchers (Aaron Cheng, Pavlou's former Ph.D. student, currently at the London School of Economics, Min-Seok Pang, of Temple University and Pavlou, now at the University of Houston), found that U.S. cities using ITS save a considerable amount of money, time and resources:
An annual savings of more than $4.7 billion dollars in lost work or productivity
An annual savings of 175 million hours in travel time
An annual reduction of approximately 53 million gallons of fossil fuel consumption and more than 10 billion pounds of CO2 emissions
Considering that technology has advanced considerably (and traffic has continued to grow) in the five years since the data was analyzed, it is reasonable to assume more savings would be found using more advanced technology that we enjoy today, Pavlou says.
"Technology has the potential to help society, and one way is to help us make better (infrastructure) decisions and put less pressure on roads," Pavlou said. He is the author of several studies that use data analysis to help cities and countries function more efficiently.
ITS uses traffic sensors, information from drivers and video camera data to have a dynamic effect in real time, such as changing traffic lights to keep traffic moving. It also uses information gathered over time to suggest the best changes to existing roads and road patterns. The company behind a system in Pittsburgh claims to have reduced wait times by 40 percent at 50 intersections, with a vehicle emissions reduction of 20 percent. Similar improvements are touted in other major metropolitan areas, such as New York City.
Pavlou's research found that the traffic-reducing effect of ITS is most effective when commuters use more online services for traffic information and when state governments incorporate more advanced functionalities into their 511 systems.
Using such large-scale systems in conjunction with realtime traffic apps at the individual level, such as Waze, is a less expensive and more effective investment than only spending funds on expanding and maintaining roadways, he said.
"You build a big road to reduce congestion. But then it changes how people drive and where they live," Pavlou said, referencing a phenomenon known as "induced traffic."
"Houston traffic and freeways have both grown significantly since I went to school here in the '90s, and traffic is even worse than before since people move where the roads are built and drive more. The city is growing, but there are alternative ways that do not impose some much demand on roads with the intelligent use of technology in parallel."
Pavlou hopes that Houston will employ the latest road technology to make better transportation decisions, including guiding traffic patterns during rush hours and intelligently building roads to combat traffic.