Community
A Life of Mentorship
Bauer College Alumnus Focuses on Community Involvement, Engagement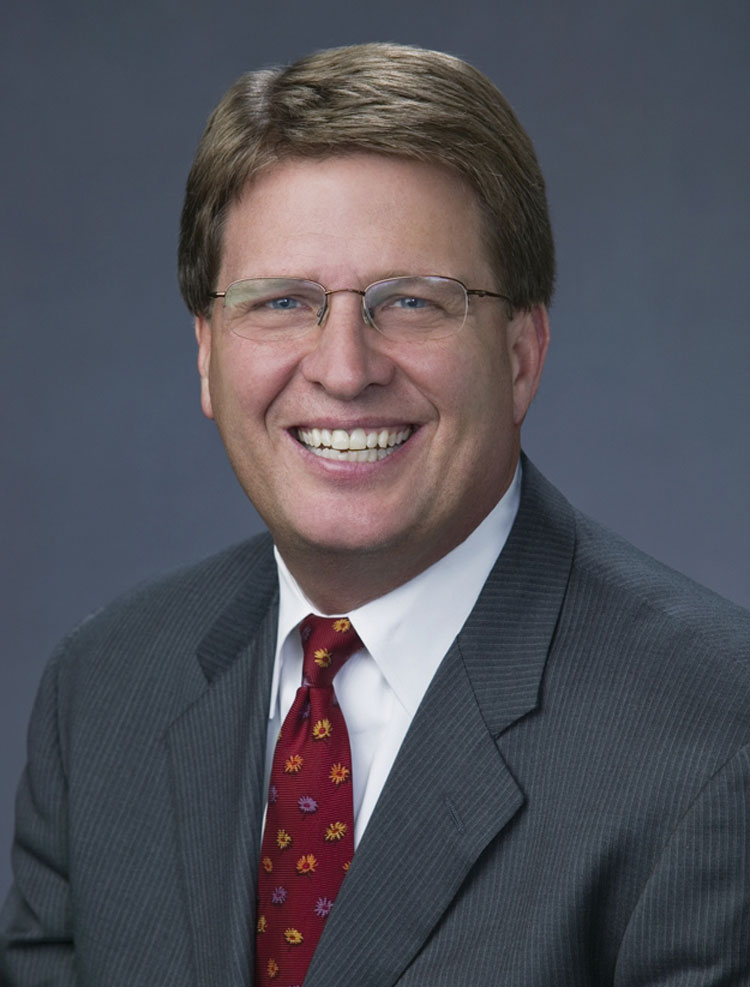 Amegy Bank CEO and Bauer College Board member Steve Stephens (BBA '80) shares how mentorship and community service has impacted his life.
Strong mentorships can span decades, weathering both crises and successes that create enduring bonds over time.
Under the tutelage of another boss and mentor, Amegy Bank CEO and founding executive Steve Stephens (BBA '80), might never have left the safety of a steady job in the midst of the 1980s oil bust in Houston.
Instead, his mentor, Jack Fields, supported Stephens taking a meeting with Walter Johnson, who was known to be leading what seemed then to be an exceptionally risky venture: establishing a locally owned commercial bank in the midst of the decade's financial crisis.
The meeting with Johnson not only sealed Stephens' future, but the Amegy creation brought much needed capital to Houston's struggling businesses. In hindsight, the timing was perfect as Houston's economic recovery was just beginning and a new wave of diverse wealth creation began.
Being involved in the community offers one of the best contributions for young professionals. Knowing the challenges so many are facing is such a big issue for all of us. Otherwise, the gap between the haves and have-nots is just going to widen.
Steve Stephens (BBA '80),
CEO, Amegy Bank
Stephens, a C. T. Bauer College of Business alumnus who is now a member of the Bauer College Board (BCB) and widely known for espousing a business philosophy that stresses giving back to the community, recently found himself acting as mentor in the midst of another critical period in Houston history. Asked to chair the 2020-21 United Way of Greater Houston Community Campaign, his tenure covered the 12-month period in which the city had to endure both a pandemic and a catastrophic winter storm.
The United Way's leadership team was also in flux. President and CEO Amanda McMillian was an experienced leader, the former executive vice president and general counsel for Anadarko Petroleum Corp., but she had been on the job for a very short time when the COVID-19 national emergency was declared. It was McMillian's first time leading one of Houston's most significant non-profit organizations, and the circumstances were unprecedented.
Stephens, working closely with McMillian as they navigated uncharted waters, tried to be a sounding board and mentor.
"The more time you spend together, especially in challenging times, the deeper your relationship will be," Stephens says.
Both were gratified to see corporations, individuals, foundations, partners, and other donors step up in the face of unprecedented need.
"One of the big lessons for me was that all the socio-economic challenges are so much bigger than any one of us," Stephens says. "For any charitable or governmental organization, the only way we can improve on things is to collaborate better, to draw on strengths and weaknesses. That's the essence of United Way."
Stephens credits getting involved with non-profit community work early on in his career with opening his eyes to aspects of the greater Houston area he otherwise would not have been aware of.
It's something he stresses with Amegy employees, many of whom are former Cougars.
"Being involved in the community offers one of the best contributions for young professionals. Knowing the challenges so many are facing is such a big issue for all of us," he said. "Otherwise, the gap between the haves and have-nots is just going to widen."