K. Sivaramakrishnan (Shiva)
Professor & Bauer Endowed Chair of Accounting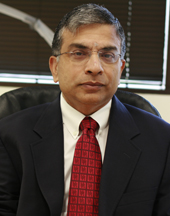 Konduru Sivaramakrishnan received his undergraduate degree from the Indian Institute of Technology, Madras, an MBA from Xavier Institute, Jamshedpur, and a Ph.D. in Accounting and Information Systems from the Kellogg Graduate School of Management at Northwestern University. Prior to joining the C.T. Bauer College of Business, he was an Associate Professor with indefinite tenure at the Graduate School of Industrial Administration, Carnegie Mellon University. Most recently, Professor Sivaramakrishnan served as Professor and Philip Ljungdahl Chair in Accounting at Texas A&M University. He was a University Faculty Fellow at Texas A&M University, 2001-2006, KPMG Peat Marwick Faculty Fellow, 1994-1997 and KPMG Peat Marwick Research Fellow 1992-1993.
Professor Sivaramakrishnan has taught a wide range of topics in financial and managerial accounting at all levels - undergraduate, masters, and doctoral. He is the recipient of a University Teaching Award at Carnegie Mellon, and the MBA Association Distinguished Core Faculty Award at Texas A&M University for excellence in the classroom.
Dr. Sivaramakrishnan's research has focused on two broad areas: the design of information systems for planning and control in organizations and the examination of the interactions between corporate managers, shareholders, and financial analysts. He has published in leading scholarly journals including The Accounting Review, Journal of Accounting Research, Contemporary Accounting Research, Journal of Accounting, Auditing and Finance, Journal of Management Accounting Research, Accounting Horizons and Management Science. He recently received the 2003 Best Paper Award from the Management Accounting Section of the American Accounting Association for his work on the use of cost information for capacity planning and pricing.
Prior to receiving his PhD, Dr. Sivaramakrishnan worked as a systems analyst involved in the analysis, design and implementation of financial accounting, internal control, and production planning and inventory control systems in small to medium size business organizations.
C.T. Bauer College of Business
University of Houston
Department of Accountancy and Taxation
C.T. Bauer College of Business
334 Melcher Hall
University of Houston
Houston, TX 77204
Shiva@uh.edu