Greetings Accounting Alumni,
Welcome to the Spring Bauer Department of Accountancy & Taxation e-newsletter!
Over the last several months, our department has experienced many exciting successes, including receiving a STEM designation for the Master of Science in Accountancy program. This designation will provide many benefits for both domestic and international students and attract more students to our program. We also feature in this issue some of the major accomplishments of our students, faculty and staff.
The Department of Accountancy & Taxation and Bauer College would like to thank our donors, alumni, employers, and friends for their continued support. This support allows us to provide our students scholarships and allows us to pursue the mission of the department and the college.
Go Coogs!

First in Texas
The Bauer College has been ranked 14th nationally and #1 in Texas among public undergraduate business schools in the Poets&Quants Best Undergraduate Business Schools 2023.
Bauer Faculty to Lead TXCPA
Senior Professor of Practice Mohan Kuruvilla has been elected the chairman-elect and 2024-2025 chairman for the Texas Society of Certified Public Accountants (TXCPA).
Bauer MS in Accountancy Program Earns STEM Designation
The Master of Science in Accountancy (MSACCY) at Bauer College is officially a science, technology, engineering and math (STEM)-designated program.
$4 Million Dakri Family Gift Supports UH's New Center for Economic Inclusion
The Dakri family has pledged $4 million to support the University of Houston's new Center for Economic Inclusion (CEI) in Bauer College. Congratulations to CEI director Saleha Khumawala.
TXCPA 2022 Rising Star
Samuel Cooper (BBA '19, MSACCY '20), Forensic and Litigation Services Senior for Weaver, was named as a Texas Society of Certified Public Accountants (TXCPA) 2022 Rising Star. 20 members under 40 years old who have shown innovative leadership qualities within the accounting profession and their communities.

Researcher
Bin Li is an Assistant Professor whose primary research interest concerns whether and why accounting disclosures, both mandatory and voluntary, affect investor decisions and firm value.
His research has been published in top accounting and business journals, and has received multiple awards, such as the Notable Contributions to Accounting Literature Award and the FARS Best Paper Award.
Instructor
Michael Newman has an interesting career path.
Born in Canada, raised in South America, he started his first company at age 18 and took it regional before selling it a year later. Shortly after, he launched another start-up and sold that nationally by the time he was 30.
He found his way to Bauer College in 2002, and in 2006, became the Director of Accounting Programs.
Newman is passionate about his students, and their success, and enjoys helping them find their dream jobs and careers.

Bauer alumnus John King (BBA '92) serves as the Americas Vice Chair for Assurance Services at EY.
Over the course of more than 30 years in the profession, he has worked with businesses at every stage of their life cycle, built long-standing relationships with senior business leaders, taken on different leadership roles, and provided a service to the economy.
"Working in public accounting has been an incredibly meaningful career for me, and I continue to be grateful for the foundation I got at the Bauer College of Business." King said. "Bauer has a focus on research that faculty can bring into the classroom — topics such as audit quality and other important topics. Bauer is also leading the way by investing in teaching led by strong faculty, bringing professionals and their experience into the classroom to illustrate what students are learning, and fostering an engaged alumni network. And graduates of Bauer are in high demand, as are accounting graduates across the country."

Fall 2022 Graduate and Outstanding MSACCY Student
Alice Ding arrived in the U.S. from China in 2014 with virtually no knowledge of the English language. However, it did not stop her from succeeding academically. When it came to choosing Bauer College, Ding chose the program for its location and diversity, helping her obtain a career in one of the largest oil & gas companies.
She joined ExxonMobil Controller's Department in January and is currently on her first rotation at ExxonMobil Baytown Chemical Plant as an Olefins & Aromatics Financial Analyst.
She is fluent in English and Mandarin, and is also learning Spanish in her free time.
Spring 2023 Outstanding BBA Accounting Student
During his time at Bauer, accounting senior Kendall Castro served as Beta Alpha Psi President, and an Accounting Lab tutor, helping to mentor those in the field. He also had several internships at TBK CPA, BDO and KPMG.
After he graduates this spring, he will begin his career in Houston at a public accounting firm while pursuing his CPA Certification.

Department of Accountancy & Taxation Director of Business Cecilia Pittman has worked in the department for 14 years. She has worked with many faculty, staff and hundreds of students, who have all become family to her.
As a full-time student herself, Pittman has a better understanding of the struggles students have. She also says the most rewarding part of her job is seeing students succeed.
After she receives her BBA in Accounting, she plans to start the M.Ed. in Higher Education Program at the University of Houston this Fall.

New Accounting Professor Wins "Outstanding Auditing Dissertation Award"
Linette Rousseau, an Assistant Professor of Accounting, recently won the "Outstanding Auditing Dissertation Award" in the Auditing Section of the American Accounting Association in January 2023.
The award recognized Rousseau's dissertation as timely, creative, and impactful. Her dissertation examines the role of corporate governance in expanded audit report disclosures.
Rousseau's dissertation illustrates that more cognitively diverse audit committees are associated with higher-quality disclosure outcomes, and that this relation is more pronounced in financially distressed firms and firms with weaker information environments where investors can most benefit from transparent auditor disclosures.
See a complete listing of recent accounting faculty publications.
Bauer Accounting Professor Included on Best Economic and Finance Scientists List
Arthur Andersen Chair in Accounting Gerald Lobo was included on the Best Economic and Finance Scientists List by Research.com. The ranking highlights the best in the discipline based on data derived from multiple data sources and ranks them based on their Discipline H-index, which taxes into account only papers and citation metrics.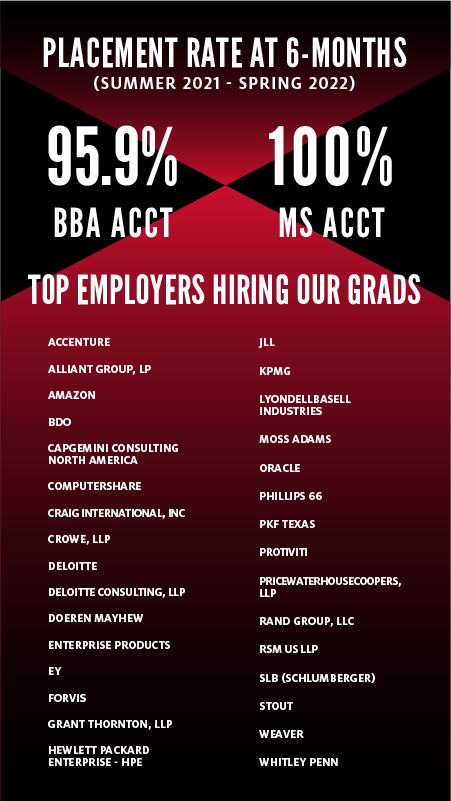 ---
Have you received a special designation, award or promotion? Share with us at acctconnect@bauer.uh.edu for a chance to be featured in a future issue of our e-newsletter!
---
The Department of Accountancy & Taxation at the
C. T. Bauer College of Business is an AACSB Accredited Business School.
The University of Houston is an EEO/AA institution.
Privacy Notice | Communication Preferences