Bauer Business Minds: Research for the Real World.

Speaking Up Leads to Positive Outcomes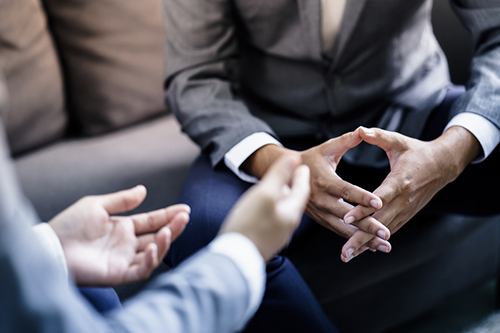 Assistant Professor of Leadership and Organizational Behavior at UH–Downtown Rob Austin McKee and C. T. Bauer College of Business Marvin Hurley Professor of Marketing & Entrepreneurship Betsy Gelb define and detail aggressive listening techniques for organizations, in a 2020 article published in the Rutgers Business Review. The pair say the practice is critical to preventing organizational disasters and then offer a roadmap for doing so.
Bauer Researcher Receives First Prize in Research Competition
"Customer–Salesperson Relationships in Times of Crisis: A Power–Dependency Perspective," by Marketing Associate Professor Johannes Habel and Claire Cardy, an MBA student at Warwick Business School, U.K., was named the winner of the "Frontlines-in-Crisis" research competition held in partnership with the Journal of Service Research (JSR) and the Journal of the Academy of Marketing Science (JAMS).
Despite soaring numbers for online activity, there is a surprising disconnect between the vast amounts of data collected and the ability of organizations to harness and use that information to drive growth, according to new research by Bauer Marketing Professor Rex Du published in the January issue of Journal of Marketing.
The C. T. Bauer College of Business is an AACSB Accredited Business School.
The University of Houston is an EEO/AA institution.