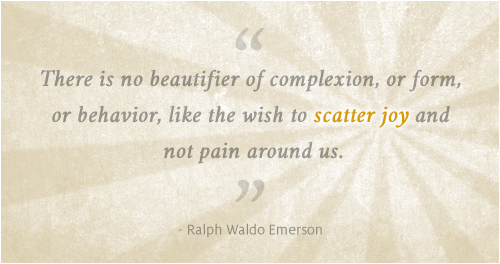 Scatter Joy!
I begin this newsletter with this Ralph Waldo Emerson quote. In our increasingly busy lives, we need to remember to scatter joy.
But, to be able to scatter joy, you have to first be, and feel, joyful yourself. We have to seek simple pleasures and find joy in our life and work. I am reminded of the wonderful documentary "Jiro Dreams of Sushi" in which the 85-year old, three Michelin star chef and sushi master enacts a ritual of creating excellence every day, seeking constant improvement. He found what he loved at a young age and he did it with joy everyday of his life!
Another source of inspiration is the National Geographic photographer, Dewitt Jones' film "Celebrate What's Right with the World." I suggest settling into a favorite chair with your beverage of choice and watching this beautiful and inspiring film, which you can access here.
The Bauer Ph.D. program has had yet another successful semester. We announced the new research and travel grants for our doctoral students. So many of our students presented their research in conferences all over the world. Our featured faculty is a renaissance woman, who "leaves a place better than she found it." Our selection from our Facebook archives has an underlying theme that emphasizes the importance of being an "uplifter" and an inspiration to others.
I hope you feel a spark of joy and happiness as you read about these wonderful accomplishments of our doctoral students and faculty at Bauer!
I wish you all a happy and productive Spring semester.
To read previous issues of the Bauer Doctoral Program newsletter, please click here.