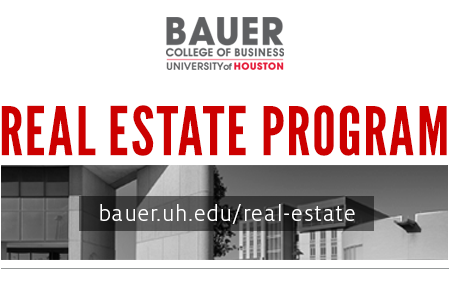 LETTER FROM THE DIRECTOR
A lot has been happening in the Real Estate Program this semester. This issue offers information and updates that you will want to read, including two spotlights. One spotlight is on Shazib Iqbal, an undergraduate student and president of the Undergraduate Real Estate Scholars. The other features Charles Jacobus, a dedicated member of our Advisory Board and faculty.
I hope you find the newsletter informative and you enjoy reading it. As always, if you have questions or story ideas, please don't hesitate to contact the Real Estate Program office.
Best regards,
Keith Richards
Executive Director
Bauer Real Estate Program

STUDENT SPOTLIGHT
Shazib Iqbal – URES President
Did you have an interest in real estate when you started your degree program at Bauer? My interest in real estate actually came about while I was still running my first business. Since 2011, I have also owned and operated a few franchised retail locations for a national prepaid wireless company. Over time, I learned a lot about what landlords look for in a prospective tenant, what lease points to negotiate and things of that nature. At the same time, I also started my first semester as a Bauer student and during that time, I wanted to differentiate myself from a lot of the other finance majors I knew. That's when I discovered the real estate track.
You are president of the Undergraduate Real Estate Scholars (URES). What does the president's role entail? I have served as the president of URES since Fall 2018, but I have been with the organization since Fall 2017. As with any organization, the president wears many different hats. Despite having an amazing team of officers to help take the weight off, I still like to work different roles around the organization. From marketing to finance, I've pretty much done it all, but I would say the one thing I'm really proud of is educating younger students about just how much opportunity is out there in the real estate industry.
How do you handle going to school and being employed at the same time? I am actually employed full-time and I am also a full-time student. To me, I don't see it as a challenge. I have been working and going to school since my freshman year of high school. If anything, it's gotten easier due to the nature of college schedules. It all comes down to time management, and being able to have your priorities in order. What's cool to me is that I work in Real Estate, and my classes are now all real estate based. It's nice to have everything intertwined.
What Real Estate courses have you taken? Which one have you found the most interesting and why? I have completed 2 of the courses and I'm currently taking 2 more right now. My favorite course was Developing a Real Estate Project with Professor J.W. Fields. It introduced us to all aspects of a Real Estate development, from planning to execution and everything in between. Most of what I learned in his class was material that would help me become more successful in my career as I progress forward.
What would you tell a student who is exploring the Real Estate certificate? Without a doubt, I would highly suggest you pursue it. Aside from being able to take some amazing courses, the staff at the Stanford Alexander Center will go the extra mile for you. From having a dedicated internship program to in-depth career counseling, they give you the tools you need to be successful. If you're still contemplating a career in Real Estate, think about this. This is one industry that truly allows you to help shape the landscape of your city. Why wouldn't anyone want to be a part of that?

BOARD MEMBER SPOTLIGHT
Charles Jacobus – Professor, Attorney at Law
Mr. Jacobus is not only an Advisory Board Member but has also been a faculty member since the Program's inception. We thank him for his service.
How long have you taught at The University of Houston? I started teaching at the University of Houston Law Center about 20 years ago. I started at Bauer in 2011 when the Graduate Real Estate Program was created.
How was it decided that you would teach "Essentials of Real Estate"? All programs need a basic core curriculum course for their subject areas. It was determined that a basic, principles of real estate course filled that bill. We wanted to create a "hands-on" program, and this is the logical foundation to branch into more sophisticated areas of study. I had taught real estate principles at all academic levels for 45 years, so I guess I was an easy choice.
What first led you to teach in your career? I first started teaching when an opportunity came available to teach a real estate course in a new junior college, then known as North Harris County College. I had a friend teaching business law there, and he recommended me for the position. It was a great experience for a new teacher. I found out I could teach and I really enjoyed it.
What has been your favorite experience so far teaching? My favorite experience teaching is the students that return to share their experience. Sometimes they need direction, sometimes they thank me, but all of the time it is great to hear how well they have done and the paths their careers have taken.
What challenges have you faced in the classroom? Classes are always a challenge. The biggest, I suppose, is students who don't apply themselves. They think the topic is easy, but find out the exams can be very difficult and don't score well. I'd like to give all A's.
Outside of teaching, law, and real estate what would you like for people to think of when they think about "Charles Jacobus"? Good guy, hard worker, enjoys being politically incorrect.

ACADEMICS
Declare the Real Estate Certificate with Your Advisor
If you are pursuing the Real Estate certificate, remember to inform your advisor and declare your intention to complete the certificate requirements by graduation.
Graduate Student Advisor

Marian Newman
Graduate Advisor II
mnewman@bauer.uh.edu
(713) 743-0700

Undergraduate Student Advisor

Asha Thomas
Director of Major Advising
asha@uh.edu
(713) 743-8963
Fall Courses
Graduate Program

FINA 4380 – Real Estate Finance
and Investment
Wednesdays 6 - 9 p.m.
Faculty: Jamie Bryant, Don Quigley

FINA 7397 – Developing a Real
Estate Project
Mondays 6 - 9 p.m.
Faculty: Acho Azuike

Undergraduate Program

FINA 4380 – Real Estate Finance
and Investment
Thursdays 6 - 9 p.m.
Faculty: Jim Adams

FINA 4381 – Essentials of Real Estate
Tuesdays 6 - 9 p.m.
Faculty: Charles Jacobus, JD

FINA 4382 – Developing a Real
Estate Project
Mondays 6 - 9 p.m.
Faculty: JW Fields

FINA 4383 – Real Estate Market
Analysis & Evaluation
Wednesdays 6 - 9 p.m.
Faculty: Larry Wright
Fall enrollment period begins in April. Visit the Enrollment Schedule page for the exact dates per classification.

STANFORD ALEXANDER CENTER OF EXCELLENCE
Advisory Board

2018-19 Advisory Board leadership (l-r): Mike Dishberger, Chair; Dean Strombom, Vice Chair; Jim Casey, Secretary; and Ray Driver, Treasurer
Comprised of more than 50 of Houston's most influential and successful real estate professionals, the Advisory Board provides direction and leadership to the Bauer Real Estate Program.
Discover all of our Advisory Board members and the organizations they represent on the Real Estate website.

EVENTS & OUTREACH
ULI Leadership Luncheon – Emerging Trends
At the Nov. 29 Emerging Trends in Real Estate® event hosted by Urban Land Institute (ULI) Houston, students and representatives from the Real Estate Program were presented with a $10,000 gift. The Real Estate Program appreciates the ongoing support and generosity of ULI Houston.
Career Alumni Panel
On Jan. 30, students gathered to listen to Real Estate Program alumni share their story of transition into the workforce after graduation and provide insight into the real estate industry. The Alumni Career Panel included Taucha Hogue ('12), Emily Zarcaro ('14), Zach Cavender ('13), and Javier Ramirez, Jr. ('17). Executive Director, Keith Richards moderated the discussion and concluded the event by inviting students to ask questions from the panelists..
Mark Your Calendar

CONTACT US
UH Bauer Real Estate Program
334 Melcher Hall, Houston, TX 77204-6021
Physical Location: CBB Room 302
Phone: 713-743-1968
Email: realestate@bauer.uh.edu
Website: bauer.uh.edu/real-estate


The C. T. Bauer College of Business is an AACSB Accredited Business School.
The University of Houston is an EEO/AA institution.