Revolutionary War soldier ( stated here)

Nancy Black is variously identified as being Charles Price's wife. This Nancy Black is also often identified as the daughter of Samuel Black and Rebecca Jane Porter as stated above. She is shown in her father's will:

Page 280.--2th September, 1782. Will of Samuel Black, aged about 55--To son, John, 300 acres on Niw River where John now lives; to son, William 300 acres, rest of above tract; to sons, Samuel and James, infants, home place known by name of Pine Knot; to daughters, Margaret, Mary, Martha, Nancy, Jean; to wife. Executors, wife, brother Wm. Black, Wm. Porter. Teste: Walter Davis, Thos. Stuart, Mathew Alexander. Proved, 15th April, 1783. by Stuart and Davis. Executors qualify. Augusta County, VA - Will Book 6, Abstracts, from "Chalkley's Chronicles of the Scotch-Irish in Virginia", see this.

However, when Samuel's wife Rebecaa Porter dies in 1814, her will says:

Augusta Co Will Book No. XI.
Page 398.--15th March, 1814. Jane Black's will, of South River--To son, Samuel; daughter, Jane Alexander; daughter, Martha Black; daughters, Margaret Price and Mary Black; daughter, Nancy Gillespee; son, James; sons, John and William. Executors, sons James and Samuel. Teste: Joseph Bell, Moses Hughes, Elizabeth Hughes, Elizabeth Long. Proved, 24th October, 1814. Samuel qualifies. [Chalkley vol 3, p.242]

This Nancy is married to a "Gillespee" in 1814. Note that her sister is married to a Samuel Price.

Augusta County, Virginia - Chalkey's Chronicles; Vol 3, PP 220 - 229
Page 206.--15th September, 1801. Receipt to William Black, executor of Samuel Black, by the legatees, viz: John Black, Mathew Alexander and wife Jane, Samuel Price and wife Margaret, William Black and wife Mary, William Black, Jr.; Martha Black, Samuel Black, Nancy Black, James Black. So this says Nancy is not married in 1810 (note her sister Margaret is married to Samuel Black).

These three document's imply that this Nancy Black is not likely the wife of Charles price.

Alternatively, this Black website says:

SAMUEL BLACK b 1727 Londonderry Ireland d 28 Dec 1782 Albemarle Co VA s/o John Black m JANE PORTER d 1814. Samuel was a Second Lieutenant in Capt. McCleary's Company in the Revolutionary War. Both he and his father John served in the militia, repelling the attacks of Indians.
In 1772 Samuel purchased a tract of 600 acres along the Allegheny Divide in the eastern boundary of the 7500 acres called Draper (Montgomery Co VA Deed Book A, p. 39). However, there is no evidence that he ever lived on this land, for his residence was in Augusta County were he left his will to be probated in 1783. By this will he left the Montgomery County property equally to his sons, John and William Black. The will noted that William Black was already living on the lands (Chalkley, Chronicles, III, 164). (Kegley, Mary B., EARLY ADVENTURERS ON THE WQESTERN WATERS, VOL II (Orange, VA Green Publishers, Inc.)1982, pp 194, 197, 198)
THE BLACK CHILDREN:
1.+John b c1754 d 1814 m 12 Aug 1777 Jane Alexander
2. Jane m Matthew Alexander
3. Margaret m Samuel Price
4. Mary m William Black
5. Martha m __McCormick
6. Nancy m ____Price
7. +William b 1766 m 28 Mar 1793 Jane McBeth
8. Samuel m Mary Letcher - Samuel died on homestead in Augusta Co VA. 9. James m Jane Sharp - had no children- James died on homestead in Augusta Co VA

This version of the Black's genealogy shows both husbands:

4 Nancy Sally Black b: ABT 1769
+ Mr. Price\Gillespie
+ Charles Price

The document posted on Ancestry.com (shown below) has several interesting statements. The assumption is that a Charles Price was a British soldier serving in the colonies, was captured, released and remained in the states. It does NOT prove that this is the same Charles Price father of Rev. Henry Price. The statement that this Charles Price was captured at the battle of Eutaw Springs in late 1781 is at odds with the Clifford Neal Smith data shown in the footnote above. The exact entry for Charles Price from Smith is in the section of the 3rd Regiment of Foot (East Kent or Buffs):

PRICE, Charles, prisoner of war, 17 Mar 1780 (A:03;D:20)

In Smith's (British And German Deserters, Dischargees, And Prisoners Of War Who May Have Remained In Canada And The United States, 1774-1783. Part One And Part Two: [and] Deserters And Disbanded Soldiers From British, German, And Loyalist Military Units In The ... ) discussion of the 3rd Regiment of Foot, he notes that the regiment departed for America in March 1781 and arrived June 3 1781 in Charleston SC. This is fifteen months after Charles Price was captured. On June 7 1781, the 3rd advanced to the beseiged fort at Ninety-Six, a village in northwest South Carolina. They arrived in June 21 and helped disperse the colonials. By September 8, the 3rd was at Eutaw Springs with the Sixty-Third and Sixty-Fourth Regiments of Foot and was attackled by a superior American force. The British retreated first and then returned to route the America. Both sides claimed victory. This was the last substantive action by the 3rd Regiment in the colonies. By October Cornwallis and the majority of the British forces surrendered at Yorktown VA. After cesstation of hostilities, the 3rd Regiment left South Carolina in 1782 and sailed to Jamaica where the regiment remained until 1790. Smith then notes:

"There appear to be no extant muster rolls dating from the 1781-82 period when the 3rd regiment was in the American colonies; a diligent check for them was made in the War Office 12, volume 2105 which is apparently complete until near the time of the regiment's departure from Ireland in 1781. All musters in subsequent volumes 2106 are from 1783 probably all taken in Jamaica, but seemingly reflecting actions taken in South Carolina before the regiment's departure for Jamaica in 1782. Note, however, that some prisoners of war in America, listed hereinafter, were captured before the Third Regiment reached the new world. It is thought that they pertain to men who had originally been in other British regiments and reassigned to the third regiment only after their release from American captivity following the peace settlement in 1783."

The "A:03" note means page 3 of a muster roll dated 24 Jul 1783 in Jamaica
The "D:20" note means page 20 of a roll dated 24 Aug 1783 at Kingston Jamaica

In conclusion:
the soldiers listed in Smith's book did not return to England after they had deserted or were captured by the colonists. For this Charles Price, he is listed as being assigned to the 3rd Regiment of Foot (East Essex or "Buffs" regiment) after the war ended.
As the 3rd regiment did not arrive until 1781 in South Carolina, it did not participate in Seige of Charleston in 1780 -- which occured between February and April of 1780 and are the relevant dates for the capture of Charles Price. It did participate in the the Battle of Eutaw Springs a year later in 1781. The specific entry for the "Charles Price" capture is dated March 17, 1780. This is over a year BEFORE Eutaw Springs. It corresponds to Gen. Clinton's approach to Charleton SC during the time Clinton was moving troops and supplies to the islands outside the Charleston waterways BEFORE the seige of Charleston began.
More critically, this date is BEFORE the 3rd Regiment of Foot arrived in America. On the stated date of Charles Price's capture, the "Buffs" were still in Ireland.
Smith states that the entire muster roll of the Buffs between 1781 and 1783 is missing from the British military archives and the entry for Price was made after the Buffs returned to Jamaica after the war in 1783. Smith notes that it is likely that if the date of capture was before the Buffs arrived in SC, that the soldier was probably with another British regiment and was transfered while listed as "captured".
So one of three option exist:
This is NOT the Charles Price we discuss here. Nothing in the Military record connects this soldier to the Charles Price who died after 1850 in Tennessee.
The listed Charles Price was captured at Charleston in 1780 and when released stayed in the states. It is likely that as a prisoner from SC he would have been returned to Virginia for imprisonment in a place such as Albemarle County barracks or in late 1780 to Frederick Maryland or Winchester VA.
The listed Charles Price was released, returned to Jamaica with the Buffs and then returned to the states after his enlistment ended.
There is another viewpoint of Charles Price service provided several years ago by "Sloane":
----------------------------------------------------
From:
Subject: Irish Soldier-What Co.?
Date: 23 Nov 1997 11:26:11 -0800

Hi:
Can someone please tell me what County in Ireland would a soldier most likely have come from?
His name is PRICE he was an Irish soldier fighting for the British in the 64th regiment on foot in 1781 at the battle of Eutaw Springs,S.C. Also, is the Roster for this Regiment on the internet?
Thank you for your help.
Sloane

----------------------------------------------------
This "Sloane" also asks about the Price/Wooten line:
----------------------------------------------------


From:
Subject: Re: SURNAME-QUERY-D Digest V97 #281
Date: Wed, 03 Dec 1997 18:43:03 -0800

Hi Gladys:
What Wooten line are your researching?
My Wooten ancestors start with Turner Wooten and Nancy Roper Wooten - Turner was a Revolutionary Soldier In Virginia they later moved to Tennessee - does this look familiar to you?
Thanks,
Sloane
cslone@pacbell.net
----------------------------------------------------
From:
Subject: Re: Surnames in TX, VA, NC, GA., KY, TN, MS, NY
Date: Tue, 25 Aug 1998 12:35:04 -0700


Hi:
Well, this is a long shot - I have A Price line in VA. and TN. but none of the other names seem to connect.
My Price line Charles and Nancy Black Price in Ireland 1757 Charles was probably married more than once. their son Rev. Henry Price was married at twice 1 - Susan Stultz, 2. Elizabeth Wooten. their son Charles I. Price m Catherine Samples.
Please let me know if any of this looks familiar to you.
Thanks,
Sloane
----------------------------------------------------

I can find no references to "Sloan" or their data after 1997. The 64 Regiment of Foot does exist as a fighting unit at Eutaw Springs in 1781 having been in the colonies from 1775 forward. I have no idea how this data was obtained or how it might relate to Charles Price.
-----------------------------------------------------

Sue Ikerd has provided some valuble data:

From: "Sue Ikerd" Subject: Prices - Ireland, SC, TN, MO
Date: Wed, 9 Jul 1997 07:41:50 +0000

According to family tradition my Price ancestor came from County Kildare Ireland c. 1780.
I have been told that 3 Price brothers, John, Henry and Charles came from Ireland to fight as British soldier in the Am. Revolution. They landed a Charleston, SC ca. 1780. Charles was captured at the Battle of Eutaw Springs, SC. He remained in America after the war but it is not known what became of his brothers.
Charles had 2 known children, Henry b. c. 1790 and Charles Jr. b. 1802. There may have also been a son named James.
Charles Sr. is living with his son. Rev. Henry Price in the 1850 Bradley Co. TN. Census. He is 93 yrs. old and b. in Ireland so this helps to verify some of the family stories.
I have not been able to find any record on Charles Sr. before 1850, so there is approximately 70 years of his life in the US that I can find no records on. He may have married Nancy Black.
Any information on this line would be appreciated. Charles Jr. went to Webster Co. MO and some of Rev. Henry Price's family moved to Barry Co. MO and then to OK. but I am especially interested in finding info on Charles Sr.

Sue Ikerd
pikerd@mail.llion.org

Sue also provided the following:

Information from group of family sheets on the Antle family from Mrs. Milfred W. Davis (Billie Arabelle Guinn)

Price Family

Charles Price first md. Nancy Black

He was born in Ireland and came to America around the year 1775, at the age of 16. There were three boys born to this union, Henry Price, James Price and Charles Price II. Charles lived at last account in Webster Co. Missouri near Marshfield and died there and had raised a large family. James we can give no account of. Henry Price married (first marriage) to Susan Stutz and lived in Tennessee near Cleveland. To this union were born 15 children, names as follows that raised children, Wesley, Charles III, Elias, George Linzie, McNabb (Dr.), Christopher, Minerva, Barbara and Uraney. Six died while young.

Henry Price (second marriage) married Mrs. Elizabeth Gillette, maiden name Wooten. To this union were born children as follows: James, Mandy, Nep, Joseph, McClelland and Pryer."

Sue Ikerd also provided this:

Several generations of my Price Family have been interested in the family history and I am indebted to them. I have this paper that was given to me by a Price researcher. It states:

Told to Alvin Price by William H. Price March 9, 1947.

Charles Price, accompanied by two brothers, (John and Henry) came from Ireland as hired soldier of the British to fight the Americans in the Revolutionary War. He was taken prisoner at the Battle of Utah Springs. He hired out collect for his board until the end of the war. After the war he was freed during an exhange of prisoners. Charles settled in Virginia and never returned to Ireland as he thought he could do better here than in the old country. Ireland was so thickly populated. Charles married and is known to have two sons--Charles, Jr. and Henry. Charles Sr. was dwelling in Tennessee at the time of his death at nearly 100 yrs of age.
---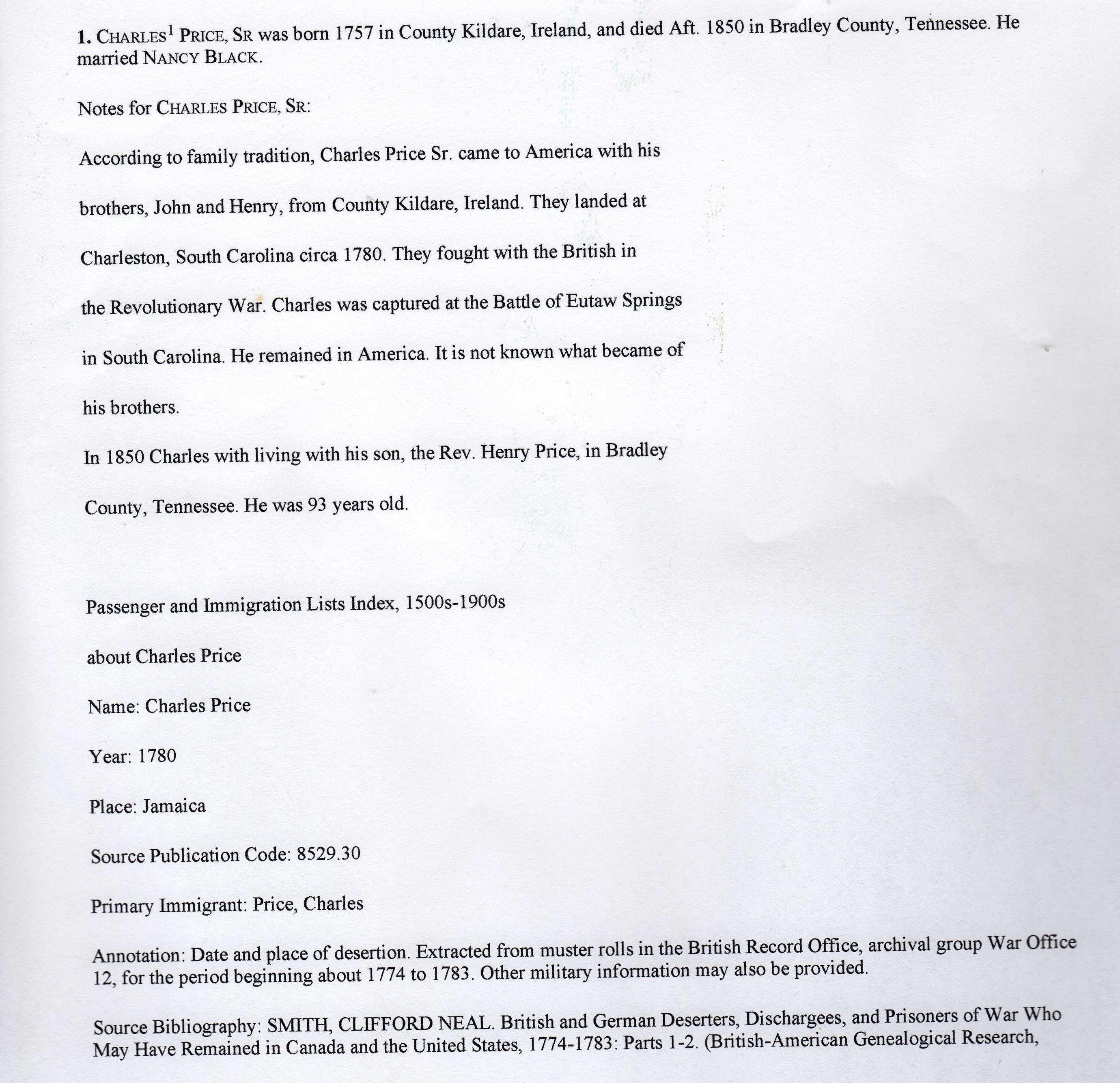 Lived with Rev. Henry Price from sometimes before 1840 until his death at over 93 years old.