Recruitment Efforts: Ph.D. Project in Chicago:
By Joanna Arnold, 2nd year Marketing Ph.D. student
Student Ambassador of the Bauer Ph.D. program
In November of 2015, I had the opportunity to travel to Chicago with Dr. Vanessa Patrick, Director of the Bauer Doctoral Programs, to participate in the annual Ph.D. Project Conference. The Ph.D. Project is a dynamic consortium of educators, businesses, and universities dedicated to increasing diversity in business by increasing higher education opportunities for historically unrepresented minorities.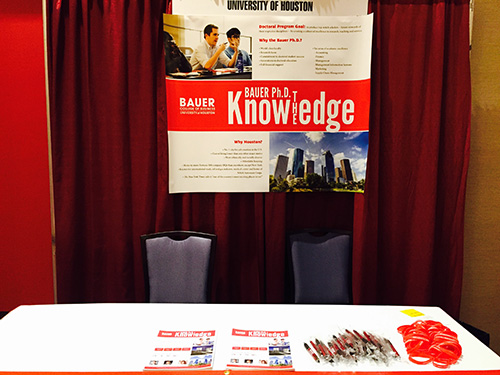 Our experience at the Ph.D. Project Conference was impactful in many ways. First of all, it was inspiring to see so many students and professionals interested in making a commitment to Ph.D. work and research. We met such a diversity of people: from young executives, to political activists, and accomplished students, to name just a few. The breadth of experience and knowledge that these potential students would bring to academic research was evident, and very exciting.
Secondly, it was amazing how many of the potential students we met were from Houston! Meeting all of these fellow Houstonians in Chicago, most of whom were very enthusiastic about the University of Houston and very interested pursing their academic aims close to home, underscored the strategic importance of the University of Houston in the task of expanding diversity in higher education.
Although a commitment to diversity is ubiquitous in higher education, University of Houston is uniquely situated to exemplify this commitment. Not only was University of Houston ranked as the second most racially/ethnically diverse university in the nation by U.S. News & World Report, but as of 2010 Houston surpassed New York City as the most ethnically diverse city in the United States.
All of this to say, that, as the University of Houston, we have a diverse and dynamic population in our backyard, so to speak. Although attending the Ph.D. Project Conference was a great experience, and we look forward to our future involvement with the conference, perhaps our most important takeaway was the tremendous potential we have for increasing diversity by reaching out to the people who live, work and study in our own city.
Dean Latha Ramchand, Associate Dean Tom George, Doctoral Program Director Dr. Vanessa Patrick-Ralhan, Ph.D. coordinators, faculty and students celebrated the accomplishments of the winners of our first annual doctoral program awards. The foyer on the third floor of Melcher Hall was emblazoned with our "Know the Edge" doctoral program visual signature and everywhere you looked was a sea of red and white. To re-experience this special event, please view the . Remember to submit your nominations for next year's doctoral awards by May 1. The call for nominations should be released by April.
---