The Management & Leadership major consists of core classes, pre-business classes, required upper lever business courses, and specific Management coursework. Please see the general degree plan for more detailed information on courses**
We encourage current students to meet with an academic advisor to select courses, inquire about tracks, receive support, and stay on track for graduation.
During a student's academic career, Management & Leadership Majors can choose to pursue a specialty track.
Available Now
Human Resource Management
(21 Semester Credit Hours)
The Department of Management & Leadership (MANA) offers a Bachelor of Business Administration degree in management & leadership. Management & Leadership majors interested in course work related to human resource management may pursue a Human Resource Management track by meeting the following requirements within the Management major.
Required:
MANA 4330: Introduction to Strategic Human Resource Management
MANA 4336: The Legal & Ethical Environment of Human Resource Management
MANA 4358: Compensation & Benefits
MANA 4355: Selection & Staffing
MANA 4353: Management Training & Career Development
Select 6 semester hours from the following:
MANA 4331: Current Issues in HR Management
MANA 4334: Industrial Relations
MANA 4337: Stress & Work
MANA 4338: Performance Management Systems
MANA 4340: Negotiations & Conflict Management
MANA 4341: Leading Organizational Change
MANA 4356: Managing Diversity
MANA 4385: Intro to Strategic Management
MANA 4396: Internship for Credit (Approval required by advisor & RCC counselor)
MANA 4397: Selected Topics in HR (Approved 4000-level management courses related to human resource management)
As of September 16, 2021, Human Resource Management Track in the BBA in Management is aligned with the Society for Human Resource Management (SHRM) HR Curriculum Guidebook and Templates.
The students enrolled in an aligned program are eligible to apply for the SHRM-CP exam provided they've met SHRM's student eligibility requirements.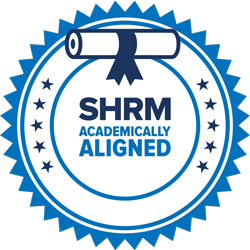 Available Now
Applied Leadership
(18 Semester Credit Hours)
The Applied Leadership Track in Management & Leadership reflects a defined and coherent set of courses that include knowledge and skill development for students who aspire to be leaders in today's rapidly changing environment. This knowledge and skill will help students improve their sets of competencies for a highly competitive job market in the real world of business. Organizations in all sectors have voiced concern regarding the apparent lack of leadership skills among their employees. A background in understanding the leadership of change, ethics, social responsibility, diversity & inclusion, and employee performance, as well as an entire course devoted to developing individual leadership skills will address this need.
The Management & Leadership Minor (learn more in the UH Academic Catalog) will also include numerous self-assessments and leadership activities that can be added to students' portfolios to enhance their job prospects.
Management & Leadership majors interested in coursework related to leadership may pursue an Applied Leadership Track by meeting the following requirements within the management major:
Required:
MANA 4346: Leadership Development
MANA 4347: Ethics and Corporate Social Responsibility
Select 12 semester hours from the following:
MANA 4333: Current Issues in Management
MANA 4338: Performance Management Systems
MANA 4340: Negotiations & Conflict Management
MANA 4341: Leading Organizational Change
MANA 4348: Global Leadership
MANA 4356: Managing Diversity
MANA 4385: Introduction to Strategic Management
Student Resources
---
Advising
---
Also View