All About the Bauer in D.C. Fellowship Program
The Bauer in D.C. Fellowship Program is a competitive academic and professional experience in Washington, D.C. This experiential learning program sends outstanding undergraduate students from the C. T. Bauer College of Business to Washington, D.C. to live, learn, and intern the spring semester. This once-in-a-lifetime opportunity provides students with valuable work experience and gives them the opportunity to earn academic credit while living in one of the most dynamic cities in the U.S.

Director's Note
After a decade of sending outstanding Bauer undergraduate students to Washington, D.C. for semester-long transformational professional and academic experiences, we are busy at work preparing our 11th cohort of Bauer in D.C. Fellows. Over the years, we have been able to develop a robust program to prepare our Fellows for their internships and their new Washington, D.C. home. Each year we tweak something or add a new element. Please read below to learn about the support we provided for our Spring 2023 Bauer in D.C. Fellows.
As 2022 draws to a close, we want to wish everyone a wonderful holiday season and a happy and healthy new year.
- Colleen Davies

Preparing for Spring 2023 in D.C.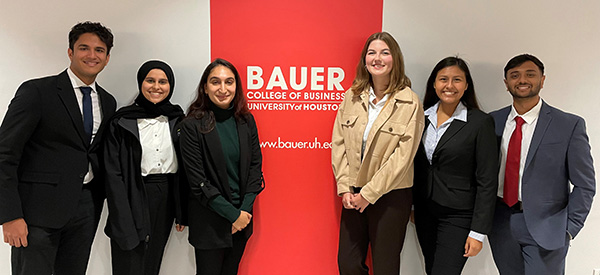 Spring 2023 Bauer in D.C. Fellows pictured left to right: Kavi Kohli, Fayha Iqbal, Maryam Alghafir, Lindsay Klotz, Karenina Urquieta and Yash Dhanji
Participating in the Bauer in D.C. Fellowship Program is similar to a learning abroad experience in that our Fellows must acclimate to a brand new city, in addition to performing well in their online classes and at their internships. In order to equip them with the skills and knowledge to be successful in this environment, the Bauer in D.C. Program designed a series of workshops which took place throughout the fall 2022 semester. These workshops and events included:
Maximizing LinkedIn and other online internship search tools, hosted by Troy Hopkins, Director of Undergraduate Career Counseling at Rockwell Career Center
D.C. Culture & Environment, presented by Megan Schneider, UH Associate Vice Chancellor for Federal Relations
Learn from the Experts: Bauer in D.C. Alumni Panel discussing internships, budgeting, housing, and all things D.C. Special thanks to our Panelists: Reggie Huerta, Shaan Muhammad, Meera Shahin and Sabah Shaikh.
Meet Your D.C.-Based Mentor over Zoom. We paired our six Bauer in D.C. Fellows with Bauer alumni living and working in D.C. The mentors will be a resource for the Bauer in D.C. Fellows throughout the spring 2023 semester. Special thanks to the Spring 2023 D.C. mentors: Brandon Ceasar, Ariana Delgado, D'Marcus Lewis, Sangeetha Ranadeeve, Brianna Robertson and Nathan Smith.
Dining Etiquette 101, held in conjunction with Bauer Ambassadors. The Bauer in D.C. Fellows are now fully aware of which fork to use on which course.
Bauer in D.C. Alumni and Current Fellow Mixer. Held at Axelrad, this casual mixer was an opportunity for current Fellows to interact with alumni of the program and get excited for their upcoming D.C. adventure.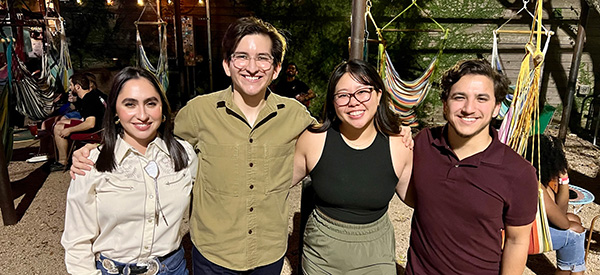 Bauer in D.C. Alumni pictured left to right: Chelsea Cheramie, Reggie Huerta, Maylyn Liu and Sammy Guadarrama
Please contact Colleen at cmdavies@uh.edu, should you have any expertise you would like to share with future Bauer in D.C. Fellows.

Bauer in D.C. Alumni Spotlight:
Joshua Ferguson – Spring 2016 Fellow
Graduation Year: Spring 2016
Favorite Bauer in D.C. Memory:
"Hands down, it was meeting First Lady Michelle Obama, who is such an incredible leader and phenomenal woman that I admire deeply, and having the opportunity to introduce myself and take a photo with her."
While in D.C., you must …
"Visit Baked and Wired in Georgetown, a cupcakery and coffee shop (Georgetown Cupcakes is overrated, this place is better). You must also visit The National Museum of African American History and Culture; I didn't visit the museum until after my Bauer in D.C. year because it was still under construction, but this is a must see. Start at the lowest level and make your way up and through the rest of the museum. Lastly, you must partake in D.C. brunch culture!"
Since Bauer in D.C. …
"I've become the first in my family to graduate from college, and I spent nearly 6 years working for Chevron Phillips in finance and, most recently, advising and executing on the organization's diversity, equity, and inclusion strategy. More importantly, I've been able to enjoy life through traveling, skydiving a few times, hiking some of our national parks, running a few races, engaging in DEI work, teaching financial literacy, deepening some of the amazing friendships and communities that originated at UH, and experiencing these same friends marry their partners and have their first and even second kids. Now, I've returned to school to pursue my MBA at the University of Michigan's Ross School of Business, where I'm exploring DEI, social impact, and more, while continuing to further my leadership development. My time in D.C. was instrumental to my realization that I could have a career at the intersection of business and social impact, and I'm still in pursuit of that today."

Is your D.C. Organization Hiring Spring 2023 Interns?
Our Bauer in D.C. Fellows are ready to interview!
The Bauer in D.C. Fellows are currently applying for Spring 2023 internships in Washington, D.C. If your D.C.-based organization is looking for Spring 2023 interns or will be looking for Spring 2023 interns soon, we'd love to connect with you!
To connect, please reach out to Bauer in D.C. Program Director, Colleen Davies at cmdavies@uh.edu.