Undergraduate
Emerging Leaders Academic Success Program
>
The application period for 2013 - 2014 is closed.
For More Information Contact:
Whitney Thompson, M.Ed.
wthompson@uh.edu
713.743.4913
Emerging Leaders Academic Success Program
C.T. Bauer College of Business
University of Houston
334 Melcher Hall Room 262
Houston, TX 770204-6021
University of Houston is a very big place – Emerging Leaders Academic Success Program can help you get started on the right foot! You cannot lead others until you learn to lead yourself! We teach students to think like they are the CEO of their own company—"Me, Inc."
The purpose of ELASP is to assist new business majors to obtain the proper tools in order to excel academically and become the next generation of leaders within C.T. Bauer College of Business. It is designed to work with those students during their first two semesters as pre-business majors to make a successful transition to the "University Life". The core concept of this program is self-reliance, taking charge of your academic career through setting goals, establishing priorities, and having realistic expectations between the demands of school and other commitments.
The Program Consists of:
Workshops (3 per semester in total of 6 per year; Open to ALL Bauer students)
Academic Advising (Minimum 1 per semester)
Community Service (Minimum 1 per semester)
Partnership with varies Bauer Leadership Programs
Partnerships
Why Participate?
Friends – You'll be part of a community of students from the first day you step on campus.
Your Resume – ELASP activities are excellent resume builders.
Your GPA – ELASP is designed to help you reach your GPA goals!
Leadership Skills – ELASP helps you reach your leadership potential!
Your College Experience – ELASP will help you make the most of your time at UH Bauer!
Community Involvement – You can make a difference through service.
Personalized Advising – You'll have access to academic counselors and mentors.
You'll be in the know – ELASP students get the inside scoop on campus resources.
Special Prize – If you met all the requirements you will be rewarded a special prize at the end of the year.
How to Participate?
For More Information Contact:
Whitney Thompson, M.Ed.
wthompson@uh.edu
713.743.4913
Emerging Leaders Academic Success Program
C.T. Bauer College of Business
University of Houston
334 Melcher Hall Room 262
Houston, TX 770204-6021
Student Resources
---
Quick Links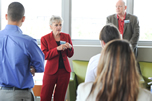 ELASP Mixer Slideshow