Staff Resources
Staff Rewards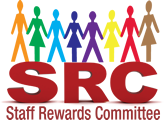 Established in Fall 2008, the Staff Rewards Committee is designed to maintain a system to recognize out-of-the-ordinary staff efforts and provide meaningful rewards for those efforts. This group oversees the following staff rewards opportunities:
Bauer College Staff Scholarships
Each Fall and Spring semester, full-time staff members may apply for $1,000 scholarships. Funding is also available for academic study in the summer.
The number of scholarships awarded each semester depends on the income from the endowment earnings, but past years have allowed for twelve scholarships in Fall and Spring and six scholarships in summer.
Bauer Staff Scholarships are intended to fund academic coursework that is part of a degree or certificate program. Coursework must be graded, i.e., A, A-, B+, B, ... Preparatory, leisure learning, remedial and/or non-graded courses (including Pass/Fall or Satisfactory/Unsatisfactory) are not eligible for the Bauer Staff Scholarship.
Applicants must show good academic standing and have been a full-time Bauer College staff member for at least one year prior to the semester for which the scholarship is requested.
Minimum grade of B required in each course.
Since funds are limited, applicants must submit their scholarship request within these time periods:

Fall semester: April 9-August 20
Spring semester: November 12-January 18
Summer sessions: April 9-June 1

When completing the request, note that the supervisor's signature is required only if the class(es) taken are during the work week, Monday through Friday, between 8-5.
Bauer Staff Scholarship Requests should be submitted either as an attachment to an email (src@bauer.uh.edu) or as a hard copy to one of the SRC members, not both. Think GREEN!
T.E.D. Awards
T.E.D. awards are available year around. Nominations are based on a staff member going "above and beyond" their job requirements. The TED award is a monetary award in increments of $25, up to a maximum of $100 in one fiscal period.
Annual Outstanding Staff Member Awards
Each year, outstanding Bauer College staff members are selected for the following awards:
Staff Excellence Award:

One award in the amount of $1500
One award in the amount of $1000

Staff Merit Award:

Two awards, each in the amount of $500
Any full-time Bauer staff member who has worked for Bauer College for at least one year may be nominated. Nominations must be signed by the nominee's direct supervisor.
A copy of the nominee's job description must be attached to the nomination form Click here for Outstanding Staff Member Nomination form.
Deadline for nominations is April 6, 2016. Deadline includes nomination form and any attachments in support of the nomination.
No late nominations will be accepted
Awards will be announced at the Bauer STARs luncheon on TBA
STAR Rewards Program
Bauer STAR Rewards Program started on August 1st 2009.
STARs are given to Bauer staff who have made exceptional contributions and exceeded expectations in delivering superior quality customer service to external customers (students, or prospective students, vendors, etc) or internal customers (other staff, departments and colleges within UH)
Criteria for receiving a STAR are flexible. In general, the award recognizes exceptional performance or exemplary actions resulting in quality service, including compassion and caring, that go well beyond expectations for customer service. Some examples are:
Going above and beyond to help a student
Helping a colleague with a project
Exceptional organization and performance of an event
How staff members get a STAR:
Blank STAR cards are available from the SRC Committee: Calyon Lewis (Department of Management), Crystal Lugo (Graduate & Professional Programs), Whitney Thompson (Undergraduate Programs Office) or Mary Gould (Undergraduate Programs Office).
The online Bauer STAR found here, can be completed by the person wishing to commend a Bauer staff member and sent to src@bauer.uh.edu. The Staff Rewards Committee will download and print the STAR and send it to the lucky staff member.

Anyone within UH can give a Bauer STAR to a staff member (prospective students, students, other staff & faculty) by filling out the STAR card.
If a staff member receives a special thank you email or thank you card for outstanding service, the email or card can be taken to a SRC committee member to complete a STAR for you (this cannot be a regular thank you email, it must be one for outstanding service; it will be evaluated by the SRC member to see if it qualifies for a STAR).
When a staff member receives a STAR, they must take it to one of the SRC members to get it validated with a stamp.
SRC member will log the entry into a SRC spreadsheet to keep track of valid stars.
A $150 prize will be awarded at three points during the year to the staff member with the greatest number of STARs for that preceding time period. If there is a tie, the money will be split equally among the winners.
All staff members receiving STARs--except the one with the greatest number of STARs--will have their names in a drawing. The selected name will receive $100. For each staff member receiving STARs, their name will be entered in the drawing the same number of times as they received a STAR.
Award Periods:
Period 1 Award: (Deadline December 1st)
Stars received from August 1st thru November 30th
Period 2 Award: (Deadline April 1st)
Stars received from December 1st thru March 31st
Period 3 Award: (Deadline August 1st )
Stars received from April 1st thru July 31st
STARs from a previous period cannot be used toward a future period.
Receiving the $150 check for greatest number of STARs in a period will not be awarded to the same person for two consecutive periods.
Additional reward possibilities are being explored and will be added as developed. The Staff Rewards Committee is comprised of full-time Bauer staff members (our names are listed below) and welcomes staff input about staff rewards and opportunities. If you would like to contact us with ideas or comments, please email us at src@bauer.uh.edu.
Rewards Committee Members
Interested in joining the SRC?
Membership guidelines:
Open to full-time Bauer College staff members who have worked in Bauer College for at least one year.
Although we do not have a large number of meetings or activities that would take you away from your desk, SRC members are expected to attend all meetings and share the duties necessary for the success of our initiatives. With this in mind, please be sure your supervisor is on board with your membership on the committee and is willing to allow your participation.
Maximum number of members is 6.
To the greatest extent possible, committee membership should consist of no more than 2 members from the same department.