Sales Excellence Institute
Executive Education - Open Enrollment Programs
The Sales Leaders Certification blends a unique value proposition that inspires the best from Sales Managers by equipping them with the right set of skills to lead their sales force's success
Key takeaway from The Sales Leadership Certification: A Personalized Action-Plan and Change Contract that empowers you to implement what you learned. This unique Program Follow-Up Webinar and Personalized Coaching Session provide participants the guidance they need to make an impact in their careers and with their teams
This Program is Particularly Suited For
High potential salespeople to be promoted Sales Managers
Recently promoted Sales Managers
Experienced Sales Managers looking for knowledge improvement and cutting-edge sales leadership education
Program Outline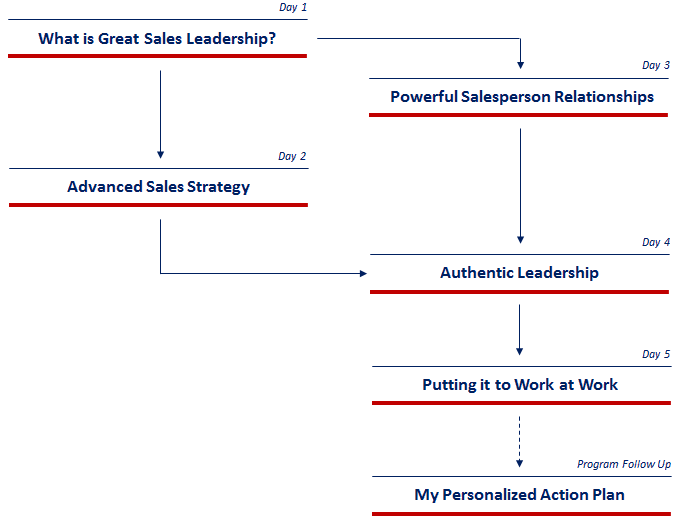 Program Content
Day 1
What is Great Sales Leadership?
Your Sales Management Life Today
The Sales Leader's Real Job
The Balance: Numbers vs. Relationships
Time Management
Day 4
Authentic Leadership
5 Secrets of Authentic Leadership
Motivation and Recognition
Leading through Influence vs. Authority
Thinking Big – Building Growth Strategies
Day 2
Advanced Sales Strategy
Understanding your Market
How Customers Buy
Complex Decision Centers
Managing Customer Relationships and Information
Day 5
Putting it to Work at Work
My Sales Leader Case Study
My Change Contract
My Action Plan
My Progress Control
Day 3
Powerful Salesperson Relationships
Hiring, Training and Developing the Right People
Advanced Communication Skills
Coaching
Performance Management
Program Follow Up
My Personalized Action Plan
The Post-Program Webinar
My Personal Development Plan
My Personalized Coaching Session
My Action Plan Results
How We Teach at SEI?
Small Group not exceeding 20 participants to ensure personal attention and productive interaction
Online Pre-Training Assignments
Challenging Lectures
Video Role Plays
Teamwork
Workshops
Leading Guest Speakers
Personal Action-Plan and Change Contract
Program Follow-Up Webinar and Personalized Coaching Session
Online Post-Training Blog Community
Download Our SEI Sales Leadership Certification Brochure