Stephen Stagner Sales Excellence Institute
Executive Education - Open Enrollment Programs
Unparalleled Opportunity
A Sales Leadership Certification from the University of Houston Bauer College SEI
A unique Personal Action-Plan and Change Contract based on the Program Follow-Up Webinar and Personalized Coaching Session
Cutting-edge sales leadership education rooted into Stephen Stagner SEI award winning faculty and experts' knowledge and experience which made Stephen Stagner SEI the world's leading university in sales research and education
Stephen Stagner SEI faculty have developed a comprehensive benchmarking knowledge base of sales and sales management competencies and best practices to be shared with the program participants so that they can appraise, compare and perfect their sales performance within their own competitive environment
An opportunity to network with peers and find solutions for common sales management problems
A Unique Learning Model
Come with a personal sales management case study problem and solve it after the program!
The Sales Leadership Certification offers participants a unique opportunity to identify a real sales leadership problem they would like to address and the ability to solve their personal case study after the program through personal coaching sessions
This Personal Action-Plan starts with a Change Contract where participants commit to incorporate specific concepts and tools presented during the program into their "at work" routine
The Sales Leaders Certification blends a unique value proposition that inspires the best from Sales Managers by equipping them with the right set of skills to lead their sales force's success
Key takeaway from The Sales Leadership Certification: A Personalized Action-Plan and Change Contract that empowers you to implement what you learned. This unique Program Follow-Up Webinar and Personalized Coaching Session provide participants the guidance they need to make an impact in their careers and with their teams
This Program is Particularly Suited For
High potential salespeople to be promoted Sales Managers
Recently promoted Sales Managers
Experienced Sales Managers looking for knowledge improvement and cutting-edge sales leadership education
Program Outline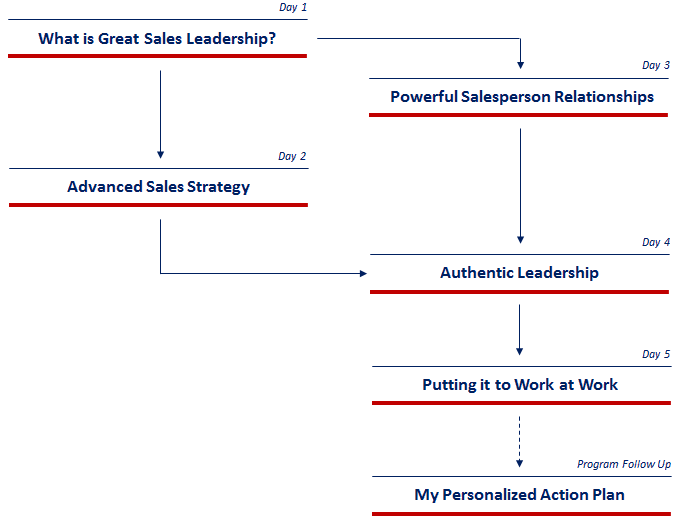 Program Content
Day 1
What is Great Sales Leadership?
Your Sales Management Life Today
The Sales Leader's Real Job
The Balance: Numbers vs. Relationships
Time Management
Day 4
Authentic Leadership
5 Secrets of Authentic Leadership
Motivation and Recognition
Leading through Influence vs. Authority
Thinking Big – Building Growth Strategies
Day 2
Advanced Sales Strategy
Understanding your Market
How Customers Buy
Complex Decision Centers
Managing Customer Relationships and Information
Day 5
Putting it to Work at Work
My Sales Leader Case Study
My Change Contract
My Action Plan
My Progress Control
Day 3
Powerful Salesperson Relationships
Hiring, Training and Developing the Right People
Advanced Communication Skills
Coaching
Performance Management
Program Follow Up
My Personalized Action Plan
The Post-Program Webinar
My Personal Development Plan
My Personalized Coaching Session
My Action Plan Results
How We Teach at Stephen Stagner SEI?
Small Group not exceeding 20 participants to ensure personal attention and productive interaction
Online Pre-Training Assignments
Challenging Lectures
Video Role Plays
Teamwork
Workshops
Leading Guest Speakers
Personal Action-Plan and Change Contract
Program Follow-Up Webinar and Personalized Coaching Session
Online Post-Training Blog Community
Summary
The Sales Leadership Certification is offered during the first week of January, the third week of May and the third week of August each year.
The session starts on August 8th, 2016 at 8 a.m. and ends on August 12th, 2016 at 5:30 p.m. with networking and lunch breaks. The Friday session ends at 12 p.m. Evenings are dedicated to course preparation, reading, and interacting with program participants either on, or off campus.
Tuition fee: $5,495 for the five day program. Early bird registration prior to December 21, 2015: $4,995. (Billed after acceptance and must be settled before the program begins). The tuition fee covers lectures, teaching materials, the Program Follow-Up Webinar and a Personalized Coaching Session, breaks refreshments, breakfast and lunch on working days and the graduation dinner Thursday evening. Accommodation is not included in the tuition fee. For participants' convenience hotel rooms can be reserved by Stephen Stagner SEI at the Hilton University of Houston which is located on campus.
Download Our Stephen Stagner SEI Sales Leadership Certification Brochure