Stanford Alexander Center for Excellence in Real Estate
Real Estate Certificate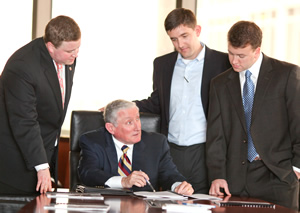 Degrees and Real Estate Certificate
MBA Real Estate Certificate
The Real Estate Certificate represents a specialty within the UH Bauer MBA and MS Finance graduate degree programs. The MBA is a 48-credit degree composed of 21 credits of core courses in business administration and 27 credits of electives, which are primarily devoted to real estate courses.
MS Finance Real Estate Certificate
The Masters of Science in Finance is a 36-credit degree composed of 22.5 credits of core business and finance courses and 13.5 credits of electives, which are devoted to real estate courses.
MBA/JD Joint Degree Real Estate Certificate
The Joint MBA/JD degree plan is a 111-credit degree composed of 75 credits of Law Center courses and 36 credits of Bauer College business courses, (21 credits of core courses and 15 credits of elective courses). The Real Estate Certificate will be awarded with the Joint Degree based on taking a total of 13 or more credit hours of real estate courses offered as electives in the Bauer College.
Goals and Objectives
The overall goal of the "practice based" Graduate Real Estate Program is to provide students with an education such that upon graduation they have the skills, knowledge and practical experience to be effective in their careers from their initial employment.
In support of this goal, the real estate academic program offers a curriculum of courses structured pursuant to the following objectives:
A. Comprehensive education in the fundamentals of real estate (Real estate essentials, law, finance, market analysis, and development of a real estate project)
B. Opportunities for intensive learning in the major real estate industry sectors, (commercial, industrial, residential and institutional/corporate, multifamily residential, residential community development and homebuilding, project management and construction management).
C. Extensive exposure to the practice of professional real estate, and opportunities to become a member of the real estate community. (Professional development through an Internship course, Real Estate Center research seminar, opportunity to participate in case study competitions and a professional capstone course).
Click here to view the MBA, MS Finance and MBA/JD Degree Curriculum with Real Estate Certificate 2014-2015
Counseling
Student Academic
Counseling & Advising
Open Sessions:
Every Thursday
Time: 9 – 10:30 a.m.
Location: Graduate Real Estate Program Offices, UCBB, 302
No Appointment Necessary
Apply Today!
Related Links
Contact Us
UH Bauer Graduate
Real Estate Program
334 Melcher Hall,
Houston, TX 77204-6021
Physical Location:
UCBB Room 302
Phone: 713-743-1968
Fax: 713-743-5458
uhgrep@bauer.uh.edu
www.bauer.uh.edu/real-estate