For a more detailed history see: "The Swedish Settlements on the Delaware, 1638-1664" (2 volumes) by Amandus Johnson, Ph.D., 1911

Lars Bengsson is one of our known Scandinavian ancestor. Lars was born in Stockholm, Sweden in 1610. With his family he boarded the ship Mercurius and sailed for America from Gothernurg in 1656. Lars had a wife and four sons on board: Henrich; Methias; Bengt and Andreas (born in Stockholm in 1640). Andreas name became the Americanized "Andrew", Lars became "Lawrence" and Bengtsson became "Bankston".

[See Amandus Johnson, page 725 Vol. 2:

"Roll List of Colonists About to go to New Sweden, Who have been examined and written down to the seventeenth of Oct 1855"
.
.
.
Lars Bengtsson with wife and four children"

"...the majority were Swedish Finns..."

In the list of colonists 92 of 105 were Finns (pg 634)]

The Lars Bengtsson family joined the "Swedish Colony" first begun in what would become Pennsylvania (William Penn did not arrive in what would become Pennsylvania until 1682 -- some forty years later).

Lar's son Andreas (now named Andrew b. 1640 d. 1706) married Gertrude Rambo in 1668. Gertrude was the daughter of Peter Rambo and was born in 1650. Andrew and Gertrude had the following children:

Benjamin        b.1670  d.1748
Andrew, Jr.     b.1672  d.1750 in Chester, PA
Peter           b.1677  d.1708
Catherine       b.1679
John            b.1681  d.1739
Jacob           b.1684  d.1767
Brigetta        b.1687
Daniel          b.1691 d.1727
Joseph          b.1696

Andrew Bankston, Sr. (Andreas Bengtsson) drowned in the Schuylkill River in 1706.
Peter Gunnrson Rambo
(1612 Vassterbotten Sweden -1698 PA)
born Stockholm Sweden 1611, arrived Delaware River(future Philadelphia PA) 1640
married 1647 m. Britta Mattsdotter of VAsa (Finland)
Daughter Gertrude Rambo, born 1650 married 1668m. Andreas Bengtsson (Andrew Bankston)
---
As the Dutch West Indies Company followed Henry Hudson to the Hudson River, they settled New Amsterdam (Manhattan, New York City) in 1622. The Swedish government chartered a trading company called the New Sweden Company. Under the direction of Dutch businessmen (Samuel Blomaert, Axel Oxenstiera and Peter Minuit), the New Sweden Company claimed the mouth of the Delaware River in 1632.
The first expedition set out under command of Peter Minuit from Gothenburg, Sweden in 1637. Damaged by heavy seas, they returned to port and left a second time in 1638. The ship "Kalmar Nyckel" arrived on the Delaware River in the middle of March of 1638. After the arrival, Capt. Peter Minuit was blown out to sea while visiting another Dutch vessel and was lost. The immigrants set up Ft. Christiana on the current site of Wilmington Delaware.
The "Kalmar Nyckel" returned to Sweden and set out for a second crossing in 1640. After springing leaks and replacing a fraudulent captain, our bloodline relative Peter Gunnarson Rambo arrived at Ft. Christiana in April 1640.
In the colony, trade was begun with the Lenni Lenape (Delaware) Indians. Dutch settlers from the North River (the Hudson River in NY) came down to trade with the Swedes.
A third group of Swedes arrived in 1643. On board was the newly appointed Governor Printz. Lieutenant Sven Skute commanded the wooden fort.
Gov. Printz reported to the officials in 1644 a total of 121 souls in the New Swedish colony (20 had died in the first six months of the year). By 1647 the population was only 183.
Peter Gunnarson Rambo moved north to a plantation at the present site of the city of Philadelphia.
In 1651 the Dutch from New York built a fort up river from Ft. Christiana (Wilmington, Delaware) cutting off the trade to the Swedish colony.
In 1652 crops were damaged by heavy rains. Peter Rambo was accused of selling grain to the Dutch. Twenty two settlers (including Peter Rambo) signed a grievance against Gov. Prinz. They complained about the lack of protection by the Swedish Colony. Anders Jonsson -- leader of the grievance committee was arrested, tried and executed. In 1654, Gov. Prinz and Lt. Sven Skute returned to Sweden.
Sven Skute received a promotion while in Sweden and returned as Captain in 1654. With his soldiers, Sven captured the Dutch fort up river from the colony. The next year the Dutch retaliated and Sven Skute surrendered the captured Dutch fort. The Dutch from New York then lay siege to the Swedish Colony at Ft. Christina (now Wilmington, Delaware). In 1655, the Swedes surrendered and the Colony at New Sweden disappeared. Dutch Gov. Peter Stuyvesant in New York allowed the Swedes to take oaths of allegiance to the Dutch government.
The Swedes remaining at the union of the Schuylkill River and the Delaware River were allowed a degree of self rule by the Dutch governor. Peter Rambo was elected on of the magistrates in 1658. In 1669 Peter Rambo moved to the east side of the Schuykill River. Peter Rambo was the interpreter with the Indians of the vicinity.
Peter Rambo brought seeds with him from Sweden. The Rambo apple is named for Peter Rambo and is still grown in New Jersey, Delaware and Pennsylvania. According to the fruit catalog:
The "Rambo apple" has pale greenish yellow mottled skin with red stripes. The flesh is firm, fine, tender and whitish. It is a subacid apple that begins ripening in early July in Georgia. It is one of the very best for jelly, pies and dried fruit. It dates back to the 1500s.
The Proprietors of Pennsylvania claimed possession of the land held by the Swedes along the Delaware River. William Penn was the first governor who took over these lands and the colony was called Pennsylvania in his honor. The Swedes -- Peter Rambo included --were given land in the new settlement of Germantown a few miles to the northwest in exchange for there lands. Penn and his followers then built the city of Philadelphia on the site of Rambo's and the other Swede's property. (See the Philadelphia - 1681 map in a subsequent section on Hartsfield) William Penn was a regular visitor to Peter Rambo's home. Penn wrote from England in 1685:
"Salute me to the Swedes Captain Cock, old Peter Cock and Rambo and their sons, the Swansons, Andrew Binkson, P. Yoakam and the rest of them."
Peter Rambo was instrumental in the construction of the first church in Pennsylvania. This log cabin was built in the 1660's. Peter Gunnarson Rambo was buried near the cabin. In 1697 the cornerstone of the Gloria Dei church was laid. Rather than move Peter Rambo's body, the church was built over the grave. Peter Rambo is now under the altar at the Gloria Dei (Old Swede's) Church in Philadelphia and is a national historical shrine.
In 1693, Peter Gunnarson Rambo received a letter from his sister. This letter is currently preserved in the Royal Archives in Stockholm along with letters from fellow colonists Charles Springer and Lars Cock. Peter Rambo was 81 years old when he wrote this letter. He had been in America for 53 years and confirms his marriage to Britta Matsdotter of Vassa, Sweden (now Finland).
"Highly honored Dear Sister: Greetings! by the power of God, your letter, dear sister came into my hands here the 23rd of May, dated Gothenburg, the 16th of November 1692; from which letter I understand your temporal condition; that you are still alive God be praised, which makes me, my wife and children glad at heart, that I might once gain be permitted to hear of your condition and the Fatherland, before it pleases God to call me from this world.
Inasmuch as I have also understood from your letter that you now and for years past have lost your eyesight and hearing (which comes as a great blow for me to hear); and you write to me that I should support you with assistance in your poverty, which I should with all my heart to do, but there is now such discord, war and naval warfare that there should be great doubt whether you should receive it or not. I have already sent you money several times, but I understand from your letter that you received none of it. Therefore I beg you dear sister to have patience until I can hear from you again and safer conditions may be found for my letters and what I send you.
Now what concerns my trade and conduct and what my life has been like in this land: after eight years I entered the state of Holy Matrimony with Britta Mattzdotter, who (God be praised) is still living; she also came from Sweden, from Wassa, whom I have lived in harmony and love for 46 years, and have had with her 4 daughters and 4 sons, but the one daughter when she was eight years old fell asleep in the Lord. And so I still have 4 living sons and 3 living daughters; all are well provided for and live in plenty with their husbands, wives and children, so that now from my lineage are living 37 souls of my children's children.
And I have served faithfully both the Swedish regime, the Holland Dutch, and now the English; I also sat on the court for 29 years, both in the Swedes and the Hollanders' time; for the Swedes have a rule that no case should be decided at court unless the Swedes had their voice in it; but I am old and can no longer endure the toil. Our nations also live faithfully with one another both in harmony and affection. Our land is a very splendid fruitful land, so that we have no lack of anything on which sustenance of our bodies and lives depend, for the nearby islands are fed by us with the land's goods, with seed, flour and beer. We have cause to thank God that we live in harmony, affection and faithfulness with the Indians, while the surrounding lands and neighbors have had great duress from the Indians; and I may say truthfully that God has wonderfully preserved and shielded us and has shown a peculiar grace towards us in this heathenish land.
Nothing more occurs to me to write at this time, but my dear wife and children send greetings to you and all good friends who may or can be found living, hoping for and awaiting your reply by the first ship that can come. Commending you to the protection and care of God Almighty,
Always remaining your most obedient brother until death Peter Gunnarson Rambo"
Peter Gunnarson Rambo and Britta Matzdotter had six children:

1. Gunnar (1648-
2. Getrude Rambo  (1650- ) m. Andrew Bankston (Andreas Bengson)
3. Peter Rambo (1653-
4. Catherine Rambo (1655-
5. Andrew Rambo (1658-
6. John Rambo (1661-

Britta Matzdotter was born in Vassa Sweden (now Finland) in about 1630. She arrived in Swedish colony prior and married Peter Gunnarson Rambo prior to 1648. She is also buried in the churchyard of the log cabin that is now covered by the Old Swede's Church in Philadelphia.
Andrew Bankston Jr. (1672 PA-1750 Chester PA)
Andrew, Jr. (1672-1750) was married to a Gertrude Boore. Andrew, Jr. died in Chester PA (this is a few miles SW of Philadelphia on the Delaware River). Andrew, Jr and Gertrude's children were:

Andrew III		b.1696
Elizabeth		b.1698
Peter
Daniel
Lawrence		b.1704 Chester PA	d.1774 Guilford County NC

Lawrence Bankston (1704 PA-1774 Caswell NC)
Lawrence Bankston first married Rebecca Hendricks (b.1704 d.1740). She was the daughter of John and Rebecca Wells Hendricks. Her death occurred in Philadelphia after the following children were born:

Peter		b. Philadelphia	d. GA
Jacob		b.1731 Philadelphia	d.1817
Daniel		b.1733

In 1744, widowed Lawrence moved to Orange County NC with his children via first Edgecomb County, then New Bern in Craven County.

Orange County was very large at the time comprising what is Person, Caswell, Durham, Orange, Allmance and Chatham counties. Orange also contained parts of Randolph, Guilford, Rockingham, Stokes and Wake counties. Lawrence was one of six original Justices of the Peace when Orange county was first organized in 1752. He served successive terms throughout the decades of 1750 and 1760.

Lawrence remarried around 1747, Ann Major of Virginia. Lawrence's additional children were:

Lawrence, Jr    b.1748 Orange Co NC	d.	Wilkes Co, GA
John            b.1750 Orange Co NC <---suspect see below
Richard         b.1752 Orange Co NC
Andrew          b.1754 Orange Co NC	d 1837 Rutherford Co, NC.
Mary            b.1756

After Lawrence's death in 1774. Ann Major Bankston and many of the children moved to Wilkes County GA.
Lawrence Bankston's sons Peter, Jacob, Daniel, Lawrence Jr. and John [likely not] all received land grants for their service in the Revolutionary War.
Rev. John Bankston (1760 Guilford NC-1838 Gwinnett GA)
The Reverend John Bankston was born in Guildford County NC on May 8, 1760. Rev. Bankston was a Revolutionary War soldier and early settler of Gwinnett County, GA. From the Furman University Library, the 1836 obituary in the Spartanburg Baptist Association (1886):
"...being of a serious turn of mind, his father placed him in a school under an eminent Baptist minister, believing him destined for the Gospel ministry. Under the guidance and instruction of this good man, he acquired knowledge rapidly. He was a close student. He soared above the allurements that too often lure young men astray and made books his highest pleasure. His mind was eventually turned to the study of theology, which was the absorbing topic of his thoughts during the last year he was in school.
Towards the close of the Revolutionary War, when he had attained the military age, he enrolled and served among the illustrious patriots of the Revolution.
After peace was declared, he married Miss Mary Lanier of Pitt County, NC and in a few years afterwards moved to the Spartanburg District SC near Buck Creek Church on the Pacelot River, where he soon became an influential member and was ordained as a minister of the Gospel (around 1790). He was the pastor of Buck Creek and other churches in the county. He was subsequently a member of the Bethlehem Church and represented that church in the Bethel Association in 1812. The records of that church show that he was invited to preach to that church. Later he became a member of the Mount Zion church, while an arm of Bethlehem and was by the records the first and only delegate to represent that church at the Association in 1818. His name is prominently mentioned on the old church books of Wolf Creek and Boiling Spring.
In 1822 he removed to Gwinnett County GA where he labored among the different Baptist churches for over ten years and his plain and successful manner of preaching created for him the name of a "successful man of God" in his ministerial work. His labors ended on earth on the 23rd of February 1838 when he had reached his 78th year of his age. His wife, Mrs. Mary Bankston survived him many years and died in her 90th year. She was a woman of excellent Christian character and a devoted mother and wife."
The Rev. John Bankston is identified as arriving in Spartanburg, SC in late 1780's. He was first a pastor at Buck Creek Church and appears on the 1800 Spartanburg Census.
His pastoral duties moved him to Grove Church, Columbia County GA (near Augusta) in 1808 until 1816. In 1817, he is in Warren County GA (Warrenton, GA west of Augusta).
In 1822 he moved to Gwinnett County, GA. In 1825-26 he is the pastor of the Sweetwater Church in Gwinnett County. A son, Rev. Joseph Bankston, is identified as a minister in the 1830 at the Yellow River Primitive Baptist Association. This son Rev. Joseph moved to Coweta County GA in 1829 and later moved to Coosa County AL.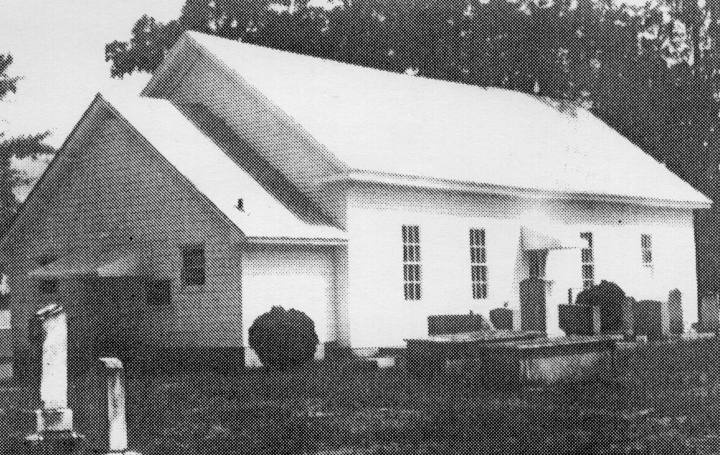 Friendship Primitive Baptist Church, Gwinnett County, GA
Founded by Rev. John Bankston 1822
"John Bankston" had his named changed FROM John Barkley" in 1805. The standard assumption is that John was raised by grandfather Lawrence Bankston and was the son of a daughter of Lawrence who married a Barkley.
In the ASSEMBLY PETITIONS of S. C. of 1805 No.77, is found the following:
"The Honorable the Speaker of the House of Representatives and members thereof in General Assembly aforesaid met in the State of South Carolina.
The petition of John Bankston alias John Barkley of Spartanburgh District & state aforesaid Humbly shewth, that your petitioner hath good cause to believe & verily does believe, that in law his name is JOHN BARKLEY, but he is known by and hath retain the name of Bankston, and for certain good causes he now petitions your Honorable body to take his case into consideration and grant that his name be confirmed & that he be know in law by the name of John Bankston and the name of Bankston shall decend to his posterity - and your Humble petitioners as in duty bound will ever pray.
JOHN BANKSTON
28th Oct. 1805
See this.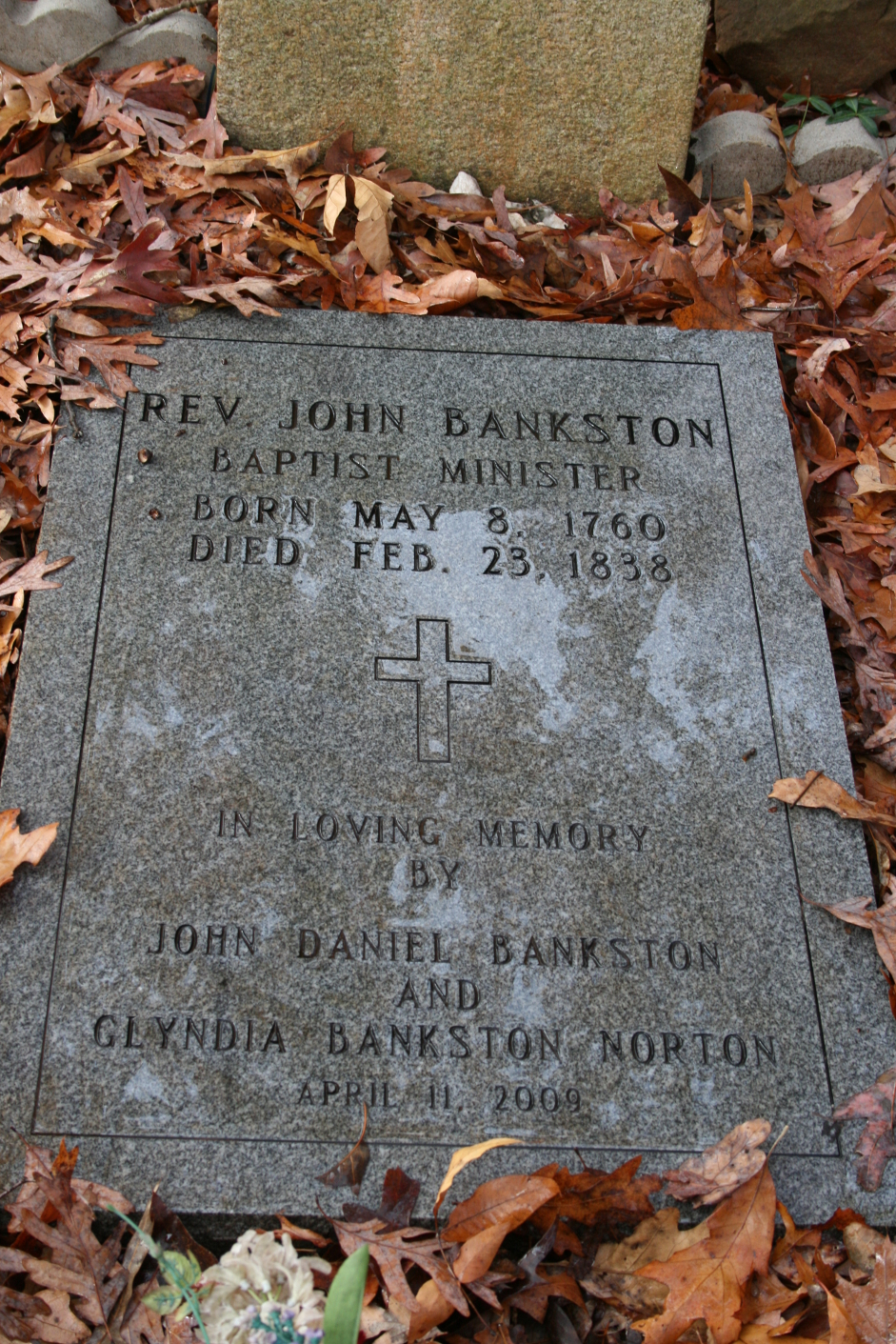 Rev John Bankston Baptist Minister Born May 8 1760 died Feb 23 1838
Samson Lanier Cemetery
Lawrenceville
Gwinnett County
Georgia, USA
The mother -- Mary Lanier (1764-1857) -- died in 1857 at the home of her son -- the Rev. Joseph Bankston in Coosa County, Alabama.
John and Mary Lanier Bankston had the following five children:

1. Lawrence Bankston (1783 Spartanburg SC-1859 GA)
2. Cynthia Bankston (1787-
3. Joseph Bankston (1792-1863)
4. Nathan Bankston (1794-1850)
5. John Bankston, Jr. (1799-1869)
6. Lanier Bankston (1805- )

The Rev. John Bankston met and married Mary Lanier at the close of the American Revolution in 1784 in Greensboro NC. With young wife Mary Lanier, John Bankston took up preaching the Gospel in Spartanburg, SC.

The Rev. John Bankston and Kinchen Rambo founded the Friendship Baptist Church in Gwinnett County Georgia in the 1820's. Kinchen was also a descendants of Peter Gunnarson Rambo. Andrew Bankston (Andreas -- son of Lars Bengtsson) had married Peter Gunnarson Rambo's daughter Gertrude in 1668 in what would become Philadelphia. The families would reunite at the Friendship Church in Gwinnett County 140 years later

Rev. John Bankston, Jr.

John Bankston, Jr. was born in Spartanburg, South Carolina around 1799. He moved with his father (Rev. John Bankston and Mary Lanier Bankston) to Gwinnett county in 1822 and later married seventeen year old Wiley Johnson in 1829. They couple settled on 640 acres in Gwinnett (Land Lot 12, 5th District in the Five Forks area (after 1860 called the Cates district).
John's wife Wylie was born in South Carolina in 1813. She arrived with her parents Thomas and Nancy (Austin) Johnson in 1820. Thomas was the son of Drury Johnson and Rhoda Cole.
Rhoda made a pension application for her husband. Included in the pension (see: fold3.com)
"True copy" (certified by John Taylor, Clerk of Orange County, May 1845) of an Orange County marriage bond between Rhoda Cole and Drury Johnson May 1785
Feb 27 1845 Guilford County affidavit of Sarah Cate age 75 ...sister of Rhoda Johnson widow of Drury Johnson deceased, witness of the matromony rites between her sister and Drury Johnson at his father's house.
Declaration of Rhoda Johnson November 1844 aged 82 years
... is the widow of the late Drewry Johnson who during the War of the Revolution
...did serve the United Sates as a private of infantry in the Militia after her marriage to the said Drury Johnson.
...in the fall of 1778 was a draft for five months
...was marched from the town of Hillsboro to Salisbury thence to Cheraw Hills was discharged and returned home
...in the fall of 1781 immediately after the town of Hillsboro was captured by Col. Fanning in 1781...husband did volunteer for a tour in the militia under Captain Hodges, Tinrin colonel and Butler Brigadier General the object in raising the troops was to rescue the Govenor and the troops which the tories had surprised and captured in Hillsboro. In this tour the troops were marched to near Wilmington and after remaining some time on the Cape Fear returned home about Christmas following having been absent in the Army about three months and two weeks. When he was discharged in the Town of Hillsboro...
...remembers that sometime in the early part of the year after Guilford [March 15, 1781] her deceased husband volunteered a three months tour under Capt. Guinn, Colonel O Neal, Butler Brigadier General was marched to Randolph Grassy Island and to Cross Cross Creek now Fayetteville the to Pittsboro [Chatham County NC] and were marched to Hillsboro and discharged by Col. O Neal
...married in 1785 in Orange County
...Drury Johnson died in the year 1832
May 29 1845
To J.L.Edwards Esq Com of Pensions
Understanding that James A. Craig a pension agent of this county is about to make a application for a pension in favor of Rhoda Johnson the widow of Drury Johnsonn deceased and being satisfied that Drury Johnson did not render the service alleged I feel it is my duty to apprise you to that effect with the hope of protecting the government against one of the frauds so often practiced upon it under pension laws. It is notorious in the neighborhood that Drury Johnson did not serve at all. He was twice drafted but hired substitutes. I understand that W. George Carrington's testimony will be relied upon to obtain the pension. Mr. Carrington is a neighbor of mine and although he may be a good man yet his mind and memory is so impaired by age (being 94 or 95 years of age) that his statements ought not to be relied upon.
Very respectively
John Hopkins
July 1847 To Comm of Pensions...four men certify that Carrington rertains his mind well enough to be able to testify to events that happened in the Revolutionary war.
James Craig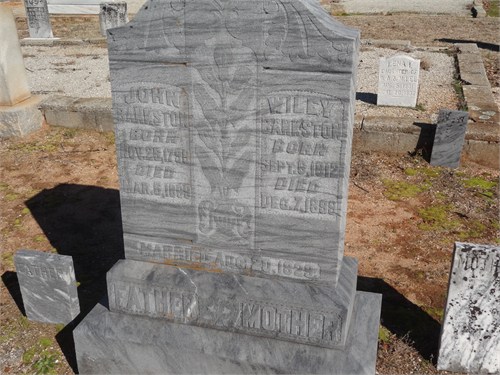 John Bankston born Nov 26 1799 died Mar 5 1869
Wiley Bankston born Sept 6 1812 died Dec 7 1899
Friendship Primitive Baptist Church Cemetery
Snellville
Gwinnett County
Georgia, USA
Children of John Bankston, Jr. (1799 SC-1869 Gwinnett GA) and Wiley Johnson (1812 SC-1899 GA)
See this:
Wiley Johnson 1812 - 1899
Mary Ann Bankston 1831 Gwinnett GA - 1926 Sherman Texas
Married Samuel Oliver Hazard Hood (1821 SC-1895 Sherman Texas)
son of James Hood (1789 SC- ) and Jeanette Letitia Dunlap (1796-
Children:

Madison Lafayette Hood (1851 Gwinnett GA-1934 Sherman TX)
m Millie Syreness Rambo
Alice Jane Hood (1854
John P. Hood (1857
Mary Bethena Hood (1859
Samuel Oliver Hood (1865
Virgil Hood (1850

William Bankston (bc 1832 SC ) m Eliza Cooper
Willis Jasper Bankston 1835 - 1924 m Bethany Stinchcomb
John Thomas Bankston 1837 -1914 m Jane E Rambo
Confederate Service Record, Private 16th GA Inf:

Private, 16th GA, Company I, Rations Receipt Jul 16-23 1861
Seminary Hospital Williamsburg VA
"febris intermittens quasta" Mar 5-Mar 17 1862
John T Bankston, Company I 16th GA Inf, Dicharged
Born Gwinnett County GA, age 25, 6' tall,fair compexion, blue eyes, light hair, occupation farmer, enlisted Lawrenceville GA
Private Company I 16th Georgia Infantry, 15th of July 1861, rhreumatism in his ankles

Wylie Tilitha Bankston 1838 - 1923
m1 James Ashbury Harris, m2 Stanley
Marion Newton Bankston 1840 - 1880 m Mary Ann Ford

Confederate Service Record, Sergeant 36th GA Inf:

M.N. Bankston, Private, 36th GA, Company K, Rations Receipt Jul 16-23 1861
M.N. Bankston, 5th Sergent, Bounty Pay Roll May 13-Jun 1 1862. Enlisted May 3 1862, Gwinnett GA, $50.00
M.N. Bankston, Private Company K 36th GA Infantry, Muster Roll May 1 -Sep 1 1863.
M.N. Bankston, Roll of Prisoners of War, Paroled Vicksburg July 9 1863, Private Company K 36th GA

Ransom L Bankston 1843 -
Berry Bankston 1846 - m1 Margaret Hopkins (1848-1937) m2 Nancy Paden
Daniel Madison Bankston 1847 - 1936 m Ida Isadora Nash
Oliver Bankston 1850 - m Agnes Gray
Octava Bankston 1852 - m Alexander Hamilton Gray
Charles Bankston 1855 -
Sarah Bankston 1856 - m Pate
Berry 1850 berry 1860 14 1870 gwinnet 23 1880 berrie gwiineet pinkneyville 1900 fulton battle hill bantton age 54 1910 fulton battle hill obit age 71 wife wife 4 daughters jossie with berry 1880
---
12.0 Hartsfield
---
Richard Hartsfield (1748 - )

						Jurian Hertesvelder -1691 HOLLAND
					Godfrey Hartzfielder	PA
						Margret ?
			Andrew Hartsfield 1714-1759	PA
					Katherine Walker -  PA
		Pvt. Richard Hartsfield Soldier of the Revolution (1748-
					Joseph Lynn
			Sarah Lynn NC
					Sarah Marshall
Mary (Polly) Hartsfield 1774-1855 GA
					John McElroy	1690-1732 MD
			William McElroy 1717-1800	MD
					Frances
		Anna Temple McElroy 1751- NC
					Ghaskey (Temple?)

---
13.0 Sources:
"Aunt Martha Brown's Remembrances". This is a xerox copy of typed pages. The pages are divided into sections all of which appear in italics in the appropriate places in the text above. The last page is an undated letter from Cairo Georgia from "Nancy" addressed to "Jess". Nancy is likely Nancy Green Jeffares daughter of John Allen Tharp Jeffares who married Omer Rosser and lived in Cairo (Grady County) Georgia. She would be the niece of "Aunt Martha Brown". The letter says "Aunt Martha didn't know where her grandDaddy moved from when he moved to Gwinnet County, but said her Daddy was six years old when he moved there and said they came from somewhere in S.C." The letter mentions Omer (her husband) and recommends that "You and Elon take care of yourself." Jesse William Jeffares of Henry county was married to Elon Hunt.
John Edwin Jeffares genealogical data compiled by R.M. Jeffares, 180 Allan Dr. Gulfport MS 1982-85.
Paul Jeffares, "Jeffares Family Records 1600-1925." Address: Paul Jeffares, 8/104 St. George Cresent, Drummoyne, NSW 2047 Australia. 2000.
Civil War Letters of Bennett Rainey Jeffares. Personal possesion of Michael S. Parks, 223 West 34th St. Houston, TX 77018, parks@uh.edu.
Civil War Letters of John Edwin Jeffares, "Civil War Letters of Georgia Soldiers," Georgia State Archives, collected by the United Daughters of the Confederacy. These two letters were contributed by:"Aunt 'Mat' Brown, daughter of J.E.Jeffares - July 17, 1938, Nettie Hester Jeffares Ruark"
Kevin Whelan, "Wexford History and Society," Geography Publications, Templeogue, Dublin 12, Ireland, ISBN: 0 906602 0 68
Art Kavanaugh and Rory Murphy, "The Wexford Gentry Volume I," 1994, Irish Family Names, Wexford Ireland. ISBN 0 9524785 0 1.
Need this: "The Barringtons, A Family History", Amy Barrington, 2 vols, Dublin, 1917.
David Tharp, website, http://www.tharpgenealogy.com/
John Allentharp
Other Jeffares I have communicated with:
Paul Jeffares (Australian line from Christopher of Wexford p_jeffares@hotmail.com
Pat Jeffares (John Edwin's line), Pat_Jeffares@simail.com, 1998.
Bennett Vaughan, 307 Shawnee, Ebensburg, PA, 15931-7129, bvaughan@mail.uplink.net, 2000.