Bauer Excellence Scholars
Renu Sachdeva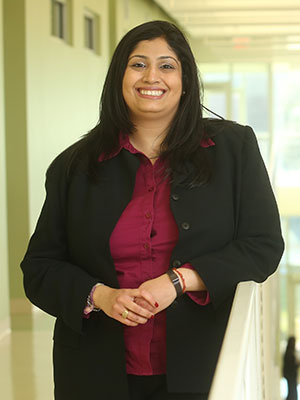 Classification - Evening MBA
Expected Graduation Year - 2015
Major/Area of Focus - Leadership Development
Hometown - Houston
High School and Undergraduate School - Sharpstown High School; BBA from The University of Texas at Austin
About Me
I'm a Human Capital Manager in the Tax line of service at PricewaterhouseCoopers (PwC). I started my career with PwC as a Forensic Technology Consultant in 2002 and transitioned into Human Capital in 2009. After providing external consulting services to our clients for seven years, I wanted to move into a role where I could have an impact on our firm's internal clients: our employees. I plan to focus on leadership development and human capital strategy while in the MBA program at Bauer.
Campus and Community Involvement
I have been involved in various community service efforts, including Junior Achievement, Friends of the Houston Public Library, and the Houston Food Bank. I'm also involved with alumni activities at my undergraduate alma mater, The University of Texas at Austin.
Awards and Honors
Recipient of the Market Leadership Award at PwC
Study Abroad
I'm definitely interested in pursuing a study abroad during the MBA program. Right now, I'm leaning towards the Prague trip, but they all look great!
Research
I'm interested in the impact of human capital strategies on the overall effectiveness of an organization. On a more individualized level, I'd also like to deepen my knowledge of leadership development, focusing on the practice of executive coaching, personal brand management, and leading with impact.
Future Endeavors
I hope to leverage the knowledge that I gain in the MBA program to transition into a more strategic role within the Human Capital function at PwC. I would like to move into a role that is involved with developing and implementing our human capital strategy, or a role that is more specifically focused on coaching and developing the future leaders of our firm.
Bauer Excellence Scholars
Contact Us:
---
---
See Also
---
Latest News