Bauer Excellence Scholars
Farhad Tahir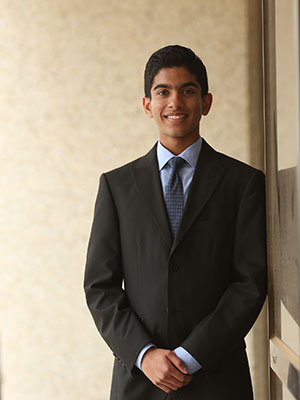 Classification - Freshman
Expected Graduation Year - 2016
Major/Area of Focus - Pre-business
Hometown - Sugar Land, TX
High School - Stephen F. Austin High School

About Me
My name is Farhad Tahir, a freshman at C.T. Bauer College of Business looking to major in Accounting. Throughout my life I have always been interested in politics and helping the community. I love to watch different TV shows and play guitar. Something that people are surprised to know about me is that I love to cook and do it as often as I can.
Campus and Community Involvement
On campus I am part of the UH College Democrats and was their secretary during Fall 2012 during the election season. It is a great club which is centered not only on democratic ideas, but also in getting the youth involved in public policy.
Off campus I am part of Asia Society Texas Center, where I volunteer a lot of my time in helping the organization promote the Asian arts and cultures.
Awards and Honors
Dean's List: Fall 2012
University of Houston Academic Excellence Scholarship
C. T. Bauer Champions Scholarship
2011 Gold Recipient for National Spanish examination
Future Endeavors
After I complete my degree in accounting I look forward to going to law school and getting my CPA certification. I am passionate to stay involved in politics and have an ambitious dream of wanting to run for President in 2044.
Bauer Excellence Scholars
Contact Us:
---
---
See Also
---
Latest News