Bauer Certificates
Energy Risk Management
Also View
Although many positions in the energy sector are involved in energy trading and risk management, often the technical analysis done for companies is done in a practical but unscientific manner. The NYMEX Energy Risk Management (ERM) Certificate from the Bauer College provides the underlying financial theory and economic underpinnings necessary to rationally manage risk in the energy sector.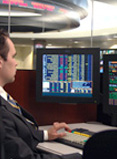 Students take a set of three courses designed to provide them with the essential principles of Energy Derivatives Trading. Each student combines that knowledge with an additional set of courses in Project Investment Analysis or Energy Industry Economics
Curriculum
FINA 7397 - The Energy Value Chain
FINA 7397 - Financial Engineering and Energy Derivatives
FINA 7397 - Futures and Swaps
FINA 7397 - Quantifying and Hedging Energy Price Risk
FINA 7397 - Energy Trading
What do past students think of the Program?
"The ERM Program at the University of Houston has enabled me to work closely and learn from high-caliber professors as well as good students who represent a cross-section of energy firms. The program has definitely stimulated my intellectual curiosity towards learning more and analyzing the many urgent issues that our industry is facing. I recommend the program for those who want to grow in the industry and become future leaders." - Raja Ranchman, ERM Class '06
Certificates: You must be a current Bauer graduate (MBA or MS Finance) student to enroll in any of our certificate programs.